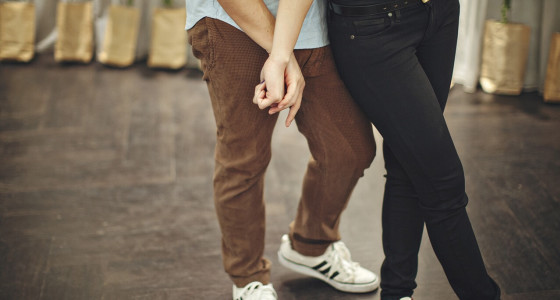 Cohabiting is en vogue. Between 1996 and 2012, the number of Brits living with their partner out of wedlock doubled, reaching almost six million. Fast forward to today and cohabiting couples are still the fastest growing family type in the UK.
But when the law doesn't recognise your relationship, managing your finances together can be tricky. I talked to a few couples to find out the best way to manage your money as a household.
Should couples have joint accounts?
Nick and Lucy have been dating since university. We recently met up for a chat over dinner and when the bill came, Lucy sheepishly tucked her bank card underneath mine. I looked at her suspiciously and moved my card a bit so that I could see what she was hiding. "You've got a joint account!" They blushed back at me. "Yeah, we just thought it was easier" Nick mumbled into his coffee.
To give you some context, we're in our mid twenties. Most of the millennials I know live with their partners but aren't in any hurry to get married. Yet by our age, all of our parents were already married. It's unsurprising then that when it comes to managing our money, this often leaves us in a strange no man's land. We haven't got the paperwork to solidify our relationships in a legal sense so intertwining our lives and finances has the potential to get messy. For that reason the number of friends I know who share a bank account with our partners, are few and far between.
Separate finances in a relationship
Maria and Zach rent a flat together and both have well-paid jobs in banking. Even though they're not short of money, they've decided to keep their finances strictly separate. "We just have very different attitudes towards money," he explains. "I like saving as much as possible, and she's always been a bit more extravagant. So it's easier if we do our own thing money-wise."
During the six years they've been together they've kept a meticulous record of joint costs and any money they owe each other – no matter how big or small. They always make a point of paying each other back, but now that marriage is on the cards they've relaxed their tracking system.
My partner and I also keep our accounts separate, partly because I'm much more inclined to anxiously save money and he's a bit more easy going about spending. I hate shopping and take my money worry to extremes: I'd prefer to walk around with holes in my jeans than buy new ones, and I usually have a maximum of two pairs of shoes at any one time. If we had a joint account I would suddenly have the right to comment on his (less anxiety-ridden) approach to spending, and that seems worth avoiding.
But we also hate the hassle that comes with separating our finances: inevitably one of us ends up paying more on our shared expenses than the other, and then we have to sit down, work it out and transfer money back and forth. Most of the time it's not worth the hassle so in reality our finances are probably more 'joint' than we admit.
Joint finances before marriage
Will and Hanna opened a joint account after they'd been together for just a couple of years. And because he's much more interested in money management than her, he's basically in charge of their finances. While she was studying, he supported her, and then when he quit his job, she became the main breadwinner. It seems to work out pretty well most of the time, although he can see everything she spends.
"We never really thought about doing it any other way," she says. "Early on in the relationship we knew we were in it for the long run, and that meant that everything was joint: we combined our lives, and that naturally meant combining our finances too. We think of what we earn as household income rather than personal income, and it rarely causes any problems."
Will agrees, and finds it hard to understand long-term cohabiting couples who don't deal with things this way. "It makes sense and it just makes things easier," he tells me. "It would be annoying to keep track of every little expense and work out how much we owed each other – it sounds more stressful to me!"
How to protect your finances
Of course, there are downsides to combining your finances if you're not married. If you break up or if one of you dies, there's little legal protection in place. If your partner passes away without leaving a will, you're not automatically entitled to their estate.
This could cause real problems if, for example, you have a house together but it's in your partner's name and not yours. Even if you've been helping to pay the mortgage, unless this is formally recorded somewhere, you could find yourself without any legal claim to the home you shared.
It can be tricky even where you jointly own a property as 'tenants in common'. If one partner dies, their share of the property will pass on according to their will. If they haven't written a will, it will pass on according to inheritance law, meaning it's likely to go to their parents if you're not married and you don't have any children.
You could also lose out on their pension if you haven't set it up so that you're the beneficiary - something you can do under the account section of your BeeHive if you're a PensionBee customer. Some pensions can be passed to nominated partners tax-free, however most will either go to the next of kin or be kept by the pension provider so you'll need to consider all of your options.
However you manage your finances as a couple, it's a good idea to formalise your arrangements and plan for your future. Write wills, complete an 'expression of wish' form to let your pension provider know that you want your pension paid to your partner if you die, and consider a cohabitation agreement.
If this sounds like a lot paperwork, you could always get married. I've thought about this, but since I struggle to buy new jeans, forking out for a big white dress feels like a huge mountain to climb!
How do you and your partner manage your finances? Tell us in the comments section right at the bottom of the page!