How it works
We start by transferring your old pensions and investing them into one brand new online plan. If you're self-employed and have never saved towards your retirement, why not start a new pension with us by setting up a contribution?
Watch video
Start your journey by signing up
Becoming a PensionBee customer's easy! Simply download our app, or sign up online to start. You'll need to provide some basic details: your legal name; current address; date of birth; and National Insurance number.
You can pick from our range of pension plans. Or, if you can't decide, we'll invest you in our Tailored Plan. This is our most popular plan, as it automatically moves your money into safer assets as you grow older. And it's free to switch plans.
Give your balance a boost
There are two ways to start saving into your new pension. Either transfer your old pensions to PensionBee, or set up your first contribution.
To kickstart your pension transfers, we'll need the names of your old pension providers and confirmation you'd like to transfer. The more information you can give us, the better! Not sure where your pensions are? Read our how to guide.
If you're self-employed, you can set up a new pension with a single contribution to your pension pot. Our flexible pension keeps you in control. There's no minimum contribution, so you can save any amount, as often as you like.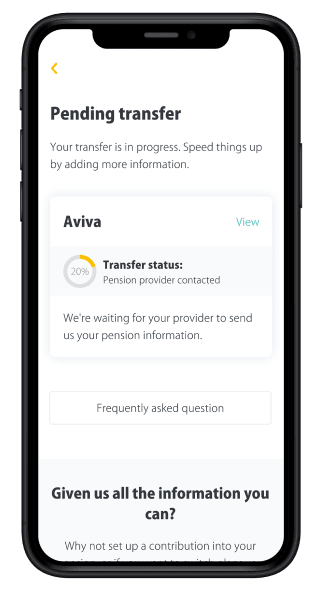 Let us take care of your pension
Your personal account manager (known as your BeeKeeper) will provide regular updates every step of the way. If you're combining, we'll start by contacting your old providers.
If we discover that an old pension provider charges an exit fee of more than £10, or that your pension comes with special benefits or guarantees, we'll ask your permission before we complete the transfer.
On average, pension transfers can take around 12 weeks to complete. But, if you'd like to get the ball rolling on your retirement goals sooner you can contribute by Easy bank transfer in a few clicks.
Your money will typically arrive in your PensionBee account on the same day. And once we've received your funds, we'll take care of your pension for one simple annual fee. So you can sit back and look forward to a happy retirement.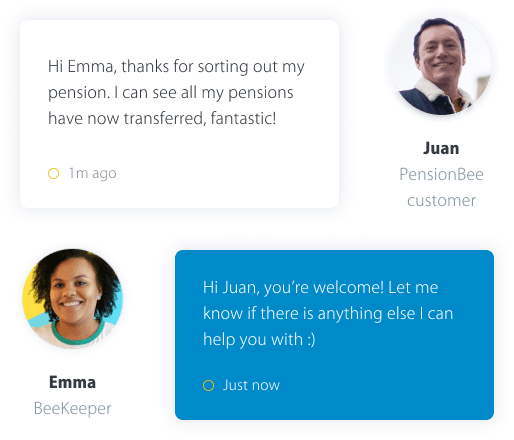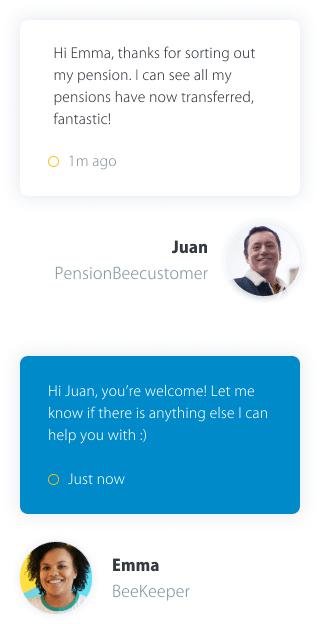 Next, we'll give you access to your BeeHive where you can...
Manage your pension online
As soon as your pensions are transferred and invested into your new plan you'll be able to view your live balance, as well as check the performance of your pension under the 'Analytics' tab. You'll also have access to your retirement planner, which forecasts how much you're on track to have saved by the time you retire.
Inside your BeeHive you can add more pensions, select your beneficiaries and switch plans. It's also the place where you can find the contact details for your personal BeeKeeper and update your details whenever they change.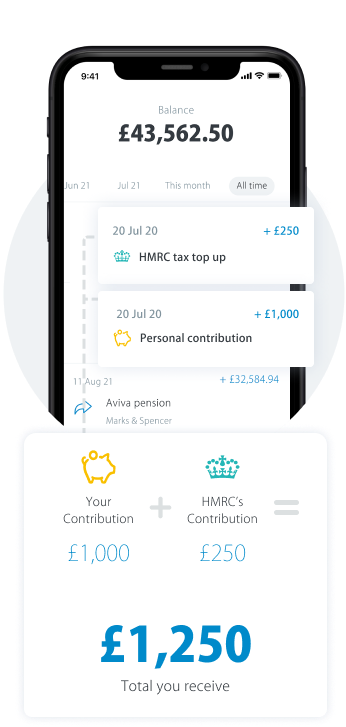 Make flexible contributions
You can pay money into your new PensionBee plan even before your pensions are transferred. There're no minimum contributions so you can save any amount, as often as you like, by Easy bank transfer or standing order. We'll also automatically claim your 25% tax top up from HMRC and add it to your balance, so long as you're eligible for pension tax relief.
If you're the director of a limited company you can make employer contributions into your pension, as well as personal contributions via your BeeHive. You can also ask your employer to pay contributions directly into your PensionBee pension, if you're part of a workplace pension scheme.
Withdraw with ease
As soon as you reach the age of 55 (57 from 2028) you can take your pension from any of our plans online, through PensionBee drawdown. There are no forms to sign as everything is done digitally, and paying out your cash typically takes 7-10 working days.
Alternatively, if you'd prefer to receive a regular income throughout your retirement, you can buy a pension annuity through our partner, Legal & General.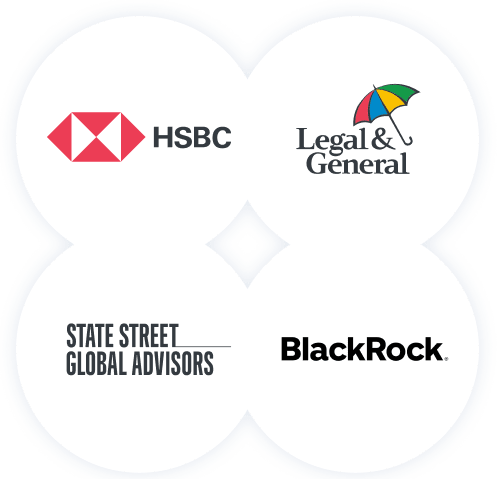 Pay just one simple annual fee
With PensionBee you'll pay one simple annual fee between 0.50% and 0.95%, depending on the plan you choose. If your pension pot size is larger than £100,000 we'll also halve the fee on the portion of your savings over this amount.
We'll automatically deduct a portion of your annual fee from your pension on a daily basis, and we'll display your fee in pounds and pence in your annual statement. If you ever choose to leave PensionBee we won't charge you an exit fee, and we also provide a 30-day cancellation policy.
Your pension's protected, every step of the way.
Experienced money managers
Our pension funds are managed by some of the largest and most experienced money managers in the world, including State Street Global Advisors, BlackRock, Legal & General and HSBC.
Bank-grade encryption
We protect your data with the strongest, most up-to-date technology and processes. All of your information is encrypted using 128-bit Transport Layer Security (TLS) and our security is tested annually by independent experts.
Permission-only data sharing
We'll never share your personal information with anyone without your permission. Our systems and processes are set up to adhere to the UK General Data Protection Regulation (UK GDPR) requirements.
Secure identity checks
We meticulously vet the identity of all employees and customers to reduce the risk of identity fraud, or any other unauthorised access to your information or account.
Independently vetted
Our information security practices are certified to the internationally recognised ISO 27001 standard as well as the UK Government's Cyber Essentials Plus Scheme.
ICO registered
PensionBee has been registered as a data controller with the Information Commissioner's Office since 2015. Our registration number is ZA131262 and you can view the entry on the ICO's website.