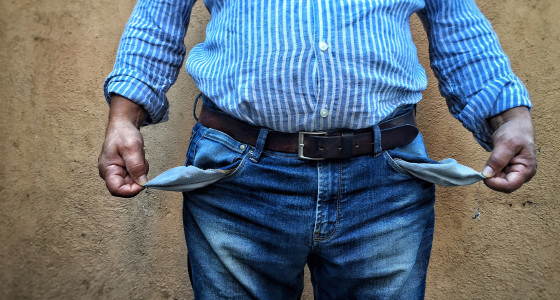 Back in 1908, the then Liberal government introduced the first state pension. It came amongst a raft of social welfare reforms and it's stayed with us ever since, generation after generation receiving some kind of state pension. At last time of counting the country's pensioners received an annual £108 billion between them, with state pension payments making up almost half of the government's total welfare spending.
How the government's welfare spending breaks down (source ONS)

It's been a bedrock of British society for over a century, but will it be able to support you in the future? We've done some digging and we're not so sure - here's our reasons why.
Economists agree it's unsustainable
Playwright George Bernard Shaw once famously quipped "If all economists were laid end to end, they would still not reach a conclusion" yet there seems to be plenty of cohesion when it comes to the state pension.
Back in 2013 some 50 economists came together to claim the state pension was 'unaffordable', while more recently the IMF (International Monetary Fund) warned millennials that they couldn't rely on the state pension alone.
Pour money into pensions or risk a poor old age, IMF tells millennials https://t.co/4iWDpAb97i

— The Telegraph (@Telegraph) May 31, 2017
Elsewhere, the OECD (Organisation for Economic Co-operation and Development) has entered the debate and stated that it ought to be scrapped for the rich. Think a controversial Robin Hood approach to pension economics.
State pension should be scrapped for rich, suggests OECD https://t.co/01UvImP5Ju

— This is Money (@thisismoney) April 27, 2017
So, whether young, old, rich or poor - the state pension sums just don't add up. And as you'd expect, the result is some pretty contentious politics…
An inconvenient truth
Prior to the election, the Conservatives unveiled some controversial state pension changes, with their proposals to scrap the triple lock - a guarantee to increase the state pension every year by the higher of either inflation, average earnings or a minimum of 2.5% - attracting the most ire.
out of Europe, great.
But British pensioners pay the bill.
REMOVE the triple lock.
REMOVE the winter fuel payment#conservatives #brexit

— Mr. Knownowt. (@Gorwelian) May 21, 2017
With their majority in tatters and the DUP propping them up, they've had to make concessions on the triple lock - it'll now be remaining. However, don't expect this be a long term arrangement, as the new Work and Pensions Secretary has said as much.
NEW: Cabinet minister David Gauke: Triple lock on state pension could be gone in 10 yearshttps://t.co/ytIwS2zZ2b pic.twitter.com/7I592lnDhR

— PoliticsHome (@politicshome) June 22, 2017
Driven by the dire predictions of economists, politicians are starting to face the state pension problem - the Conservatives' plans to scrap the triple lock are a clear indication of that. Labour, the SNP and the Lib Dems are arguably less drastic in their approach, but there's general consensus amongst all the major parties that the state pension age needs to rise.
Ultimately, it speaks volumes that the focus is on reducing state pension costs rather than increasing them. Yet as things stand, all the research suggests that even the current payments aren't enough…
8,296 reasons to start saving
How much state pension you receive depends on the amount you've paid in National Insurance contributions. The maximum state pension is currently £159.65 per week, which works out at just £8,296 per year - less than half of what's needed to live comfortably according to the Joseph Rowntree Foundation.
In fact, so bad are the UK's state pension provisions that they've been labelled amongst 'the worst in the developed world', with one 2015 study suggesting only Mexico and Chile offer a pensioners a poorer deal.
The UK state pension is amongst the lowest out of the OECD's 35 member countries, even after 7 years of the triple lock.

— Josephine Cumbo (@JosephineCumbo) April 27, 2017
These damning statistics come against the backdrop of vastly improving life expectancy, which will just put the government's coffers under yet more strain. Whichever way you look at it, funding a sufficient state pension is getting harder and harder - so what can you do to boost your savings and build a better retirement?
3 quick saving tips
Make sure you're not making any avoidable mistakes
From opting out of your company pension scheme to letting fees eat away at your savings, there's a number of mistakes that you can rectify quickly. Get started by checking out our guides to fixing these issues in your 30s or 40s, and don't panic if you're a little older - the same principles still apply.
On the face of it saving for retirement can appear daunting. However, you might be surprised at the big impact some small changes can bring. Check out the On A Budget section of the PensionBee blog for some actionable ideas, and start putting a solid saving plan in place.
Combining old pensions can bring benefits like easier management and lower fees - particularly if you do it with PensionBee. You can manage your retirement saving from an online account rather than dealing with lots of paperwork, plus you may be able to move your pensions into a plan that fits better with your investment outlook. Be sure to check for any guarenteed benefits before you start combining though, as sometimes it might be better to leave old pensions where they are.
What do you think the future holds for the state pension? Take our poll and tell us your thoughts in the comments.