When I joined PensionBee, pensions were not on my mind. I had no idea how they worked and that they cost money. Employers pay for them pension things, right?
I could not have been more wrong.
Once I'd scraped all my old pensions into one new PensionBee plan (I work here, no pressure folks) I was shocked and relieved. Shocked, because my pension pot was only £22k, and relieved because our BeeKeepers told me that I was in for some generous income tax refunds.
I'm currently paying in £800 a month to get back on track (I know, it's baked beans on toast the rest of the month), and PensionBee is already claiming a £200 tax refund on each contribution. Now, I'm not suggesting you pay that much into your pension, but I would recommend using our free pension calculator to figure out how much you should be saving – based on your age and retirement goals.
Anyway, the moral of the story is; when you earn £45k or more per year you're in for a treat: more income tax refunds. Yes… free money!
When to claim or not to claim
You can claim back extra income tax on the contributions you've made if you:
Earn more than £45,000 per year
Contribute into a personal pension (like a PensionBee pension)
Contribute from your personal bank account
If you contribute into your current workplace pension, tough luck. Because your employer knows how much you earn, it already claims back the appropriate amount of tax. Bummer!
So how does it work?
Before this year I'd never done a tax return. Self-assessment was something for my freelance friends. But now I had to face the music.
How did I do it? Read on to find out…
1. Create a government gateway account
These days you can access a lot of government services online through your Government Gateway login. If you don't have one, you'll need to apply for one.
2. Enrol and activate your self-assessment online
You'll use your self-assessment to claim back extra tax. When you create a Government Gateway account you'll tick the self-assessment box. HMRC then need to send you an activation code by post. It's a bit annoying if you want to get started straight away, but this is done for security reasons. It took 5 days for the activation code to arrive at my address.
3. My first self-assessment
'OK, I can do this' I said to myself when I logged on to the HMRC website, 'It can't be too hard, right?'
The secret is not to get too fussed about all the questions on the self-assessment form and to have the right information at hand. When you start your self-assessment you should have ready:
Your P60 or P45 form from your employer (you'll receive this straight after the tax year)
A recent payslip (always handy)
Your National Insurance number
Your Annual Statement from your personal pension (PensionBee will send you one too). Alternatively you can also log in to your PensionBee BeeHive and go to the balance tab to see all your pensions contributions and tax refunds (see screenshot)
Include contributions into a personal pension AND the basic tax rate relief you'll instantly get in your pension.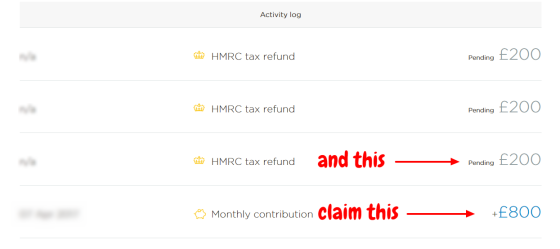 Add the sum of all your contributions and HMRC tax refunds in answer box 1 under Tax Reliefs.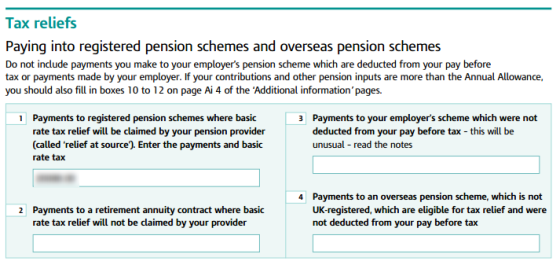 You're done
That it's, you're done. HMRC will tell you how much tax you'll get back. HMRC is pretty quick in giving you a refund…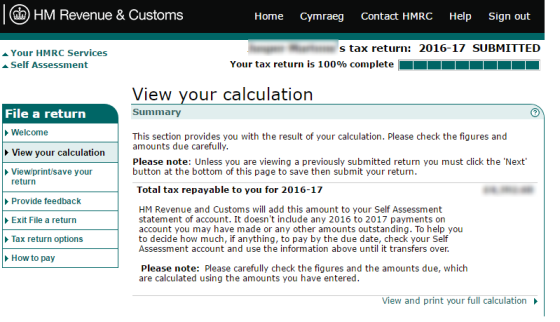 Really quick in fact.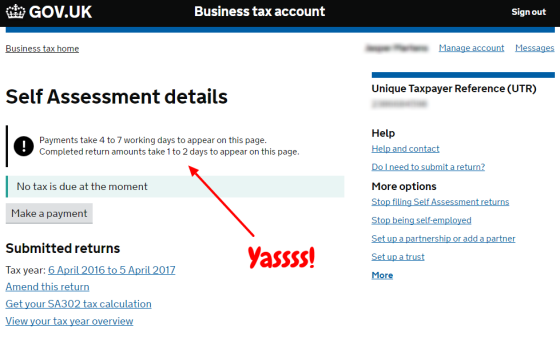 What's next?
I promised myself to be a good boy: don't splurge my tax return on holidays and dining out. I'll put it into my pension. After all, I'm a grown up man now, and I need to face the facts: save up and eat baked beans on toast now or eat them until I die when I retire.
I don't like baked beans on toast.