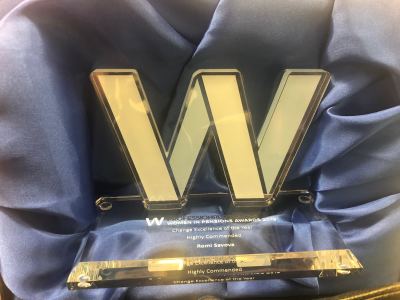 London, 12 July 2019: Romi Savova, CEO of online pension provider PensionBee, was highly commended in 'Change Excellence' at the Women in Pensions Awards.
PensionBee founder and CEO, Romi Savova, was highly commended in the 'Change Excellence' category at the second annual Women in Pensions Awards. The awards celebrated female rising stars and trailblazers in the pensions industry, as well as recognising individuals who encourage gender diversity in what continues to be a male-dominated industry.
Romi Savova, CEO at PensionBee commented: "I'm delighted to be recognised as a role model for change in the pensions industry. I have been incredibly vocal about my journey as a female CEO, and the unique challenges that come with growing a pension company and being a mother to two small children. By providing other women with relatable experiences and showing at least one way that "it can be done", I hope I'm helping to break down some of the barriers that can cause women to stay away from male-dominated industries or pass on senior roles.
Tonight celebrates the achievements of women working in the pensions industry and I'd like to use this platform to highlight the challenges that women in all industries face when it comes to equal pay and pension provision. As an industry we have a duty to help our female customers close the gap and better save for a happy retirement."
Romi founded PensionBee in 2014, after struggling to move her own pension on traditional platforms when she changed jobs. Under her leadership the online pension provider has transformed lengthy pension transfer processes to a five-minute sign-up via a smartphone, and helped thousands of people regain control of their retirement savings.
When she's not building a leading pension product, Romi campaigns to effect positive change in the pensions industry and champions gender balance in financial services. Last year PensionBee increased female representation in its senior management team to 60%, and has achieved complete gender parity across the company.
Romi Savova, CEO at PensionBee commented: "There's a myth that working in pension requires you to be male or to have some special super-human knowledge of numbers. This is simply not true! Attracting women to what is often perceived as a dull industry can be challenging, but once they are there, they thrive and encourage other women to also join. We're proving that pensions can be a good career for anyone looking to be on the cutting-edge of product development and innovation, while challenging the perceptions of what people in pensions should be."
PensionBee has already had a strong start to the awards season, receiving a commendation in the 'DC Innovation of the Year' category at the UK Pensions Awards in May. It collected the award for 'Diversity and Inclusion Champion' at the Computing Tech Marketing & Innovation Awards, and the awards for 'Most Innovative Direct Consumer Proposition' and 'Open Innovation' at the Investment Marketing and Innovation Awards last month. PensionBee CEO, Romi Savova, was named 'Best High Growth Woman Founder' at the UKBAA Angel Investment Awards.