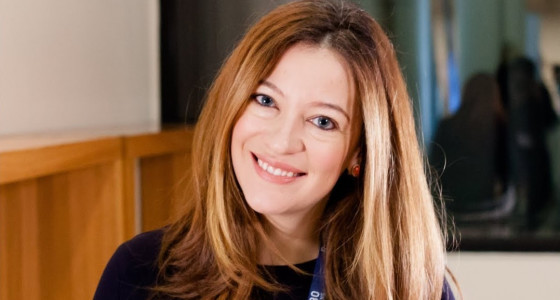 London, 08 November 2019: Romi Savova, CEO of online pension provider PensionBee, named 'Entrepreneur of the Year' at the City AM Awards 2019.
PensionBee founder and CEO, Romi Savova, was named 'Entrepreneur of the Year' at the 10th annual City AM Awards. The awards celebrate London's most successful, innovative and transformative companies, and individuals from across the business community.
Romi was shortlisted alongside four other entrepreneurs, from fintech and medical services to energy and manufacturing, including David Brear, founder of fintech consultancy 11:FS and Charles Delingpole, one of the original founders of MarketInvoice.
Romi founded PensionBee in 2014, after struggling to move her own pension on traditional platforms when she changed jobs. She knew technology could be used to simplify pensions and make saving money easy for customers, while disrupting the status quo in an old-fashioned industry.
Under her leadership the online pension provider has transformed lengthy pension transfer processes to a five-minute sign-up via a smartphone, and helped thousands of people save for a better retirement. Customers of all ages and assets can manage their pension with ease, accessing their dashboard, or "BeeHive", 24/7 via the mobile optimised app. PensionBee has successfully brought the customer experience into the 21st century, and has achieved constant month-on-month customer growth of 15-20% since launch as a result.
Romi Savova, CEO at PensionBee commented:
"Starting PensionBee is my greatest work achievement, and it's incredibly fulfilling to see how our product has changed the lives of so many people. I'm thrilled to be recognised by City AM, and the distinguished judges, and would like to share this award with the entire PensionBee team who work tirelessly to make pensions simple for consumers.
"Being on the right side of change, particularly in financial services, is very motivating. While we've achieved a lot, there's still so much to do in order to make the pensions industry fairer and more accessible. We're passionate about fighting for the rights of pension savers, and 2020 will see PensionBee continue advocating for a pension switch guarantee and an outright ban on pension exit fees."