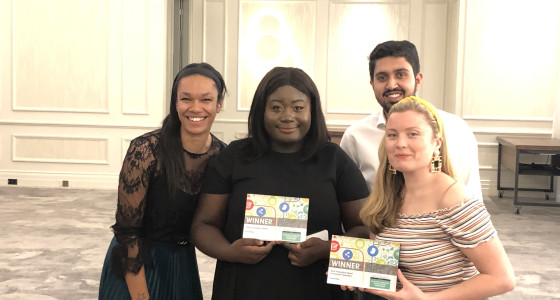 London, 21 June 2019: Online pension provider PensionBee, scoops three awards at the 2019 Investment Marketing and Innovation Awards.
On Friday afternoon PensionBee collected two awards at the sixth annual Investment Marketing and Innovation Awards, which celebrate new and original thinking in the investment world.
The online pension provider collected the award for 'Most Innovative Direct Consumer Proposition' in recognition of its seamless online user journey. PensionBee has successfully transformed pension transfer processes that typically take months to a simple five-minute process via a smartphone, helping customers get complete control and clarity over their pension.
Romi Savova, CEO at PensionBee commented: "As a result of our easy-to-use platform, PensionBee customers are engaging with their savings in a way that many people said wasn't possible. We're thrilled to be recognised for our innovation in an industry that hasn't changed or adapted with advances in technology and consumer behaviour in decades. We've successfully made retirement saving easy for customers, offering them a jargon-free and transparent product, while innovating, raising standards and connecting with forgotten generations."
PensionBee also won the award for 'Open Innovation', beating some of the industry's biggest names, including Schroders. The online pension provider was recognised for its efforts to help fix the UK's long-term savings crisis with its use of industry-leading technology. It is the first pension provider to utilise Open APIs in pensions, partnering with fintechs such as Yolt, Starling, Moneyhub, Money Dashboard and Emma, to integrate PensionBee balances into some of the UK's most popular money management apps.
Jonathan Lister Parsons, CTO at PensionBee commented: "It's an honour to win an award for our innovation as we truly believe Open Banking has the potential to be hugely transformative for savers in the UK. Millions of people struggle to stay on top of their day to day finances, so the arrival of integrations that help us unlock spending data, see a complete picture of our financial health, make our money work better and for longer, and empower us to make smarter financial choices, is revolutionary.
We plan to share our APIs with even more banking marketplaces and aggregators in the near-future to put pensions where they belong – at the forefront of your finances. This is a game-changer for the pensions industry and we're proud to be the driving force behind rising consumer expectations that a pension is part of Open Banking, while setting the API data standards for pension companies to integrate into the ecosystem going forward."
PensionBee has already had a strong start to the awards season, receiving a commendation at the UK Pensions Awards in May and picking up the award for 'Diversity and Inclusion Champion' at the Computing Tech Marketing & Innovation Awards earlier this month.
The online pension provider is up against Twitter for the accolade of 'Tech Company of the Year' at the Evening Standard Business Awards, and PensionBee CEO Romi Savova has been nominated in six categories at the Women in Pensions Awards, including 'Pensions Woman of the Year'.