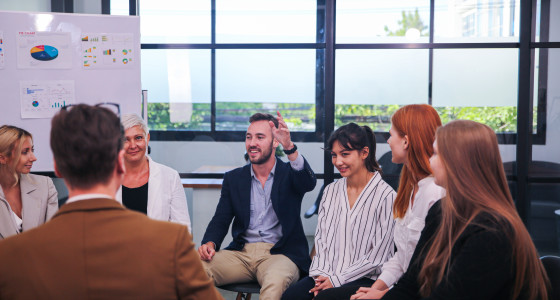 Leading online pension provider, PensionBee, has partnered with specialist communication charity, Speakers Trust, to help unlock greater confidence in the workplace when public speaking, by utilising essential communication techniques.
The two organisations have collaborated on a series of interactive workshops to encourage PensionBee's employees to come together and share their experiences of public speaking, while developing their skills, confidence and sense of agency.
PensionBee tailored each session to accommodate varying confidence levels to help nurture its employees' personal growth. Members of PensionBee's team also shared their own learnings and advice from public experiences. PensionBee's Chief Marketing Officer, Jasper Martens, discussed how to build confidence when English is your second language and PensionBee's CEO, Romi Savova, led a 'masterclass session'.
Priyal Kanabar, Senior Engagement Manager at PensionBee commented: "At PensionBee, we're committed to driving positive change wherever we can. Each person has an important perspective to share, whether they are our colleagues at PensionBee, schoolchildren in our local community, or UK savers, whose voices have been ignored in the pensions industry for too long.
For many people across the UK, speaking in front of an audience can seem an extremely daunting task, so we're delighted to join forces with Speakers Trust to help our team continue to develop vital communication skills in the workplace and beyond."
Victoria Costello, Head of Philanthropy, Enterprise and Growth at Speakers Trust, commented: "Speakers Trust exists to enable social mobility and build a stronger society in which the voices of young people are heard, whatever their background. We have over 15 years of experience and work with one in every five state secondary schools in England, as well as youth organisations across the UK.
Working with workplaces like PensionBee, not only helps us empower adults across the UK to feel confident about public speaking, but also raises essential funds to enable us to help even more young people."