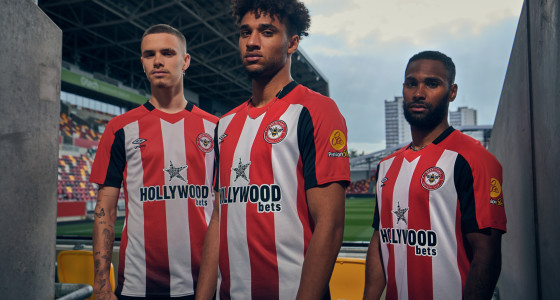 Leading online pension provider, PensionBee, announces a new two-year partnership with "the Bees".
As the Official Sleeve Sponsor of Brentford Football Club, PensionBee's logo will feature on the left sleeve of the Men's first team kit, in addition to becoming 'front of shirt' sponsors for the B team, Academy and Women's team kit, providing a significant contribution to the growth of these teams.
This follows PensionBee's recent 'Building the Future' series where Brentford's Women) and B team players discussed their footballing careers so far and tackled common pension misconceptions.
All junior replica kits will also feature PensionBee's logo on the front of the shirt and the company's branding will continue to appear in post-match interviews and LED boards for added time throughout the partnership.
PensionBee became the Official Pension Partner of Brentford Football Club in 2021. Since then both organisations have been on their own growth journeys, with PensionBee now counting approximately 200,000 Invested Customers and Brentford securing their highest league finish in the Premier League for the 2022/2023 season.
Jasper Martens, Chief Marketing Officer at PensionBee, commented: "PensionBee and Brentford have a lot in common - from our data-led approach to doing things a bit differently, to the way we put our customers and fans at the centre of everything we do.
Our mission is to make pensions simple so that everyone can look forward to a happy retirement and Brentford's ambitions to be the most inclusive club in the country matches our desire to achieve positive social change.
We're delighted to continue supporting Brentford at such an exciting time in the club's history and look forward to reaching even more Brentford fans on their journey to pension confidence. We'll be cheering on our fellow Bees, both on and off the field, in the years to come."
Jon Varney, Chief Executive at Brentford Football Club commented: "We're very pleased to partner with PensionBee for a further two years. Since 2021, they have been a valuable partner to Brentford as we've grown and settled into the Premier League and we look forward to working with them.
Their ongoing support will be important as we aim to build on our progress in the season ahead. We're pleased to have them take a prominent position on the kits for our first team, B team, women's team and Academy teams."