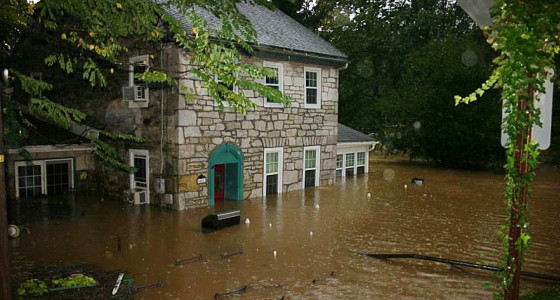 New research from leading online pension provider, PensionBee, projects that 900,000 retirees will be at risk of annual flooding by 2050. Additionally, 175,500 will have inadequate or no insurance, leading to catastrophic repair and replacement costs, permanent damage to homes, and even homelessness.
Climate change poses many risks to our future well-being, and as we've seen from recent wildfires and floods, the impacts may already be with us. A recent report produced by the International Panel on Climate Change (IPCC) emphasises that human activities have caused the climate crisis (1), and that extreme weather events, including floods, are set to increase in coming years (2). Recent analysis from NASA shows that much of London could be regularly underwater within the next decade (3).
PensionBee analysis shows that 189,000 of the most vulnerable pensioners will be at risk of an annual flood by 2050. People on lower incomes are likely to be worst affected by flooding as they are more likely to live on flood plains in rural areas, in densely crowded urban areas with poor water drainage, and in temporary accommodation, which is often close to the coast (4). Currently, coastal areas have a higher proportion of residents aged 65+ compared to other parts of the UK, and this is projected to increase over the next decade (5).
The most vulnerable pensioners are also less likely to have financial resources and protection to help them overcome the consequences of flooding. According to the Association of British Insurers (ABI), 40% of the lowest decile income households do not have insurance, and a typical flood claim is £50,000 (6). The most common reason people give for not taking out insurance is that the premiums are too high (7).
Flood Re, a non- profit initiative between the UK government and major insurers, aims to make flood insurance more affordable. Whilst the scheme has benefited many people, it still excludes homes built after 2009 (8). PensionBee estimates that 361,000 over 65s are excluded from this scheme. This exclusion will have a disproportionate impact on low income households, as new homes built in poorer areas already face a higher risk of flooding than those built in more affluent areas (9).
Floods can cause damage to homes and possessions as they may carry silt, for example, which would destroy floors, walls and electrical equipment, making the affected homes uninhabitable (10). This can have catastrophic financial consequences for the uninsured. Additionally, major flood events can increase demand for alternative accommodation, creating shortages, and pushing prices up and out of reach for those with less money (11).
Clare Reilly, Chief Engagement Officer at PensionBee, comments: "The direct impact of climate change on housing and safety will have the worst impact on the livelihoods and wellbeing of people with low incomes. Our latest data helps to further demonstrate the urgent, direct link between climate catastrophe and retirement poverty. Policymakers must create inclusive support systems to protect everyone, especially those who are most vulnerable and live in flood prone areas without adequate insurance."
Appendix
Table 1: PensionBee projections for 2050
| Retirees at risk of annual flood in 2050 | 900,000 (12) |
| --- | --- |
| % Renters | 50% (13) |
| % Homeowners | 50% (14) |
| No insurance (renters) | 153,000 (15) |
| Inadequate or no insurance (homeowners) | 22,500 (16) |
| Inadequate or no insurance (total) | 175,500 (17) |
| Homeowners without building insurance | 13,500 (18) |
| 65+ in poverty at risk of annual flooding | 189,000 (19) |
| 65+ excluded from FloodRe scheme | 361,000 (20) |
Source: PensionBee, August 2021.
Footnotes
Ibid
Ibid
Ibid
Ibid