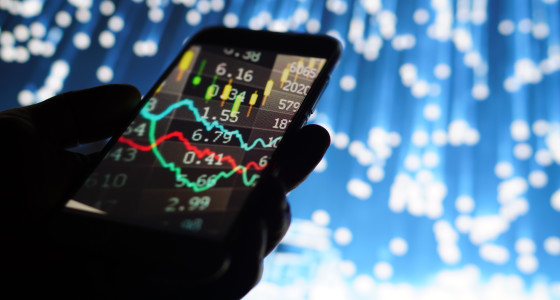 Over the past few days we've had customers get in touch about their pension balance, with slight falls being reported by savers big and small. Across the globe, stocks and shares are struggling with very few savers being spared, so you're by no means alone in experiencing this recent volatility.
Stocks tumble, volatility spikes — global rout in charts https://t.co/ibD6fTPR2H

— Financial Times (@FT) February 6, 2018
We know this can be unsettling - it's your hard earned money after all - but when it comes to long-term investments, these falls are quite natural. From time to time political, economic, and corporate uncertainty can impact on your pension, and on this occasion it appears that markets are reacting negatively to all three.
The Dow dropped 666 points, capping the worst week in two years. Here's a look at what's going on.

1. Concerns the Fed will raise rates
2. Rising interest rates
3. Worries about the bond market
4. Politics
5. Cooling-off after recent stock rises https://t.co/AJWXNtECk0 pic.twitter.com/GAgt7PLDPv

— CNN (@CNN) February 2, 2018
LONDON (Reuters) - Britain's top share index retreated on Friday after results from BT and AstraZeneca were met with disappointment, rounding off a lacklustre week for British blue chips.

"FTSE 100 heads for worst week in six months as results drag" https://t.co/YvMuKAiVn8

— kristoferkawas (@kristoferkawas) February 2, 2018
What this means for your plan with PensionBee
To counter this volatility, we offer investment diversity. As the value of some assets falls, the value of other assets will usually increase. Plus none of our plans are tied to just one location - every one is invested globally. There's no way to totally protect you from market tremors, but we believe this is the safest approach. Check out our plans page for a more detailed breakdown of how your money is invested, or head to the account section of the BeeHive if you're a PensionBee customer.
Above all else it's important to remember that pensions are long-term products, so although your pension fund is likely to experience some ups and downs, over its lifetime these will generally be balanced out. Rather than making rash decisions, be willing to ride it out.
Lots of nervous people as shares sell-off continues. FTSE 100 had a very steep fall on opening and is about 7% down this year. (Crypto fans hurting too as bitcoin falls). People ask what to do. Very little when it comes to decent share portfolios. Just ride it out.

— Holly Mackay (@HollyAMackay) February 6, 2018
Of course, nobody can predict with certainty what the future will bring. But the general consensus is that this just a blip and brighter news will soon come.
Stock market analyst: 'It's appropriate to hit the reset button' pic.twitter.com/1sxQ9w07Ov

— The Telegraph (@Telegraph) February 6, 2018
We'll be keeping a close eye on developments, and updating you as things progress. If you do have any more questions about your particular plan our BeeKeepers are on hand.