Recently, the Family and Childcare Trust released their 16th annual Childcare Survey, and it's fair to say the findings make pretty bleak reading for families across the UK.
According to their research, parents shell out over £6000 a year on childcare - more than double what they spend on food and drink - with some families spending up to 45% of their disposable income on childcare costs.
As a result many parents (particularly mums) halt their career to care for the kids, and this can have huge financial repercussions - especially when it comes to pensions.
The outcome is a lot of fear about a retirement shortfall, but you shouldn't give up hope. Here's our top tips for stay-at-home mums looking to build a better retirement…
Protect your state pension
The full state pension entitles you to £8,296 per year, and while this alone isn't likely to be enough to live on, it is a good foundation for your retirement. However, to get the maximum amount you'll need to have paid National Insurance contributions for at least 35 years.
Now, National Insurance contributions are something you probably associate with working, but did you know that your years spent away from the workplace can still qualify towards your state pension? You just need to have registered for Child Benefit.
Did you know that your years spent away from the workplace can still qualify towards your state pension?
Child Benefit is a payment you can claim if you're looking after a child under 16, or under 20 if they're in education or training - although if you or your partner's individual income is above £50,000 you may have to pay a tax charge. If this is the case and you don't want to claim Child Benefit as a result, fill in the form anyway as this protects your National Insurance credits. You'll get National Insurance credits when you claim Child Benefit until your youngest child is 12.
It may not solve everything, but protecting your state pension is great place to start.
Look for any lost pots
It's estimated that as much as £400m has been 'lost' in pension pots which people have forgotten about, so think back to where you've worked in the past and start contacting old employers or pension providers. We worked with mum and money blogger Mrs Mummypenny last year and she was shocked to find around £40,000 in dormant workplace pensions…
great discussion on my Facebook page last night and has triggered a few readers into action👏👏https://t.co/Sc1P2So3yV

— Mrs Mummypenny (@MrsMummypennyUK) September 28, 2016
So why not start tracking down your old pensions too? You might be surprised at what you discover. It'll also help you when it comes to the next step…
Set a savings goal
Once you know what you have, it's time to start planning ahead. There's lots of pension figures bandied about - plenty that will give you panic - but if you're just after a comfortable retirement, then the numbers might not be quite as bad as you think.
According to a recent Which? survey the average retired couple needs £18,000 a year to cover household essentials - such as food, utilities, transport and housing costs - rising to £26,000 allowing for extras, such as a European holiday and leisure activities.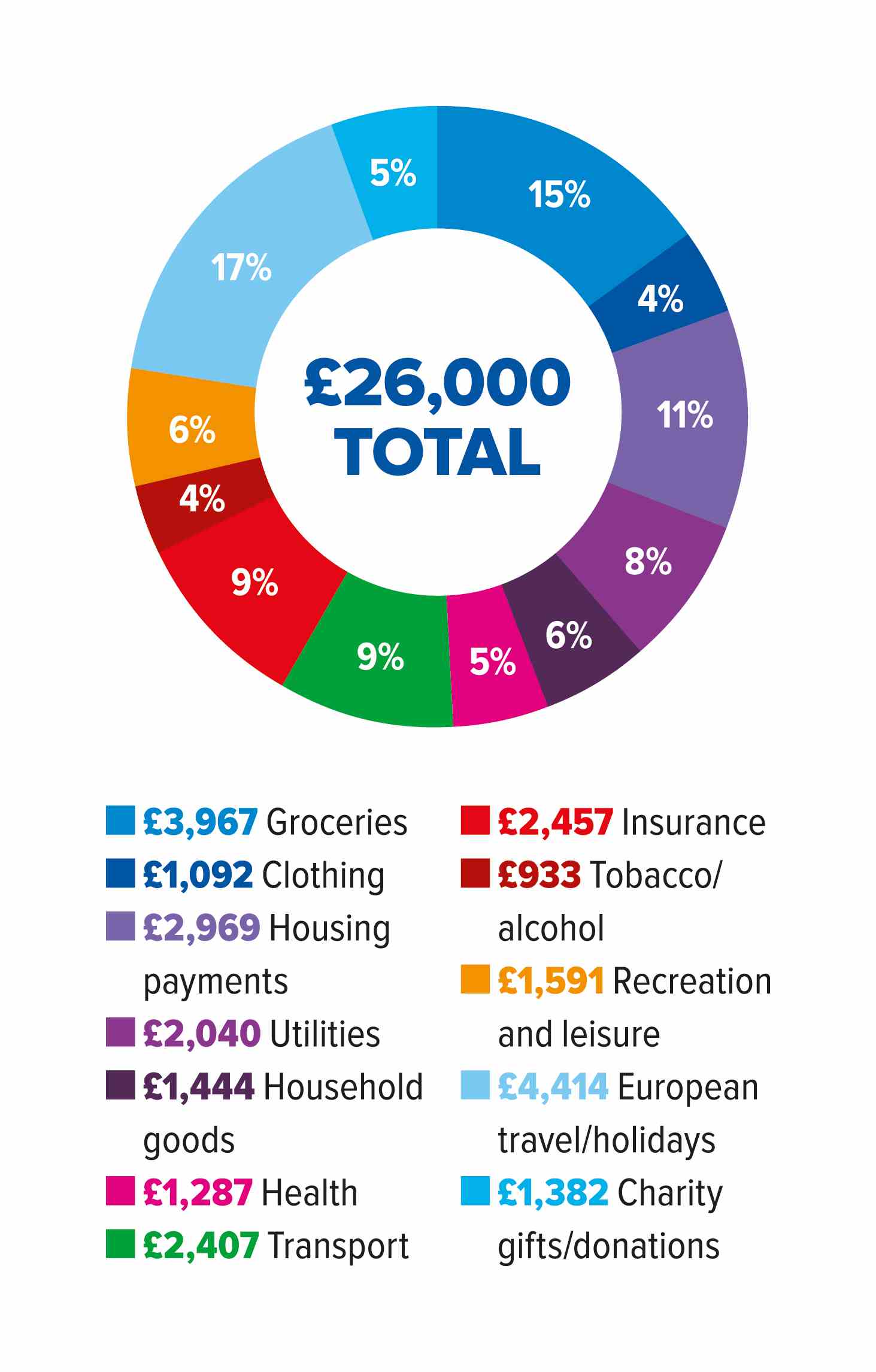 Per person that's a not too massive £13,000 a year. So, if you're entitled to the new full state pension of £8,296 per year, then according to the Which? research you only need to supplement it with around £5,000 per year. Still, that's not a tiny figure - so how can you reach it?
Combine and contribute whenever you can
The Which? research is based upon achieving a pot of £210,000 to sit alongside your state pension, and handily they've broken down how a couple can reach this, depending on which age they start saving. Check out the figures below:
£131 a month from age 20
£198 a month from 30
£338 a month from 40
£633 a month from 50
Bear in the mind that these figures are based on starting from scratch, so if you've got lots of old pots these figures could be smaller! Trying using our pension calculator to see how you can reach that £210,000 figure (or £105,000 if you're not in a relationship).
Something else worth considering is bringing all your old pensions together, into one easy-to-access personal plan (
just like PensionBee
). This gives you the freedom to contribute when it's affordable, and can also spare you from hefty fees. Remarkably,
some providers still impose all kinds of costs
on dormant pensions.
When it comes to contributing, try to see where you can cut costs, as you might be surprised at what some small sacrifices bring. Plus, If you come across money - some inheritance, perhaps - consider putting some of that towards your pension. Explore what kind of work you can do from home around the kids, too, as you might be surprised what's possible.
Meet the mums who are setting up their own businesses https://t.co/sqNqwnbITb pic.twitter.com/bMlBdhW2LD

— Debbie Gilbert (@VivaDebi) March 15, 2017
Above all else, don't panic - just save what you can - as anything is better than nothing. Plus, remember that all basic rate taxpayers have their contributions into a pension boosted by 25% thanks to tax relief. This means that for every £100 you contribute you'll receive another £25 from the taxman. Not bad, eh?
Risk warning The information in this article should not be regarded as financial advice.