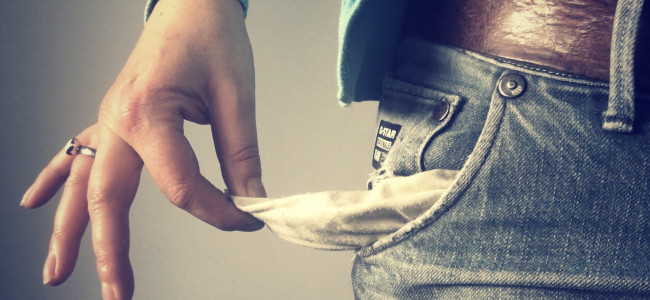 "Save for a pension? No chance! I've got nothing left over!"
Unsurprisingly, we talk a lot about pensions here at PensionBee. We think it's key that people understand why pension saving is important and how to go about it.
But we also know that the idea of saving for a pension can seem laughable if you're struggling to make ends meet each month. People are telling us this every day on the PensionBee Facebook page.
Jo Burton sums up the issue really well:
"Here's the problem for many of us. We had the choice; save for a pension, save for a deposit on a house or save enough to cover an unexpected bill.
When my company pension adviser told me I should be saving £500 a month I laughed and told them to look at how much they were paying me. Then minus travel, rent, bills….. "What? you have £80 left a month?" "If I'm lucky…"
It wasn't like I was living an extravagant life. Just scraping by month to month."
For many, low wages and high living costs make the idea of retirement saving seem like a fantasy. The Office for National Statistics (ONS) shows that the number of workers who are not saving towards a pension as a result of low income rose from 38% in 2010-11 to 50% in 2014-15.
Here's our guide for retirement saving if your household finances are stretched.
1. Get on top of your budget
Clearly you won't be able to save into a pension if you're struggling to cover your bills, so the first step is to see whether you can free up some money each month.
Making a budget planner – which can be as simple as a spreadsheet showing your income and outgoings - helps you see where your money is going so that you can start looking at where you could cut costs.
Consider switching utility suppliers, finding a more competitive mobile phone or internet contract and changing your bank. Online switching services are now making this easier. Plus, getting really organised about your meal planning and making your food shopping as efficient as possible can make a big difference to your outgoings – try Netmums' budget meal planner to get started.
2. Check if you're eligible for extra help
You may also be eligible for some support from the government, for example housing benefit, income support, working tax credits, child tax credit and council tax reduction.
The basic amount of working tax credit is a maximum of £1,960 a year, but the exact figure depends on your situation and income. Use the tax credits calculator on the government's website to find out more.
For more information about benefits and tax credits, as well as help with managing debt, check out the Citizens Advice website or drop into your local Citizens Advice Bureau.
3. Pension payments from your employer and the government
The next step is to understand that the amount you pay into your pension is boosted by your employer and by the government, so you may not need to pay in as much as you think to save a tidy annual sum.
The example on Money Helper explains that someone on a salary of £24,000, would only need to pay in £145.41 per year (the equivalent of £12.12 per month) to add a total contribution of £363.52 per year to their pension pot.
This is because you get 25% tax top ups from the government and because your employer is obliged to contribute to your pension under new auto-enrolment rules. All UK workers over the age of 22 (but under state pension age) and earning at least £10,000 pa are eligible for auto-enrolment, and the amount that your employer must add is set to rise over the next few years.
4. Start as early as possible, even if it's only a small amount
Perhaps pension saving still sounds tricky, but we can't emphasise enough that the sooner you start, the better. Starting early gives you more years to save, it means your pension investments have more time to grow, and it gets you into the habit of saving.
Even if you can only afford to put a small amount aside right now, your future self will thank you for making a start!
5. If you get a boost, put it into your pension
Most of us get a pay rise and then quickly adjust our lifestyle to match our new salary. That's why it's best to divert the extra money into savings as soon as your pay packet increases, so that you're squirreling more away without feeling the pinch.
Of course, you may decide to add more money to your ISA or save for a deposit, but upping your monthly pension contributions is also smart.
Plus, most good pension providers will allow you to make lump sum payments as well as regular contributions, so if you get a windfall or find you have a bit of money left over one month, it's a good idea to pay some of this into your pension.
6. Keep reviewing your situation
If you really can't find the money to pay into a pension or you can only pay a very small amount at the moment, keep retirement saving in mind and review your situation as often as possible.
If things are difficult at the moment, don't dismiss the idea of a pension entirely. If your household income increases or your expenditure goes down over the next few months or years, take the opportunity to boost your pension saving.
And if you're still sceptical about the whole idea of a pension, check out our recent article addressing some of the pension doubts and misgivings we hear most regularly.
As always with investments, your capital might be at risk.