How are
we

different?

One pension. One place. One less thing to worry about.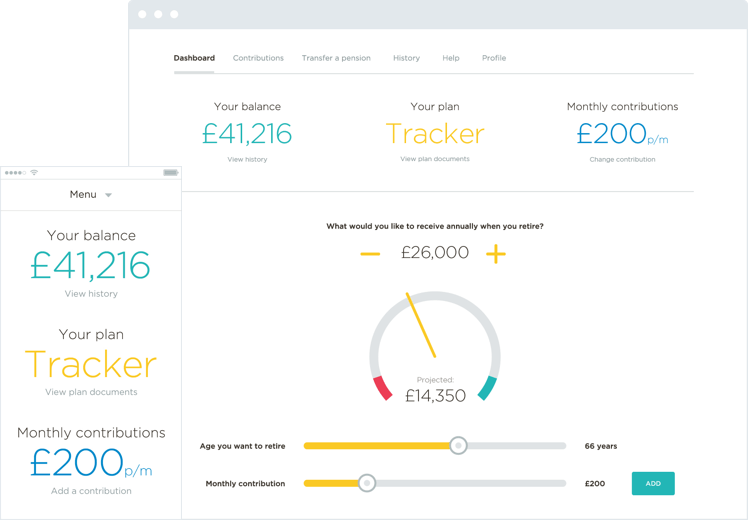 A modern, mobile, paper-free pension
Our BeeHive is built to make saving simpler. You can see your current pot size, your projected retirement income, and set up regular or one-off contributions with just a few clicks. We'll never bombard you with paper or post (our team likes trees).

Human support, when only a human will do
Our BeeKeepers are always on hand, no matter what the question. They'll guide you through your signup, track down your pensions and set up your new plan. For as long as you're a PensionBee customer, they'll be there to support you.
Fair fees and total transparency
For pensions under £100,000 you'll pay one annual fee of 0.5-0.95%, where others could charge over 2.5%. Once your pension grows larger than £100,000 we'll halve the fee on any savings you make over this amount.
Your pension in the safest hands
Your money is managed and kept safe by the world's biggest money managers – BlackRock, State Street and Legal & General. With around £7 trillion managed between them, they know the best place for your money.

Forever fighting for the customer
When we're not building Britain's best pension product, we're pressing the industry for change. Our battle for a 10‑day transfer guarantee is just the beginning…
Don't just take our word for it though, see what our customers say…
Nikola
My stars are five for the transition process. As I've not added anything to my pension yet. I was looking to change the funds some of my pensions were in as they were under performing. I wanted an app feature as without it I don't really keep track. I pension bee advertised on my Revolut app and it's been great. They handled the whole transitional process seamlessly and now I can see exactly how much I have in my app and I'm far more likely to add money to it. I'm currently self employed so I need reminding! I also received £25 from revolut when the funds arrived at pension bee. No problems and great communication throughout.
5 days ago
PensionBee replied…
Hi Nikola, Thank you for leaving your detailed review! It's great to hear that you found us through Revolut, and you got a reward. Best of luck as you save for retirement. All the best, Priyal Kanabar Team PensionBee
Sindy
I'm happy with the way the team have dealtt with my money being transfered into one account for easy access, and i'm just happy with the overall service from the pension bee team, thank you
5 days ago
PensionBee replied…
Hi Sindy. Thank you for taking the time to leave feedback, I'm delighted that you're happy with the service. Please keep your feedback coming. All the best, Priyal Kanabar Team PensionBee
M Jones
Helped to make moving an old Aegon pension to them incredibly easy, no matter how many layers of paperwork and red tape Aegon tried putting in the way. Happy that the app is available now too.
6 days ago
PensionBee replied…
Hi, Thank you for taking the time to leave a review. I hope you enjoy using the app, and please share any feedback you have about it. All the best, Priyal Kanabar Team PensionBee