How are
we

different?

One pension. One place. One less thing to worry about.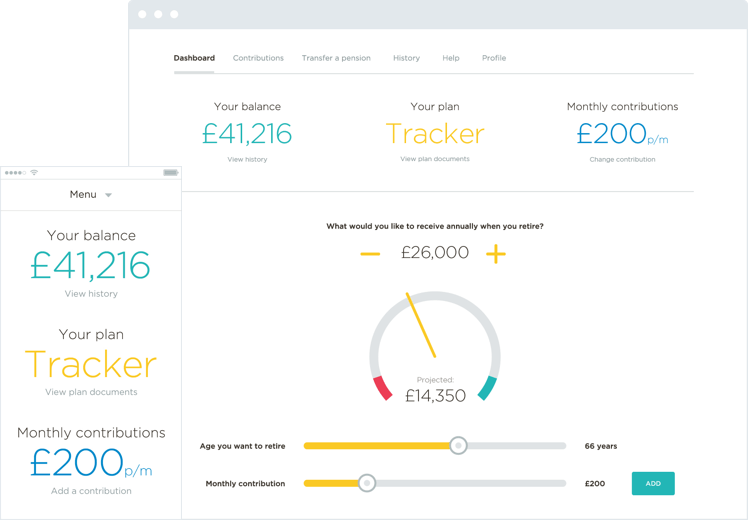 A modern, mobile, paper-free pension
Our BeeHive is built to make saving simpler. You can see your current pot size, your projected retirement income, and set up regular or one-off contributions with just a few clicks. We'll never bombard you with paper or post (our team likes trees).

Human support, when only a human will do
Our BeeKeepers are always on hand, no matter what the question. They'll guide you through your signup, track down your pensions and set up your new plan. For as long as you're a PensionBee customer, they'll be there to support you.
PensionBee
Match
PensionBee plans
Your pension in the safest hands
Your money is managed and kept safe by the world's biggest money managers – BlackRock and State Street. With around £6 trillion managed between them, they know the best place for your money.

Forever fighting for the customer
When we're not building Britain's best pension product, we're pressing the industry for change. Our battle for a 10‑day transfer guarantee is just the beginning…
Don't just take our word for it though, see what our customers say…
Yannis Papaioannou
Great experience. Easy platform to understand and very helpful customer support. 5 stars only when: 1. You'll be able to reply to customers within 24 hours (now the average waiting time from my experience was 2 days) 2. You develop a Pensionbee smartphone app.
4 days ago
PensionBee replied…
Thanks very much for your feedback, Yannis. I'll pass it on to your BeeKeeper, Priyal, and the rest of the team. We really appreciate feedback and suggestions from our customers, as this helps us to improve and provide our customers with the very best experience. Thank you! We're currently taking feedback on how our customers would like to use a smartphone app, so please feel free to let us know your ideas, suggestions, and how you'd use a mobile app. Thanks again and welcome to PensionBee, Yannis! Have a lovely day. Zainabb Hull Community and Content Executive
Christopher
Friendly, efficient service. Easy to see all of your pension pots in one place.
5 days ago
PensionBee replied…
Hi Christopher, thanks very much for your review. I'll pass on your feedback to your BeeKeeper, Priyal, who'll be happy to hear you're happy! We're glad to have helped you sort out your pension - we think it should be this easy for everyone. Have a great day. Zainabb Hull Community and Content Executive
Jason Murphy
Brilliant idea, gives you fingertip control of your own pension, genius idea and so easy to use
6 days ago
PensionBee replied…
Hi Jason, thanks so much for your review. I'll pass it on to your BeeKeeper, Christianna. We believe that pensions can be simple, so we're really pleased to have helped you sort your pension. Welcome on board, Jason! We're happy to have you. Have a great day. Zainabb Hull Community and Content Executive