How are
we

different?
One pension. One place. One less thing to worry about.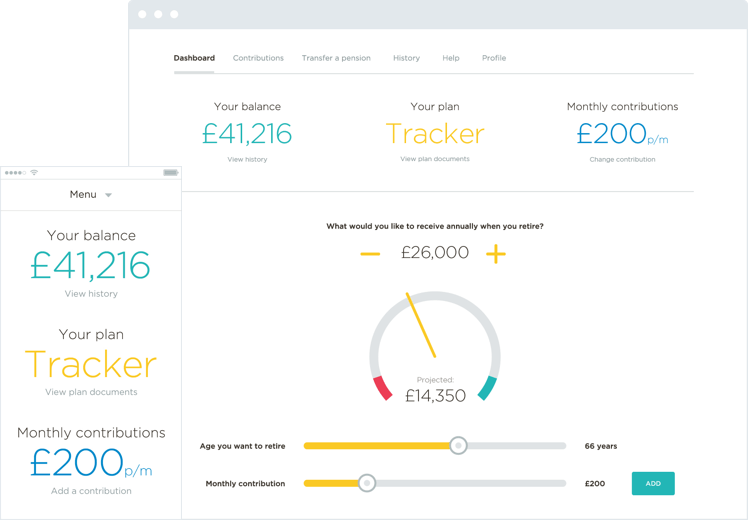 A modern, mobile, paper-free pension
Our BeeHive is built to make saving simpler. You can see your current pot size, your projected retirement income, and set up regular or one-off contributions with just a few clicks. We'll never bombard you with paper or post (our team likes trees).

Human support, when only a human will do
Our BeeKeepers are always on hand, no matter what the question. They'll guide you through your signup, track down your pensions and set up your new plan. For as long as you're a PensionBee customer, they'll be there to support you.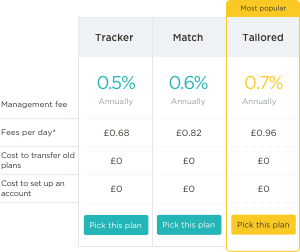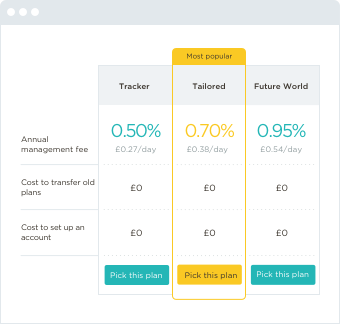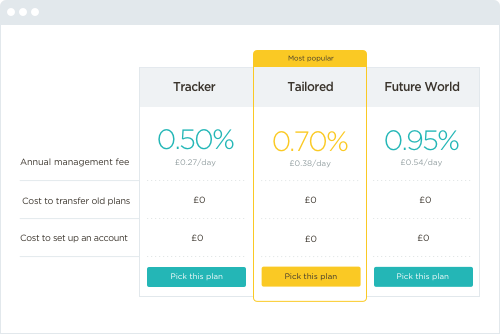 Fair fees and total transparency
For pensions under £100,000 you'll pay one annual fee of 0.5-0.95%, where others could charge over 2.5%. Once your pension grows larger than £100,000 we'll halve the fee on any savings you make over this amount.
Your pension in the safest hands
Your money is managed and kept safe by the world's biggest money managers – BlackRock, State Street and Legal & General. With around £8 trillion managed between them, they know the best place for your money.
Find out the common myths about consolidating your pensions
Don't just take our word for it though, see what our customers say...
Ian
Recently opened a new account with PensionBee, to transfer a pension to a place I could have more control, and to drawdown when necessary. I found the whole process easy, and there was good communication between us. I can access my account easily now. Very pleased.
2 days ago
PensionBee replied...
Hi Ian, Thanks for taking the time to leave a review! I'm glad to hear you have been impressed with your experience so far and have been kept up to date by our team of BeeKeepers. Please do let us know your feedback in the future too, as we are always looking for ways we can improve. Have a lovely evening, Tom Carter Team PensionBee
oiathira2
Very good service and quick payment if you use the drawdown
2 days ago
PensionBee replied...
Good afternoon, Thanks for leaving us with a review! It's great to hear you have been impressed with us so far and received your money quickly when you started to draw down. I hope you continue to enjoy your experience with us, but please do keep sharing your thoughts with us. Kind Regards, Tom Carter Team PensionBee
Victoria
So far so good - one of my pension pots transferred exceptionally quickly the other has taken some more time, but I can't really hold that against pensionbee as its pretty out of their control. I sent an email to my 'beekeeper' to chase it up for me, she did and I got an update later that day! Waiting for that money to hit the pensionbee account at the moment but was told it would be 5-7 days. I've downloaded the app which is easy to use and their 'retirement planner' really gives you a good idea of what you need to be moving towards with your investing to be able to retire when you want. Excited to start moving forward with my pension investments feeling a little more in control of them. It's super easy to set up a regular contribution and they claim the HMRC contribution for you.
2 days ago
PensionBee replied...
Hi Victoria, Thanks for taking the time to leave us with a review! I'm delighted to hear you have enjoyed a quick transfer of your first pension, I hope there won't be much more of a wait for your second one too! I'm glad we have been able to put you back in control of your retirement and thanks for all your great comments about us and the app too. Please do continue to share your feedback with us moving forward, we always want to hear how we are getting on from our customers! Have a great rest of day, Tom Carter Team PensionBee