How are
we

different?

One pension. One place. One less thing to worry about.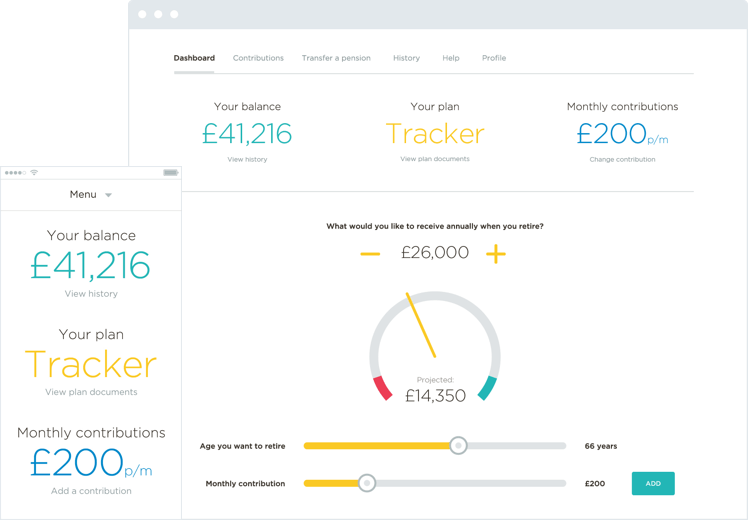 A modern, mobile, paper-free pension
Our BeeHive is built to make saving simpler. You can see your current pot size, your projected retirement income, and set up regular or one-off contributions with just a few clicks. We'll never bombard you with paper or post (our team likes trees).

Human support, when only a human will do
Our BeeKeepers are always on hand, no matter what the question. They'll guide you through your signup, track down your pensions and set up your new plan. For as long as you're a PensionBee customer, they'll be there to support you.
Fair fees and total transparency
For pensions under £100,000 you'll pay one annual fee of 0.5-0.95%, where others could charge over 2.5%. Once your pension grows larger than £100,000 we'll halve the fee on any savings you make over this amount.
Your pension in the safest hands
Your money is managed and kept safe by the world's biggest money managers – BlackRock, State Street and Legal & General. With around £8 trillion managed between them, they know the best place for your money.

Don't just take our word for it though, see what our customers say…
Anthony
It started with nothing but problems at the beginning of joining Pension Bee. But after speaking to there team, they did turn things around and kept to there promise with when they would call me or send an email to confirm things. I feel much better with them and I am looking forward to using them for many years. I was given something from Pension Bee and just so they are aware I donated £100 towards SSAFA (Solider Sailor Airforce Association)
5 days ago
PensionBee replied…
Hi Anthony, Thank you for your feedback and for giving us a chance to turn your experience around, and showing you that we really value you as our customer, and take your feedback seriously. That's a generous donation that you've made, and I'm sure that the SSAFA will feel grateful for that. Warm wishes, Priyal Kanabar Team PensionBee
Keith Gilliver
Incredible service to consolidate old pensions into one place allowing full visibility through the app.
6 days ago
PensionBee replied…
Hi Keith, Thank you for your feedback, and kind words. We're delighted that you like the service. Warm wishes, Priyal Kanabar Team PensionBee
Alistair
So easy to use and have kept me updated throughout the process of transferring in old pensions. A relief to have finally consolidated old pensions in one place.
6 days ago
PensionBee replied…
Hi Alistair, Thank you for your feedback, and I'm delighted that you feel relieved. Please keep your feedback coming. Warm wishes, Priyal Kanabar Team PensionBee