How are
we

different?
One pension. One place. One less thing to worry about.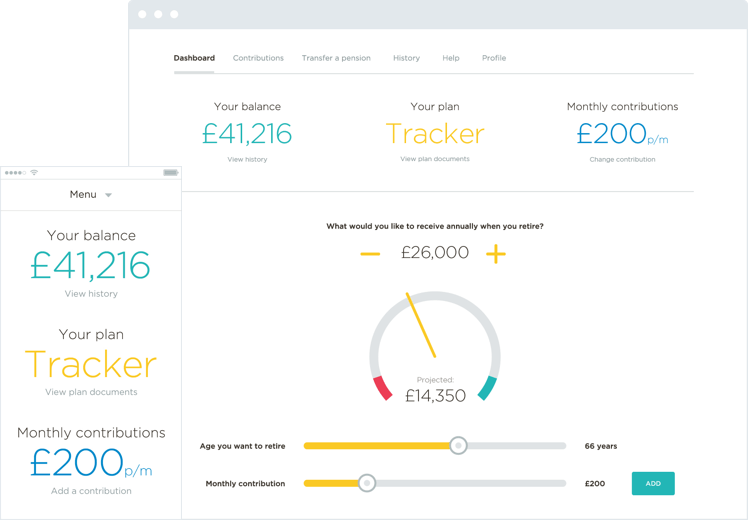 A modern, mobile, paper-free pension
Our BeeHive is built to make saving simpler. You can see your current pot size, your projected retirement income, and set up regular or one-off contributions with just a few clicks. We'll never bombard you with paper or post (our team likes trees).

Human support, when only a human will do
Our BeeKeepers are always on hand, no matter what the question. They'll guide you through your signup, track down your pensions and set up your new plan. For as long as you're a PensionBee customer, they'll be there to support you.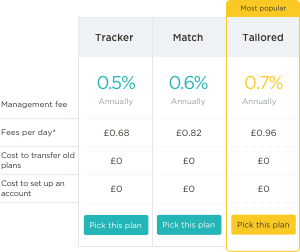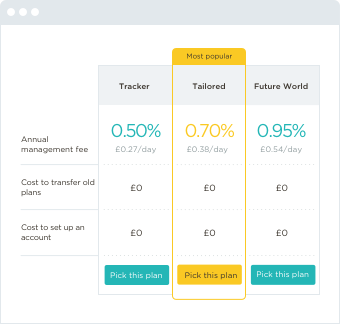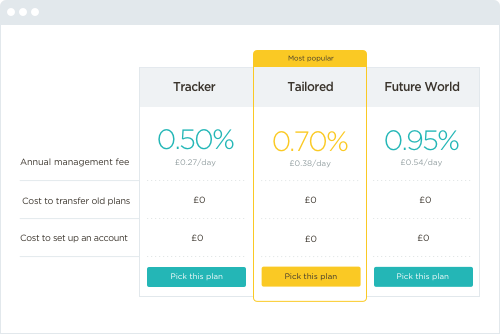 Fair fees and total transparency
For pensions under £100,000 you'll pay one annual fee of 0.5-0.95%, where others could charge over 2.5%. Once your pension grows larger than £100,000 we'll halve the fee on any savings you make over this amount.
Your pension in the safest hands
Your money is managed and kept safe by the world's biggest money managers – BlackRock, State Street and Legal & General. With around £8 trillion managed between them, they know the best place for your money.
Find out the common myths about consolidating your pensions
Don't just take our word for it though, see what our customers say...
Wereeya
It was pretty easy to do it online. Just fill in some details which I remember from previous work. Some of my pension are underway and some are now with pension bee. Thank you very much Andi fro your help.
2 days ago
PensionBee replied...
Hi Wereeya, Thanks for your great feedback! I'm glad you have enjoyed a simple and stress-free transfer process so far. I will be sure to pass your comments back to Andi, he will be delighted to hear them. Please do continue to leave us with your feedback moving forward too, as it helps us to improve our service further! Thanks again, Tom Carter Team PensionBee
customer
Very easy service to use! Happy with the communication, they are quick and effective and have helped collate all my pensions into one and it is easy to see! Will see how the savings go in the future - hence the 4 star review.
2 days ago
PensionBee replied...
Good afternoon, Thanks for taking the time to leave us a review! I'm glad to hear you have been impressed with our level of communication and we have helped you to combine your old pensions. Hopefully over time we will win your trust further and you will be happy to improve this review. Please do let us know your thoughts moving forward though, as your feedback helps us to improve for our customers. Have a great day, Tom Carter Team PensionBee
Paul Kelsall
A thoroughly modern company. Although in my mid 50's and eligible to draw some of my pensions, I don't feel like a pensioner nor do I want to be treated like one. PensionBee gets rid of the old stuffy stigma which surrounds the dinosaur stereotype pension company's and delivers it smack bang into the 2020's. It's like dealing with a modern online Bank account!!! Certainly a breath of fresh air for the 1960's generation and younger generation who need to think about pensions. You are assigned a Beekeeper who you can have direct contact with. You can live chat on the website. The pension choices are simple according to the risk factor you would like. (Great if your not too savvy about investments and you want to choose and forget) Everything can be done online. When it comes to the Golden age of 55 or more, again, everything is simple and easy to understand whatever your circumstances are. Wish this company was trading all those years back when you needed a financial degree just to take a pension out.
2 days ago
PensionBee replied...
Hi Paul, Thanks for taking the time to leave us with a review! I'm delighted to hear you have been impressed with us and you're enjoying being a PensionBee customer. We are on a mission to make pensions simple, remove all the jargon surrounding them, and bring our customer's experience into the 21st century. Please do continue to provide us with your feedback moving forward too, as we are always trying to improve and increase our offering. Thanks again, Tom Carter Team PensionBee