How are
we

different?

One pension. One place. One less thing to worry about.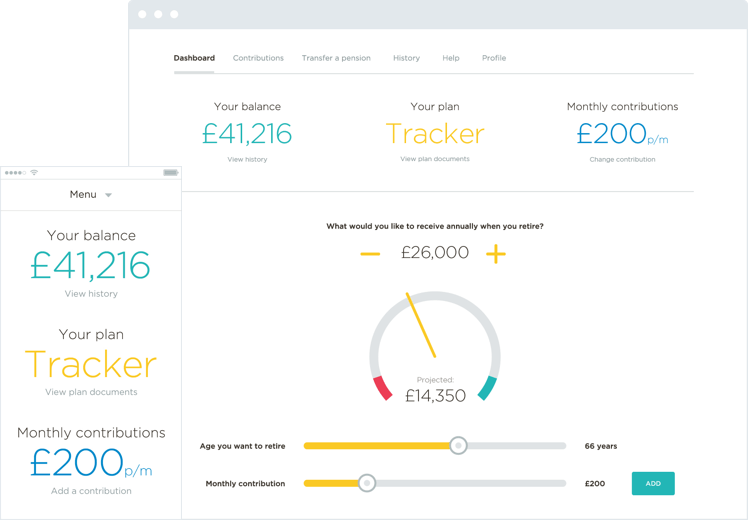 A modern, mobile, paper-free pension
Our BeeHive is built to make saving simpler. You can see your current pot size, your projected retirement income, and set up regular or one-off contributions with just a few clicks. We'll never bombard you with paper or post (our team likes trees).

Human support, when only a human will do
Our BeeKeepers are always on hand, no matter what the question. They'll guide you through your signup, track down your pensions and set up your new plan. For as long as you're a PensionBee customer, they'll be there to support you.
Fair fees and total transparency
Every pension costs money, but we've priced ours competitively. Our fees start at 0.5%, and we only charge one annual fee. We don't believe in complex, hidden costs that can take a toll on your pension.
Your pension in the safest hands
Your money is managed and kept safe by the world's biggest money managers – BlackRock, State Street and Legal & General. With around £7 trillion managed between them, they know the best place for your money.

Forever fighting for the customer
When we're not building Britain's best pension product, we're pressing the industry for change. Our battle for a 10‑day transfer guarantee is just the beginning…
Don't just take our word for it though, see what our customers say…
Hannah
I had a couple of small pensions from some short term jobs which I was worried I would lose and PensionBee has solved all that! I now have a pension with a dashboard I actually understand! Would strongly recommend. Thank you!
9 days ago
PensionBee replied…
Hi Hannah, thank you very much for taking the time to leave such a great review! I've passed on your feedback to your BeeKeeper, Rohan, who'll be thrilled to hear it! We're so pleased to have helped you sort your pension as quickly and simply as possible. Please don't hesitate to get in touch if you need anything at all from us. Welcome onboard, Hannah! Have a lovely day. Zainabb Hull Community and Content Executive
Yvonne
Really happy with pension bee and being able to log in and see my pension value is awesome. Transfering was quick and easy with emails at every stage letting me know how things were progressing. Thanks
11 days ago
PensionBee replied…
Hi Yvonne, thanks very much for your feedback! I've passed it on to your BeeKeeper, Rohan, who'll be really pleased to hear it. We're glad to have helped you sort your pension. We think it should be this simple for everyone! Welcome to PensionBee! Hope you have a lovely day. Zainabb Hull Community and Content Executive
Umar
Quick and simple to transfer your fund in to one account, good communication from PensionBees team and updates on regular basis. Highly recommend. Umar Mlaik
17 days ago
PensionBee replied…
Hi Umar, Thanks very much for your kind words, I'll let your BeeKeeper know. Jasper Martens VP Marketing