How are
we

different?
One pension. One place. One less thing to worry about.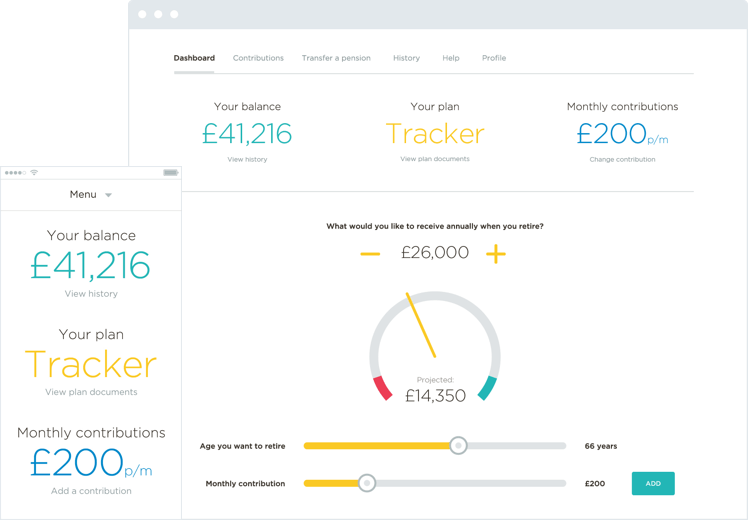 A modern, mobile, paper-free pension
Our BeeHive is built to make saving simpler. You can see your current pot size, your projected retirement income, and set up regular or one-off contributions with just a few clicks. We'll never bombard you with paper or post (our team likes trees).

Human support, when only a human will do
Our BeeKeepers are always on hand, no matter what the question. They'll guide you through your signup, track down your pensions and set up your new plan. For as long as you're a PensionBee customer, they'll be there to support you.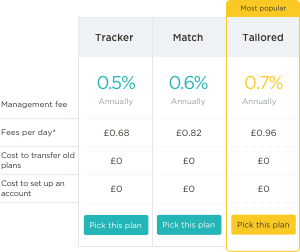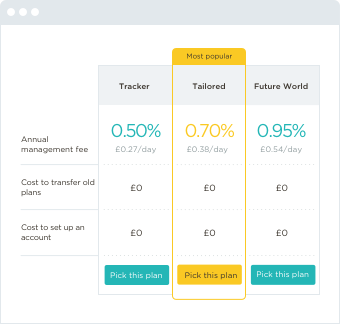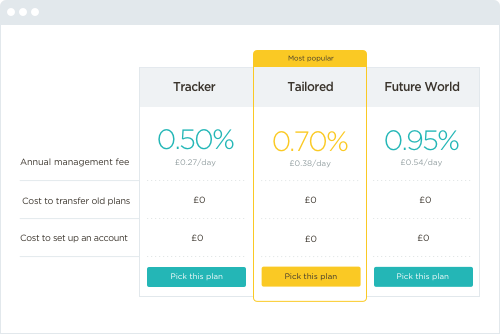 Fair fees and total transparency
For pensions under £100,000 you'll pay one annual fee of 0.5-0.95%, where others could charge a lot more. Once your pension grows larger than £100,000 we'll halve the fee on any savings you make over this amount.
Your pension in the safest hands
Your money is managed and kept safe by the world's biggest money managers – BlackRock, State Street and Legal & General. With around £8 trillion managed between them, they know the best place for your money.

Forever fighting for the customer
When we're not building Britain's best pension product, we're pressing the industry for change. Not only are we fighting for [total transfer transparency] (/blog/2020/march/how-do-our-transfer-times-compare) but [consumer switching guarantees](https://pensionswitchguarantee.com)
Find out the common myths about consolidating your pensions
Don't just take our word for it though, see what our customers say...
JOAN
It was all very easy to set up and transfer several little pensions I had into one pot which was something I had been putting off doing for ages. Fingers crossed that Pension Bee continues to grow and serve its customers well in these uncertain times.
2 days ago
PensionBee replied...
Hi Joan, Thanks for taking the time to leave your feedback. It's great to hear you have enjoyed a simple transfer process, and have been impressed with us so far. I hope you continue to enjoy your PensionBee experience moving forward, and we can continue to gain your trust too. Have a wonderful day, Tom Carter Team PensionBee
customer
My experience so far with PensionBee has been reassuringly positive. I have moved my pension pot over to PensionBee from a large competitor who were unable to offer the type of drawdown product and flexibility that suited my needs. After researching alternative providers PensionBees product range seemed to offer the product I was looking for. Their approach is transparent and helpfully informative, and my assigned bee keeper is informed and has a can do attitude. So far I am impressed with the whole move to PensionBee experience, and if it wasn't for the dreaded Coronavirus impact on the markets I would probably have more to say! So far a thumbs up A+ so far. Mr Bailey
3 days ago
PensionBee replied...
Good morning, Thank you for taking the time to leave us with such a great review. I'm delighted to hear you have been impressed with us so far, and have enjoyed your PensionBee experience. I hope you enjoy the flexible draw down you were looking for, and our team of BeeKeepers can help with any questions you have in the future too. Have a great week, Tom Carter Team PensionBee
Tim
easy to transfer old pensions, loved it.
3 days ago
PensionBee replied...
Hi Tim, Thanks for taking the time to leave your feedback. I'm delighted to hear you have enjoyed a simple and stress-free transfer experience. Please do continue to share your thoughts with us in the future, and I hope overtime we can continue to impress and improve your experience to a 5* one. Have a great day, Tom Carter Team PensionBee