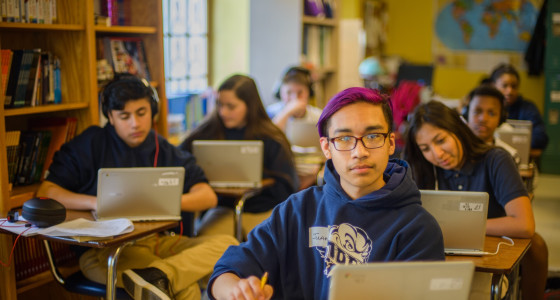 Leading online pension provider, PensionBee, has signed the Social Mobility Pledge: a business campaign aimed to increase career opportunities for people that have experienced disadvantages. The three-point pledge includes commitments to work with schools, offer work experience, and to use inclusive recruitment practices.
As part of the initiative, PensionBee is developing its own work experience programme, in addition to extending its partnership with several London schools, to provide careers support and financial literacy education. It hopes to address the lack of diversity in the pensions and wider financial services industry by increasing familiarity around this sector, particularly among students who may not be considering this career route.
PensionBee first began working with local state schools in 2020 through the Careers and Enterprise Company, a national network facilitating world-class careers education for UK students. Holding an enterprise advisor position, PensionBee works closely with the careers leader at Langdon Park School (Poplar, East London) to provide support and inspire pupils.
Recent presentations include PensionBee CEO, Romi Savova, leading a financial services Q&A for pupils, while Head of Software Delivery, Davinder Kaur led a session on personal budgeting. In addition Rachael Oku, Head of Brand and Communications, led a mock interview session and CMO, Jasper Martens, held an interview preparation class for a group of students who have English as a second language.
PensionBee advocates challenging the perceptions of what people in pensions should be, breaking down some of the barriers people face. That's why applicants wishing to join entry-level roles need no set experience, with these roles specifically advertised on sites aimed at those starting their careers without attending university. PensionBee provides all of the learning tools required and heavily invests in training so that all team members start with the same understanding of the industry.
In 2020, over 85% of new hires went directly into PensionBee's award-winning entry-level training scheme called the 'Program'. As of December 2020, 88% of the Junior Management Team started in entry level roles and are now supporting the business across all areas.
Recent data highlights PensionBee's strong diversity with 40% of employees self-identifying their racial or ethnic background as Asian / Asian British; Black, African, Caribbean, or Black British; Mixed, multiple or other ethnic groups. This is on a par with the 40% representation found in London, where the company is based.
Romi Savova, CEO at PensionBee, commented: "Financial services should be a sector in which everyone can find meaningful employment and succeed as themselves. Businesses will only suffer if they recruit and promote the privileged few who attend elite schools and universities, instead of building a workforce that's representative of today's society.
At PensionBee, we believe a rich culture can only grow from people with different backgrounds and experiences bringing all of themselves to the workplace. Our diversity helps us relate better to our customers, and make better decisions, whilst creating a sense of belonging and connection with our team. All of our interactions with the students have been mutually inspiring and we look forward to extending our work experience opportunities for them in future."
Appendix
Table 1: PensionBee employees' racial or ethnic background
| | Employees | London* |
| --- | --- | --- |
| Asian or Asian British | 9% | 19% |
| Black, African, Caribbean, or Black British | 13% | 13% |
| Mixed or Multiple ethnic groups | 13% | 5% |
| White | 54% | 60% |
| Other ethnic groups | 1% | 3% |
| No response or Rather not say | 11% | 0% |
Source: PensionBee, April 2021. Voluntary survey, with 127 respondents. "No response or Rather not say" includes employees that did not complete the survey. The total sample size of this analysis is 150. Numbers have been rounded. Data taken from the 2011 census.