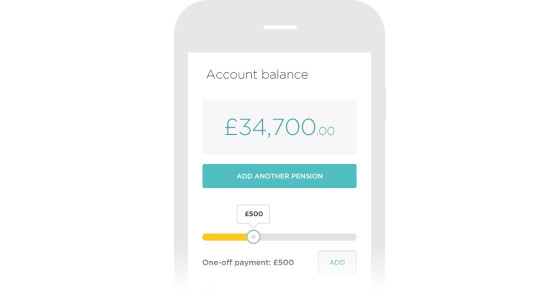 Company appoints Mark Wood, ex-CEO of Prudential and Axa as their Chairman.
PensionBee, an innovative young company, has unveiled a service that helps customers to find their old pensions and combine them into a single, online plan. PensionBee's pension plans are professionally managed by BlackRock and State Street, the largest and 3rd largest money managers in the world.
PensionBee's technology-led service utilises a small amount of readily-accessible personal information to locate a saver's existing pension pots and then produces a summary snapshot for free. The company's research has shown that customers are often shocked to discover they are paying charges, even if they have stopped making any contributions to their pensions.
Customers can easily combine their pensions into a good-value PensionBee plan of their choice, reducing their fees to a level typically reserved for rich savers with large pensions. The company's online dashboard estimates the value of the pension at retirement – a figure that frequently surprises customers who have neglected to save.
PensionBee is a novel solution to address the millions of pension pots unwittingly left behind by savers who have switched jobs. The DWP has estimated that over 50 million pensions will be left behind by 2050 owing to the UK's ever-more-mobile workforce.
The business, backed by City investors from Goldman Sachs, other finance heavyweights and serial fintech entrepreneurs Donal Smith and Mark Faulkner, has raised £2m since being founded in 2014. Mark Wood, ex-CEO of Prudential UK and Axa UK, has been appointed as Chairman. Chief Executive Officer Romi Savova is a Goldman Sachs and Morgan Stanley alumna and CTO Jonathan Lister Parsons hails from a technology background at BT and the vibrant East London start-up scene.
Romi Savova, CEO of PensionBee, commented:
"We're here to simplify the utterly bewildering process of managing one's pensions in the UK. We will offer the transparency, convenience and value for money that all savers deserve when it comes to their pensions and we're delighted to be working with world-class partners who share our vision."
Mark Wood, Chairman of PensionBee commented:
"PensionBee's technology simplifies retirement saving and improves returns. Taking control and keeping tabs on the progress of a pension plan has never been this straightforward before."
Tony Stenning, Head of Retirement EMEA at BlackRock, says:
"Individuals often struggle to keep track of the various pensions that they may have from previous employers, and this can make planning for retirement difficult. Just four in ten Brits say they feel in control of their financial future and to turn this around we need to provide people with the tools to enable them to take control. PensionBee is doing just that. It is offering a simple and easy to use service to help people reconnect with their pensions and combine them into one plan, taking the hassle out of planning for the future. We're really excited to be a part of this new service which will put people back in touch with their pensions."
Nigel Aston - European Head of DC at State Street Global Advisors commented:
"All of our research points to consumers increasingly looking for intuitive and straightforward answers to their pension questions. People understandably want to take control of their future retirement, but are often hampered by the bureaucracy and cost that a complex financial industry inadvertently puts in their way. PensionBee is doing a great job of taking away that complexity and allowing consumers to aggregate their DC savings into good value trustworthy investments. We are delighted to be playing a part in that success."