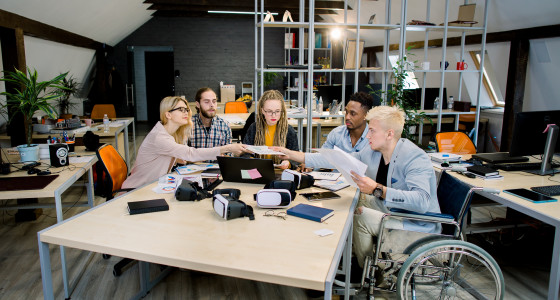 Leading online pension provider, PensionBee, has joined the Government's Disability Confident Scheme, as part of its continued efforts to champion equality in the workplace (1).
'Disability Confident' organisations are integral in changing attitudes towards disabilities, by altering behaviours and cultures within their own business practices and communities. As a 'Disability Confident' employer, PensionBee re-confirms its commitment to employing people from the widest pool of talent, securing skilled staff from diverse backgrounds.
As hidden disabilities account for 80% of the disabled population, membership to this scheme allows prospective employees and other businesses to easily identify PensionBee as a workplace which places great importance on offering equal opportunities (2). In addition, the scheme allows PensionBee to increase its understanding of disabilities, and how to aid new and existing disabled employees to reach their full potential at work.
PensionBee's motivation to become a 'Disability Confident' employer came as a direct result of employee feedback in its annual 'Diversity, Inclusion and Engagement' survey where employee's opinions on PensionBee's diversity, inclusion and engagement initiatives are collated to identify any gaps in its activities.
Romi Savova, CEO of PensionBee, commented: "Becoming a 'Disability Confident' employer is an important next step in PensionBee's continuous mission to become a fully inclusive workplace. We're always looking for new ways to learn and develop our culture - and it's wonderful to see this latest initiative driven by employee feedback.
Pensions are for everyone and we strive to foster a team that is reflective of those we serve. We're proud to join a community of employers who champion workplace cultures that embrace our differences and allow everyone to achieve their full career potential."