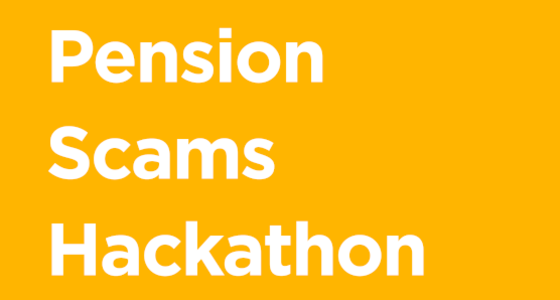 London, 19 November 2019: The online pension provider is bringing like-minded "pentechs" together to create new ideas to engage consumers and raise awareness.
PensionBee, a leading online pension provider, is bringing together brilliant minds from across the UK's "pentech" industry to challenge themselves to create an online concept that increases awareness of pension scams and how to protect against them.
On 29th November 2019, PensionBee has invited cross-company teams from some of the UK's most ambitious digital pension platforms including Nutmeg, AgeWage and Smart Pension, to work with them to develop an engaging online solution to raise awareness of online scams, which last year saw victims lose an average of £82,000*.
The event, sponsored by Barclays Eagle Lab, will see participants from the companies' technology, design, marketing and customer support departments combine their skills to deliver a unique set of ideas. The winning concept will be built by technology firm JMAN Group, with a view to making the product available to the public in early 2020.
Teams will be made up of representatives from all four companies and will be given six hours to develop their concept, which will be presented to a panel of expert judges including:
Michelle Cracknell CBE, Non-Executive Director at PensionBee and former CEO of the The Pensions Advisory Service;
Margaret Snowdon OBE, President of the Pensions Administration Standards Association;
Dominic Lindley, Member of the FSCP and former head of Which? Financial Services policy team; and
Stephanie Baxter, The Telegraph's Deputy Personal Finance Editor
The event is inspired by "Scams and Ladders", an investment scams board game, created by Emily Rosenorn-Lanng and Dr Sally Lee of Bournemouth University's National Centre for Post Qualifying Social Work and Professional Practice (NCPQSW), led by Professor Keith Brown.
Romi Savova, CEO at PensionBee, said:
"This event is the first of its kind and we are very excited to bring together some great minds within the industry to create imaginative ways to educate people about scams. Recent analysis by the FCA and Pensions Regulator has found that 63% of pension savers would be prepared to trust someone offering pensions advice out of the blue — one of the main signs of a scam. These staggering figures highlight the pressing need for wider awareness of this type of crime and we hope that the ideas generated by this event will encourage people to engage with their pensions, learn how to spot pension scammers, and significantly reduce the number of victims."
*According to research by the Financial Conduct Authority and Pensions Regulator, 8 November 2019
–
About the Pension Scams Hackathon
The Hackathon will take place on Friday 29th November from 09:00 – 17.30 at Plexal, Here East, Queen Elizabeth Olympic Park, London, E20 3BS.
If you are interested in participating, please email Rachael Oku ([email protected]).
Event website
https://www.eventbrite.co.uk/e/pension-scams-hackathon-tickets-79164480091
Social Media
Follow the Pension Scams Hackathon via social media and join the conversation using the hashtag #PensionScamsHackathon
Twitter: @pensionbee
Instagram: @pensionbee