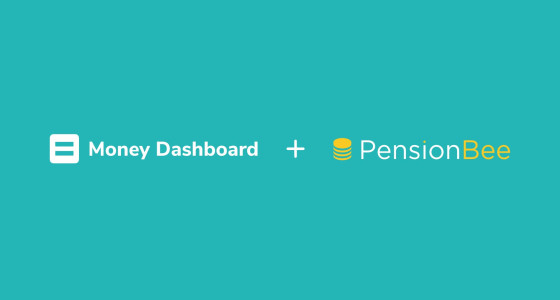 PensionBee customers are now able to see their live pension balance within the Money Dashboard app, signalling yet another big step forward for UK pension savers.
Money Dashboard, the UK's leading personal finance app and winner of the 2018 British Banking Awards, is giving existing users the ability to see their live PensionBee pension balance alongside all their other financial balances.
This exciting new integration embeds pensions even further into the Open Banking ecosystem, driving up consumer expectation that their real-time pension balance always belongs alongside all their other real-time balances.
Clare Reilly, Head of Corporate Development, PensionBee said:
"What a pleasure to kick off Financial Capability Week 2018 with exciting news of the PensionBee - Money Dashboard integration! Bringing together short- and long-term finances as part of Open Banking is an important step towards driving up financial capability skills for life and starting to tackle the UK's long-term savings crisis.
Money Dashboard already does a fantastic job of putting their users in control of their day to day finances. Today we are taking this to the next level, by empowering people to use the smarter financial choices they've developed as a result of using Money Dashboard and applying them to a build long-term view of their finances, with PensionBee.
Connecting the small changes you make to your daily spending today to building the financial future you want and deserve for yourself tomorrow, couldn't come sooner for UK savers. The ability to see your current financial self alongside your future financial self is how we build financial resilience in a generation of savers who can't abide out-of-date paper statements they simply don't understand"
Jossie Ellis, Head of Growth at Money Dashboard added:
"The integration with PensionBee is a fantastic development for us, but the real winners in this are PensionBee and Money Dashboard's users.
"Our mission is to help people from every walk of life be happier and more successful by putting them in control of their finances. With Money Dashboard, you can use our budgeting and planning tools to get in control of your day to day finances and then start planning for your future. Pensions are a key part of long-term financial planning & it's really exciting to begin a journey enabling people to see them along with their day to day spending and saving habits.
We're delighted to be working with a progressive pension provider who share our vision of helping users get more from their money. With the PensionBee integration, we can help more people than ever manage all their accounts in one place. Users will be able to connect their PensionBee account details into their Money Dashboard app - where they can set budgeting goals, track progress and forecast how quickly they'll meet their goals. They can also link other accounts, such as credit cards from other providers, to help them gain a comprehensive overview of their finances."
Contact details
PensionBee
Jasper Martens [email protected] dd: 020 3859 5788 m: 07575 061 935
Money Dashboard
Jossie Ellis [email protected] dd: 0330 221 0574
About PensionBee
PensionBee is an online pension manager that brings old pensions into one plan in a straightforward way. Customers can manage their pension with ease, with features such as a live pension balance, online contributions and web-based withdrawals. Recognised as one of the Fintech50 2018, the London-based pension innovator is the driving force behind API based Open Banking / Pensions integrations.
About Money Dashboard
Launched in 2010, Money Dashboard is established as the UK's leading personal finance app, serving over 175,000 users, and has won the 2018 British Bank award for best personal finance app. The award-winning app gives consumers the TrueView® of their financial position by: (1) consolidating all their current accounts, credit cards, and savings accounts from over 60 financial institutions, and (2) allocating each bank transaction into a distinct expenditure category, thereby automatically organising an individual's finances for them.
The company generates revenue by creating insightful market research from anonymised bank statement data, for example by helping hedge funds predict revenue announcements of listed companies. Money Dashboard has raised over £10 million in equity financing to date and was selected in the first cohort of the London Stock Exchange's ELITE programme in 2014. Money Dashboard founded the influential trade association fdata that lobbies on behalf of its members for the adoption of Open Banking standards worldwide. Money Dashboard is available on web and for Android and Apple devices.