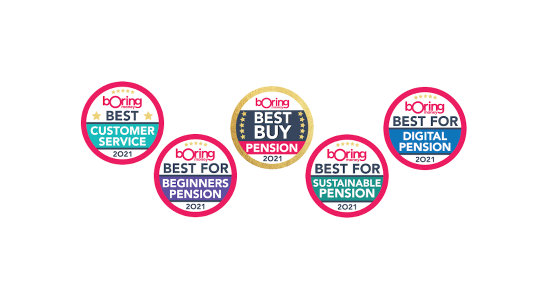 PensionBee, a leading online pension provider, has won five awards at the Boring Money Best Buys 2021. PensionBee claimed the titles of 'Best for Customer Service', 'Best for Digital', 'Best for Sustainable', 'Best for Beginners' and 'Overall Best Buy for Pensions'.
The Best Buys Awards honour the strongest investment providers, by considering a combination of customer ratings and reviews, the opinions of resident experts, and statistical analysis. Using test accounts, the Boring Money team investigated call response times and investment journeys, evaluated trading and contended lost passwords to fully assess each provider.
'Best for Customer Service' was a new category for 2021, following the immense pressure put on Customer Service teams following the shift to home working during the pandemic. This award was given only to the highest performers based on the testing of call centres and support services, and is PensionBee's first award for customer service.
PensionBee was recognised for its impressive customer recommend score of 92% and praised for its convenient and easy to navigate app. Other areas of success included its reasonable pricing and PensionBee's 'strong grasp on how much to share and explain - that does not overwhelm but builds trust.'
This latest award win follows a milestone 2020 for PensionBee, having been named 'DC Pension Provider of the Year' at the UK Pensions Awards and 'Employer of the Year' at the FT Adviser Diversity in Finance Awards. PensionBee also received an award for 'Pensions Innovation' at the inaugural Finder Investing & Saving Innovation Awards in September and 'European Pensions Innovation Award' at the European Pension Awards.
Romi Savova, CEO of PensionBee, commented: "We're delighted to receive five Best Buys Awards. To be recognised for providing a high level of service across multiple categories, in particular customer service during such a difficult year for consumers, is a huge achievement. I'm immensely proud of our wonderful team and as we now look forward to an exciting 2021, our focus remains on helping many more individuals take control of their finances, to become pension confident."