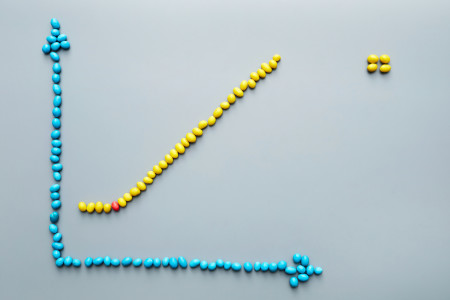 You might be looking at your pension balance and wondering why the performance is yet to recover from the impact of things like COVID and the Russian invasion of Ukraine. Globally, pension balances dropped -13% in 2022 and 300 of the world's top pension funds are reporting the largest fall in the value of their assets in 20 years. But why are we still seeing low performance over a year on?
In this article, we explain why pension funds across the UK and worldwide are still experiencing a decline from their all time highs, and how and when they might recover.
Why are pension balances down?
Pension balances are down because they invest in a range of assets such as company shares and bonds, both of which are still down from their all-time highs of 2021.
What's happened to company shares?
Following COVID, various central banks were printing money to help their economies. This resulted in a huge increase in the cost of goods and high inflation.
In response to high inflation, and to help consumers, central banks around the world raised interest rates. However, those high interest rates increased the cost of borrowing and, as a result, the value of company shares decreased. While the cost of borrowing is high, companies aren't able to access money to invest as much in growth.
What's happened to bonds?
When interest rates are high, bond prices tend to go down. Existing bonds that are already in circulation - those which your pension fund's invested in - are less valuable as they aren't earning as much interest as new bonds. Whereas new bonds are reflecting the current high interest rates.
So both the value of company shares and bond prices have fallen at the same time, which is very rare.
What's happened in 2023 so far?
The good news is, we've seen some recovery. The main US stock market, the S&P 500, is up between 15-18% on average thanks to some companies in the AI and technology space. These companies, including Apple, Google and Nvidia among others, are referred to as the 'Magnificent Seven' because of their high valuations. Most pension funds will be invested in the S&P 500 and so have experienced some of this recovery.
However, other assets that pensions are invested in - the FTSE 250, which is a UK index of companies listed on the London Stock Exchange, and the bonds market - remain flat or down for the year so far. Most pension funds are diversified which means they're invested in a range of stock markets and bond markets around the world. This is to limit the impact of the most severe market movements, and is why some pension funds may have seen some, but not full, recovery.
When will pensions see a full recovery?
Interest rates need to come down again - in order for companies to grow, they need access to more investment. At the moment, they can't invest in growth as the cost of borrowing and other forms of capital is so high.
When will interest rates come down?
It's important to remember that high interest rates do serve a purpose. Interest rates were increased to help us cope with high inflation by making our money go further on everyday spending like groceries. The idea is that consumers will spend less and save more if interest rates are high. Once there's less demand for goods and services, prices - and then inflation - will eventually fall. The good news is that inflation is trending downwards. In January, the UK rate of inflation was 10.1% and the latest data from August shows it has fallen to 6.7%.
Until inflation decreases, it's unlikely that UK policy makers will decide to lower interest rates. Generally speaking, a smaller inflation rate of 2% and an interest rate above 0 are considered a good thing for economic stability. Financial experts have predicted a lower interest rate from Spring 2024.
Key takeaways
Pension balances are down worldwide, including in the UK.

Two of the main things pensions invest in are company shares and bonds, which are lower in value than their all time highs in 2021.

We've seen some recovery due to AI and technology companies boosting the US stock market - of which lots of pension funds are invested in.

It's unlikely pension funds will totally recover until interest rates come down. In the UK, experts have predicted a lower interest rate from Spring 2024.
Risk warning
As always with investments, your capital is at risk. The value of your investment can go down as well as up, and you may get back less than you invest. This information should not be regarded as financial advice.