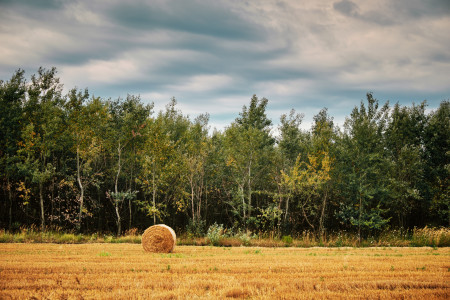 August's typically a quiet month for financial markets, yet this year's been anything but. High inflation, rising interest rates and geopolitical risks are causing investors to be on edge. This means that company share prices have been moving up and down sharply. And pension savers may have seen their balance move considerably.
It's important to remember that seeing your balance go up and down's a normal part of investing. There will always be periods of uncertainty, but over the long term, history has shown us that markets tend to trend upwards. This means that pension savers who stay invested for the long term should still be on track to reach their retirement goals.
In the wider pensions industry, there were a few notable developments this summer. With economic uncertainty widespread, all eyes are on the UK government. The cost of living crisis, the debate over the State Pension triple lock, and the Mansion House Reforms could all impact pensions.
Read on to discover how markets have performed this month and whether the impending government's Mansion House Reforms are a good idea.
What happened to stock markets?
In UK stock markets, the FTSE 250 Index fell almost 3% in August. This brings the year-to-date performance close to -1%.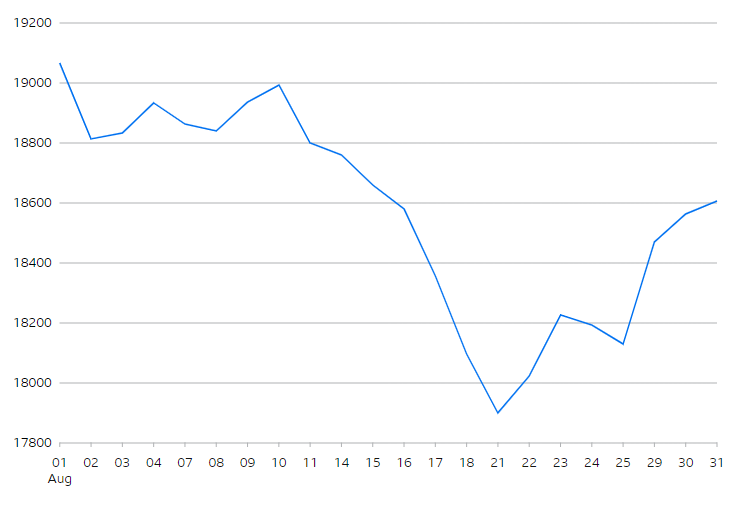 Source: BBC Market Data
In European stock markets, the EuroStoxx 50 Index fell by almost 4% in August. This brings the year-to-date performance close to +13%.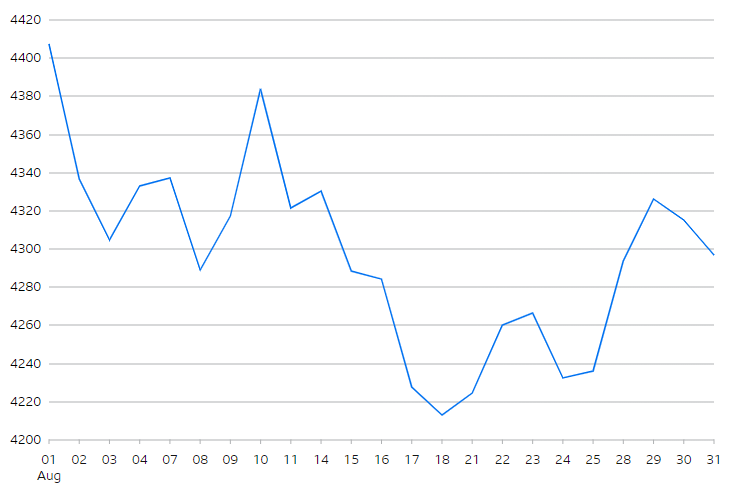 Source: BBC Market Data
In US stock markets, the S&P 500 Index fell by almost 2% in August. This brings the year-to-date performance close to +18%.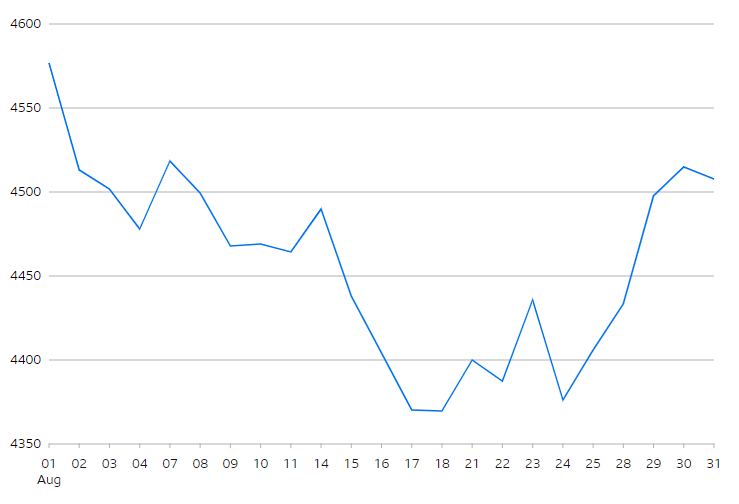 Source: BBC Market Data
In Asian stock markets, the Hang Seng Index fell by almost 8% in August. This brings the year-to-date performance close to -7%.
Source: BBC Market Data
The government's Mansion House Reforms
These reforms could well affect pension savers. And not, as the name might suggest, owners of mansions. Mansion House is a historic building in London, occupied by the Lord Mayor of London. It's the traditional venue for the Chancellor's speeches on the economy and financial services. The reforms are named after the Chancellor Jeremy Hunt's Mansion House speech.
What are the Mansion House Reforms?
On 10 July, the Chancellor announced a series of changes to the UK financial services sector. Especially impactful for pension savers! The full list of changes announced in the Mansion House Reforms is quite extensive. Here's the highlights that have been making headlines:
Boosting outcomes for pension savers. Making it easier for higher-growth and higher-risk companies to get the funding they need to grow. How? By encouraging pension funds to invest in unlisted (private) companies.
Encouraging companies to grow and list in the UK. Attracting more businesses into the country. How? Making it easier for companies to list on the London Stock Exchange.
Delivering a Smarter Regulatory Framework. Simplifying financial regulations, without reducing security. How? The words "radical overhaul" have been used by the government. In other words, less red tape.
How could the Mansion House Reforms impact my pension?
For UK pension savers, there's been a couple of recommendations that could be impactful. First, reducing the lower age limit for Auto-Enrolment from 22 to 18 years old. Second, removing the Lower Earnings Limit for 'qualifying earnings'. This would mean Auto-Enrolment contributions are made from the first pound of earnings, rather than only from hitting the £6,240 income threshold. The government believes these measures will give a big boost to retirement outcomes for workers.
One of the key proposals of the Mansion House Reforms is the Mansion House Compact. It's a pledge made by nine UK pension providers to invest at least 5% of their default funds, usually where most savers are automatically enrolled by their employers, in unlisted companies by 2030. Unlisted companies are businesses that aren't traded on a public stock exchange. They're often seen as being riskier than listed companies, but that risk has the potential for higher returns.
Reaction to Mansion House Reforms
The reforms are still at the consultation stage, so it's possible that some of the proposals may change before they're implemented. So far the proposed reforms have been met with mixed reactions. Some experts believe that they'll lead to pension innovation and reformation, while others believe that they'll have a negative impact on savers.
The reforms aim to make it easier for pension funds to invest in riskier assets to boost returns for savers. Concerns have been raised that these reforms could lead to higher investment losses for savers as well as higher fees. Earlier stage businesses are generally considered to be riskier, and many of them could fail. If investment losses occur, pension savers wouldn't get the higher retirement income that the government's suggesting they'll get.
At the same time, investing in private companies usually comes with higher costs for pension savers. Private companies are less accessible than listed companies. Therefore, pension providers (and the savers using them) often bear hefty management and consultant fees when including private companies in their investment mix.
At PensionBee, we don't currently have any plans to offer this type of investment to our customers. But we'll continue to watch the progress of the reforms and keep you informed on how they develop.
Have a question? Get in touch!
Do you want to know more about your pension plan with PensionBee? Check out our blog on the Top 10 holdings in your pension and see which companies you're investing in. You can check out our Plans page to learn how your money's invested in different assets and locations. You can always send comments and questions to our team via engagement@pensionbee.com.
Risk warning
As always with investments, your capital is at risk. The value of your investment can go down as well as up, and you may get back less than you invest. This information should not be regarded as financial advice.