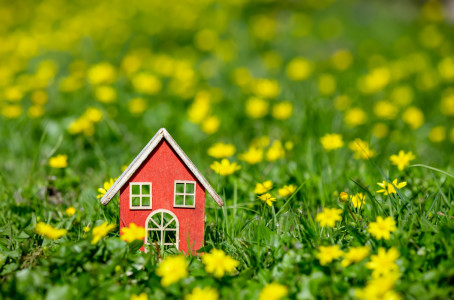 The UK's central bank, the Bank of England, raised the Bank Rate from 4.5% to 5% in June. But how do interest rates impact mortgage deals? A mortgage is a loan from a bank to buy a property. The cost of borrowing money increases when interest rates rise, which can lead to more expensive mortgages. The most common type of mortgage in the UK is a capital repayment mortgage, where your monthly payments go towards the loan amount and interest on that loan.
After years of record low interest rates, mortgage rates are now escalating, which is being felt by borrowers (and potential borrowers) across the country. Interest rates on variable mortgages are usually linked to benchmarks, such as the Bank of England's Bank Rate. As interest rates rise, variable mortgage repayments are increasing. Those coming to the end of a fixed-term mortgage are also impacted and must decide whether to fix and lock in the new higher interest rates.
Keep reading to find out how markets have performed this month and how the rise in interest rates is influencing mortgage costs.
What happened to stock markets?
In UK stock markets, the FTSE 250 Index fell by almost 2% in June, bringing the year-to-date performance close to -2%.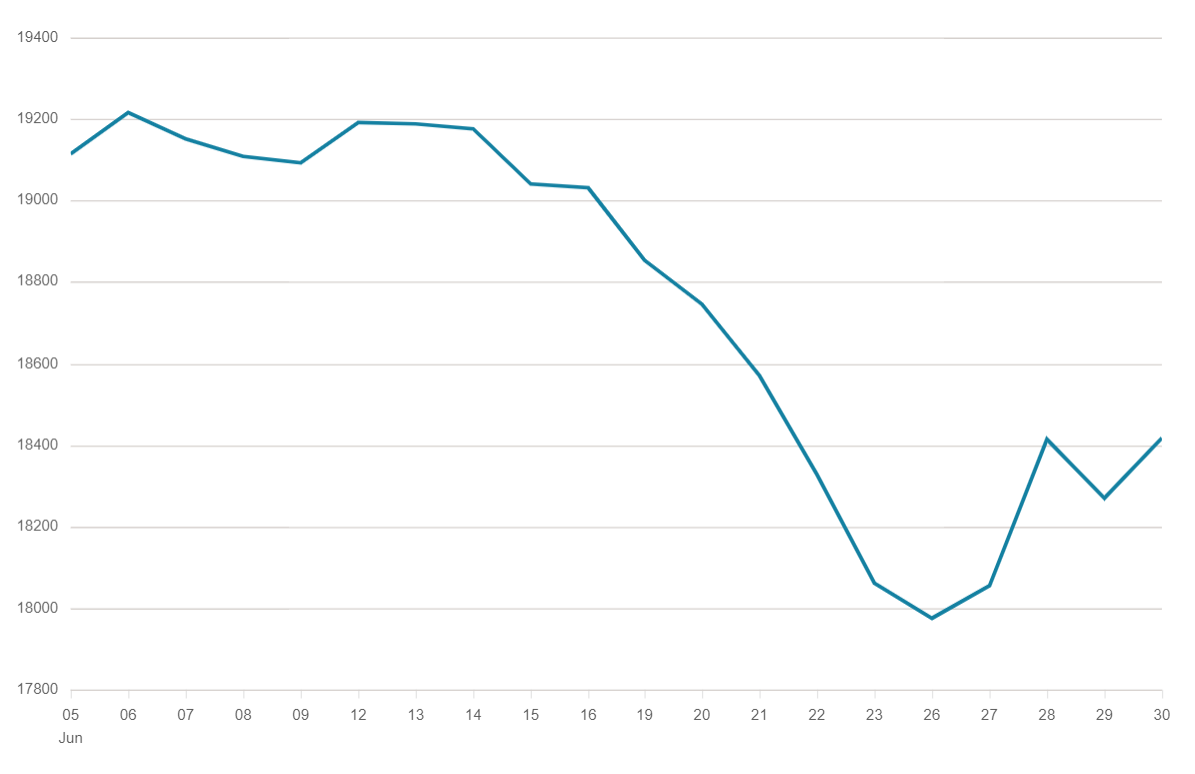 Source: BBC Market Data
In European stock markets, the EuroStoxx 50 Index rose by over 4% in June, bringing the year-to-date performance close to +16%.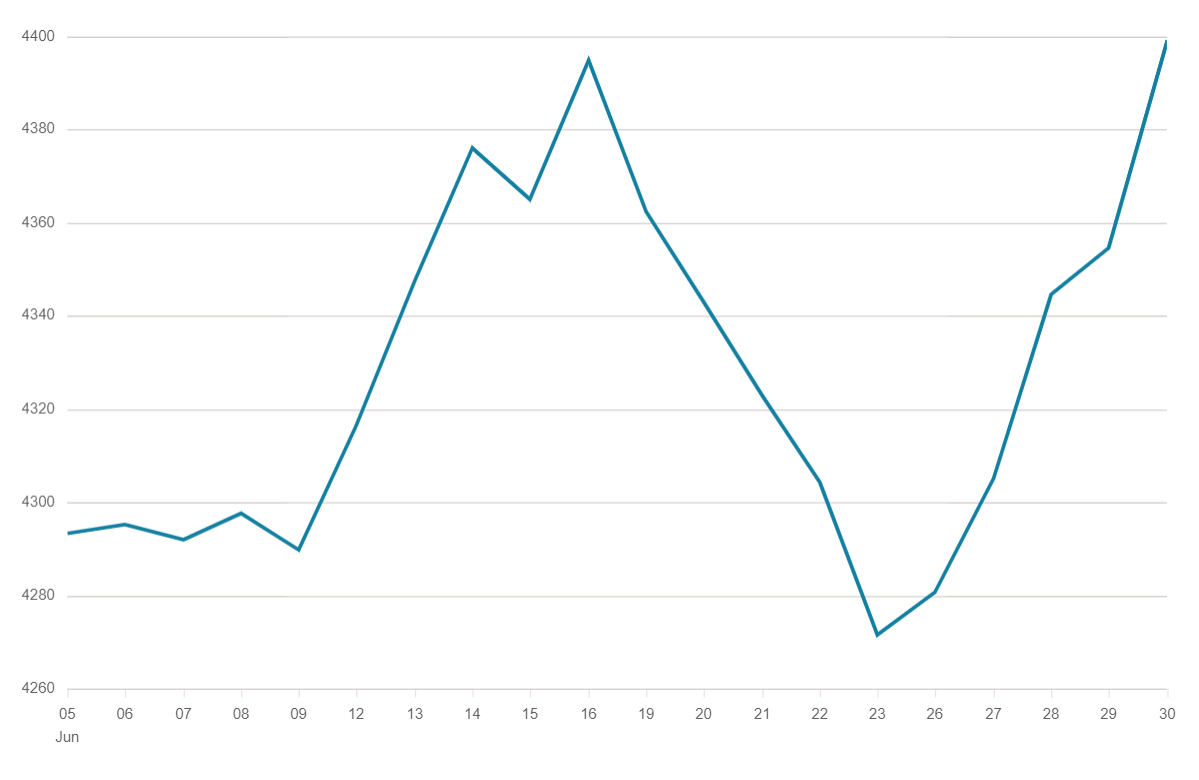 Source: BBC Market Data
In US stock markets, the S&P 500 Index rose by over 5% in June, bringing the year-to-date performance close to +15%.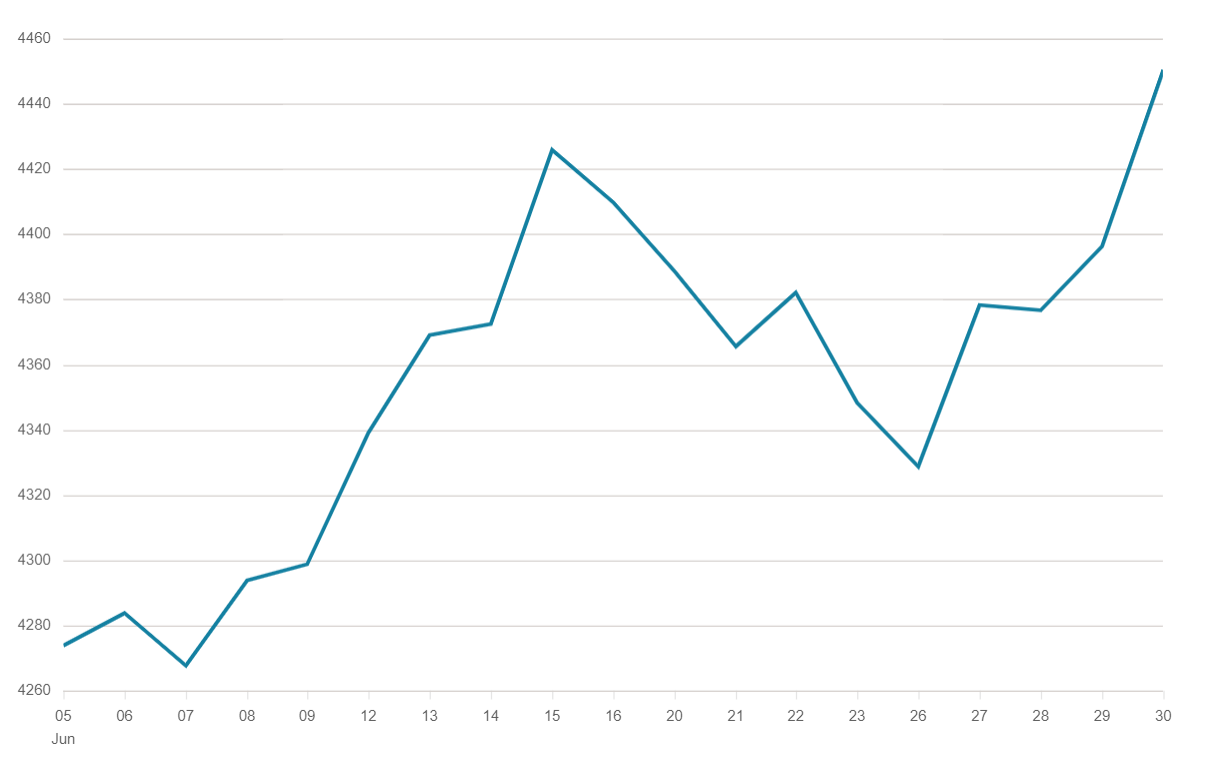 Source: BBC Market Data
In Asian stock markets, the Hang Seng Index rose by almost 4% in June, bringing the year-to-date performance close to -4%.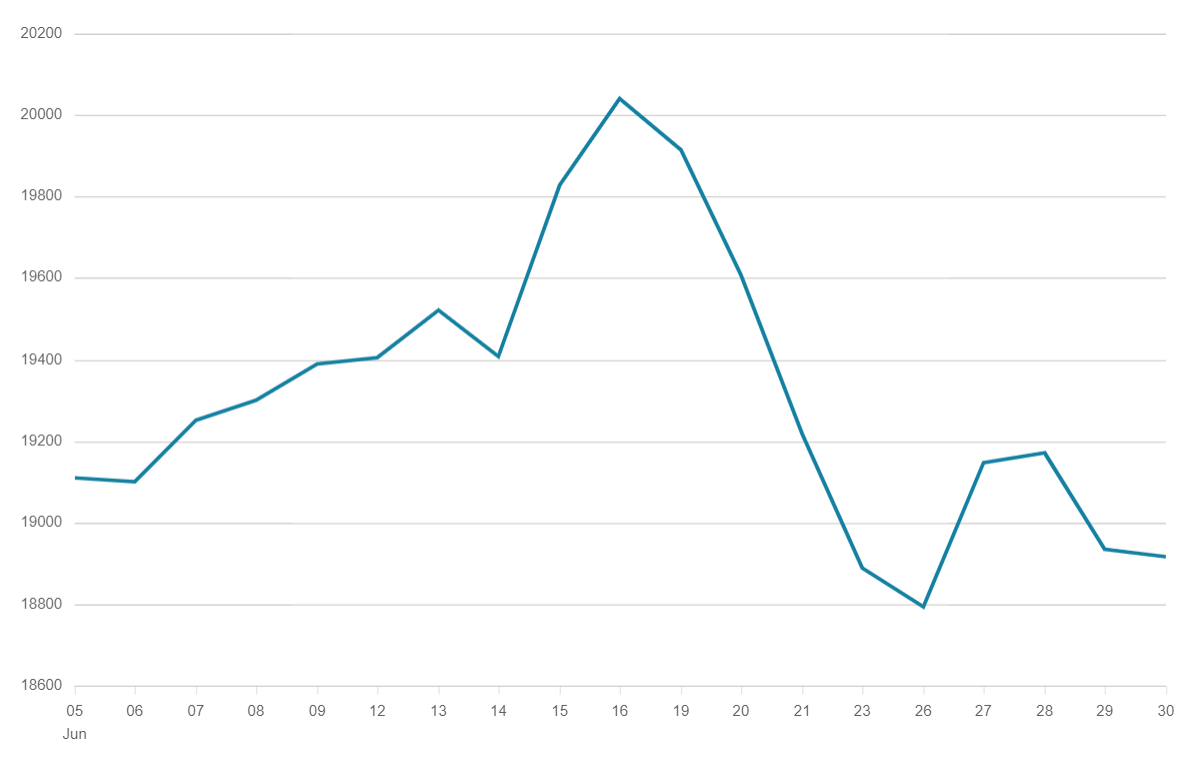 Source: BBC Market Data
How UK mortgages are hit by interest rate rises
The UK mortgage market's a complex and ever-changing landscape. Between 2012 and 2021, the Bank Rate never exceeded 1% and inflation was always below 5%. In fact, many years were even lower than the Bank of England's 2% inflation target. During this period mortgage borrowers would've been able to get low-cost mortgage deals from banks and lenders.
Since 2022, we've seen this change. Oil shortages and supply disruption from the war in Ukraine have raised the price of goods. Under the pressure of soaring inflation, the Bank of England has raised interest rates five times since December 2021 - which is having a knock-on effect on mortgage rates. Here's a timeline of the UK's mortgage crisis:
Falling levels of home ownership
The cost of home ownership has increased over the past 20 years, due to rising house prices and stricter mortgage approval. In 2002, a median house in England cost equivalent to five times an average worker's annual earnings. By 2019 it was closer to eight times - as house prices grew faster than wages.
Even the 2007-2008 financial crisis didn't improve the home ownership landscape. While house prices did fall significantly during this period, lenders tightened their approval criteria making it harder for potential homeowners. One change was prospective buyers needed bigger deposits. Unsurprisingly, the rate of home ownership in England has dropped from 71% in 2003 to 65% in 2019.
Government incentives to buy property
Our current government aims to 'turn Generation Rent into Generation Buy' through various home ownership initiatives. For example, to help with the deposit barrier for first-time buyers there's Lifetime ISAs (where the government adds up to £1,000 for every £4,000 saved each tax year) for savers under 40.
Stamp duty's a tax based on the value of a property for homeowners in England and Northern Ireland. When the COVID-19 pandemic hit, the government introduced a stamp duty holiday in July 2020 to help restart a slowing property market. For context, the average two-year fixed-rate mortgage was 1.41% in June 2020. The holiday exempted buyers from paying stamp duty on the first £500,000 of a property, which led to a boom in house sales and prices.
Aftermath from the Mini-Budget chaos
On 23 September 2022, the government delivered a 'Mini-Budget' statement. This started a series of unfortunate events: a drop in the value of Sterling (GBP), the Bank of England started sharply raising interest rates, this financial instability put many defined benefit pensions in jeopardy, and of course this created uncertainty for the mortgage market.
Mortgage lenders increased rates quickly and some even stopped lending temporarily. For people with mortgages, whether they're first-time buyers or buy-to-let landlords, having a fixed-term mortgage end during this period would've been very unexpectedly expensive. And the mortgage market has yet to improve.
Today's mortgage landscape
Mortgage rates in the UK have been rising steadily in recent months, and there's no sign of this trend slowing down. As of June 2023, a typical five-year fixed mortgage deal now has an interest rate of more than 6%. This is likely to affect more than 400,000 people whose fixed-rate mortgages expire between July and September.
Many households are currently being financially squeezed by the rising cost of living, on top of elevated mortgage repayments. The Prime Minister has promised to halve inflation by the end of this year and urged homeowners to 'hold their nerve'. Once inflation begins cooling, it's expected for mortgage rates to follow.
Are you struggling to make sense of your options?
Figuring out your financial situation isn't always straightforward. If you're struggling to keep up with your mortgage repayments, support is out there:
Contact your lender first and start a conversation. They may recommend changing the length of your mortgage or switching to interest-only payments.
MoneyHelper has a list of resources and tools available for those struggling with their mortgage repayments, or who want guidance on how to budget in the new interest rate environment.
Get free advice from debt experts. For example, StepChange's a debt charity who offer solutions and services to suit every situation.
Have a question? Get in touch!
If you're a PensionBee customer, you can read our Top 10 holdings in your pension blog to discover the companies your plan's invested in, or visit our Plans page to see what investment types and locations your pension's spread across. You can always send comments and questions to our team via engagement@pensionbee.com.
Risk warning
As always with investments, your capital is at risk. The value of your investment can go down as well as up, and you may get back less than you invest. This information should not be regarded as financial advice.