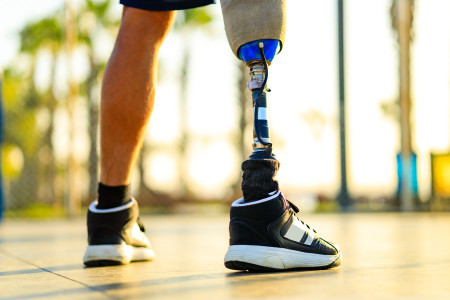 We all want a happy retirement. But for the 1 in 5 working age adults who have a disability, building a pension to get there may require more planning.
Most people build up a retirement income during their careers - through employee pension contributions, paying National Insurance which becomes State Pension credits, and perhaps even making personal pension contributions too. However, a stable career isn't always a given for those with a disability. In fact, recent ONS data highlights how having a disability doubles your likelihood of being unemployed, when compared to people without disabilities.
Even household costs are higher when sharing a home with someone who has a disability. Few people are familiar with the disability price tag. The disability price tag is the extra costs faced by disabled people and families with disabled children. For instance, those with mobility issues may need to spend more each month on transport or purchasing speciality equipment to make day-to-day life more manageable. Extra costs can quickly add up and when income is already lower this can push some into poverty.
If you're able to work, there's support available for finding jobs and negotiating flexible arrangements with your employer to suit your individual needs. If you're unable to work, there are benefits available to provide you with social care and support you financially. Securing an income - from benefits or employment - can help you live more comfortably.
Whatever your situation, help is out there. In this article we're going to outline available employment and retirement support for disabled people.
Support for employed disabled people
Under The Equality Act 2010, employers must remove barriers and make reasonable adjustments to support people with disabilities. In practice this could range from an interpreter being present at interviews if you're deaf or adding ramps to make the workplace more accessible. If a company refuses to comply it's unlawful discrimination and you could file a claim under the Equality Act.
Disability spans a broad spectrum and presents differently amongst different people. Not all disabilities are physical or permanent. In fact, recent increases in those reporting a disability has been largely driven by a rise in mental health conditions being diagnosed.
The government's goal is to support one million more disabled people into work between 2017 and 2027 through various initiatives. This is part of their plan to reduce the gap between the employment rates of people with and without disabilities, known as the disability employment gap. Access to Work is a good example of a government programme aimed at supporting disabled people to take up or remain in work. You can apply for:
Advice about managing your mental health
Grants for practical support with your work
Money for communication support at job interviews
Here are four tips on navigating employment as a person with a disability, from before you even start working, through to once you are already in employment:
1. Higher education and apprenticeships may improve opportunities
The disability employment gap was 28% in 2021. In fact, data from the government found the disability employment gap is wider for those with no qualifications. An education may provide employers with additional confidence that candidates are experienced in meeting deadlines or working effectively. Whether it's studying at university or training for an apprenticeship, qualifications may create a real impact on career outcomes.
Research from the Association of Graduate Careers Advisory Services (AGCAS) found there was only a 7% disability employment gap when comparing university graduates. Apprenticeships can also present an opportunity to earn and learn simultaneously. If you're studying at a college or university you may have access to a Careers Adviser who can coach you on making the next step into the world of work.
2. Going through application and interview process
Intensive Personalised Employment Support is a government scheme providing a personalised support plan for people with disabilities who need additional help to move into work. You'll receive assistance in accessing training, identifying skills, searching for jobs and succeeding in interviews - all from a dedicated support worker. You can ask a Work Coach at your local Jobcentre Plus to learn more.
Reasonable adjustments can be requested for an application or interview. This could include different formats of written communication (Braille or large print) or rearranging interviews because of disability-related reasons. Information about your impairment is protected under UK law, so don't worry about having to reveal any specific details to potential employers when requesting reasonable adjustments.
3. Finding a disability-friendly employer
By law, companies can't discriminate against candidates over their health conditions. However, not all businesses are disability confident employers. These are employers pledged to supporting their disabled workforce. Choosing an inclusive company comes with many advantages, such as policies in place for tailored support when needed. You can discover disability-friendly employers through sites like Careers with Disabilities. Alternatively you can apply more widely and ask employers what measures they offer.
In 2016 the government launched The Disability Confident campaign, replacing the previous Two Ticks Scheme. The scheme is designed to challenge employers to rethink disability and improve their recruitment and retention of employees with disabilities. Participating companies like PensionBee are assessed and awarded levels (Committed, Employer, or Leader) which can indicate how inclusive your prospective employer is.
4. Exploring alternative ways of working
Before 2020 the UK job market favoured office spaces and inflexible 9 to 5 hours. However, coronavirus restrictions forced employers to rethink their working patterns and many companies still offer work from home or flexible hours. Working fewer contracted hours or predominantly from home could prove less demanding on your disability, while still benefiting from employment perks like paid sick leave.
Instead of arrangements with employers, being your own boss is one way to work flexibly. Finding your side hustle is the first step and your Jobcentre Plus work coach can discuss your options and sources of funding to get you started. The Prince's Trust's Enterprise Programme gives workshops and grants funding to entrepreneurs aged between 18 and 30. If you're paying National Insurance you'll accrue pension credits towards your State Pension.
Retirement income for disabled people
You may be eligible for benefits like Pension Credit you'll need to:
Less than £10,000 in savings*
Live in England, Scotland, or Wales

Reached State Pension age**

Every £500 over £10,000 is counted as £1 a week income. * However, since 2019 if you're cohabiting with your partner this could impact your ability to qualify for Pension Credit. Both of you will need to have reached Pension Credit qualifying age to apply.*
There are two parts to Pension Credit: Guarantee Credit and Savings Credit.
Guarantee Credit is available to everyone of State Pension age, on a low-income. You can work out your State Pension age by using the government's State Pension calculator. If you do qualify your income will be topped up to £182.60 per week for individuals and £278.70 per week for couples in _current_tax_year_yyyy_yy.
Savings Credit is an extra income available to those who have saved some money towards their retirement, however only those who reached retirement age before 6 April 2016 can claim Savings Credit. If you do qualify you'll receive an extra £14.48 per week for individuals and £16.20 per week for couples.
But Pension Credit isn't only an income boost, it can give you access to other benefits too. These can include:
Cold weather payment of £25 if temperature drops to or goes below 0°C for seven days in a row
Exemption from paying Council Tax (if you live alone)
Free dentistry on the NHS, together with subsidies towards glasses and transport if you need to go to hospital
Homeowners could qualify for help with surplus charges such as ground rent, while private tenants could get their rent covered by Housing Benefit
Those aged 75 and over are exempt from having to pay for their TV licence if they receive Pension Credit
Once you've checked that you are of State Pension age you should call the Pension Credit claim line on 0800 99 1234. Or find out more information at gov.uk.
Are you struggling to make sense of your options?
Figuring out your financial situation isn't always straightforward. If you're unsure about your options please seek support from a trusted agency or charity:
Risk warning
As always with investments, your capital is at risk. The value of your investment can go down as well as up, and you may get back less than you invest. This information should not be regarded as financial advice.