After a rocky start to the year, stock markets stabilised and even grew in some regions during March. So it's likely that your pension experienced some growth as a result.
But there are two important things to bear in mind as we move into April:
A recovery in March doesn't mean this will continue in April
There are still lots of economic challenges that need to be resolved
Thankfully, your pension is a long-term investment that isn't reliant on things being good all the time - as tempting as it can be to check in on your balance each day. So long as the global economy continues to grow in the long-term (which it always has, historically) then your pension should return to growth once the current short-term challenges have resolved.
The current challenges affecting pensions
Right now, several things are causing challenges to the world's economy.
First, there's Russia's ongoing invasion in Ukraine. This has caused all sorts of problems, from the rising price of food staples like wheat, to the price of energy spiking as Europe attempts to wean itself off Russia's oil and gas. Unless a peace deal is struck soon, it's uncertain when these costs may fall again, as the world's supply chains adjust to make up for the shortfall.
Then there's inflation - or the rising cost of goods and services - which was increasing even before the invasion in Ukraine. In effect, it means that the cost of doing business goes up and the money people have to spend on non-essentials goes down. Stock markets don't like this, because it means that many businesses are likely to make less money. However, central banks like the Bank of England have started to raise interest rates in an attempt to slow the rise of inflation. And the Office for Budget Responsibility thinks that the cost of goods will start to go down again from the start of 2023, which would be good news for stock markets.
The world is also still dealing with the effects of the pandemic. And some countries aren't necessarily over the worst of it. The Chinese government put its largest city, Shanghai, on lockdown in March, causing economic disruption to millions of people and factories. Car manufacturer BMW closed its plants in Shenyang as a result of pandemic controls. As the world's major supplier of manufactured goods, China's restrictions are being felt around the world.
As a PensionBee customer, you can rest assured that your pension plan is being managed by one of the world's leading money managers: BlackRock, HSBC, Legal & General, or State Street Global Advisors. They're all experts at navigating challenges such as these, and design and adjust your investments based on your pension plan's goals.
What happened to the markets in March?
March saw some major stock markets recover from their February falls, while China's main market fell as pandemic controls subdued their economy.
In the UK, the FTSE 250 rose by nearly 4%.

Source: Google
In the US, the S&P 500 rose by over 5%.

Source: Google
In China, the SSE Composite fell by nearly 7%.

Source: Google
The price of gold fell by 0.5%.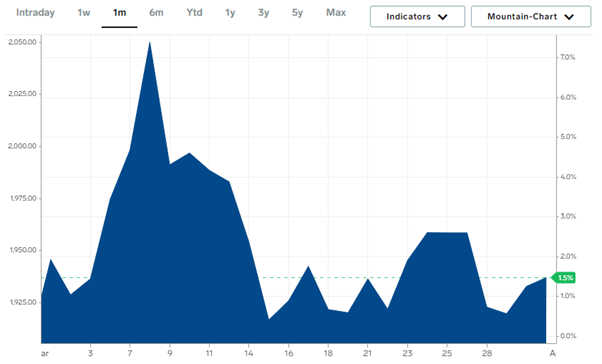 Source: Business Insider
What if you have further questions about your pension?
We understand that you may have concerns about your pension during times of economic uncertainty. So we're here to help and answer any questions you might have.
You can contact your BeeKeeper either by:
Emailing them (find their details in your BeeHive)
Calling 020 3457 8444 (Mon-Fri 9:30am-5pm)
You can also contact our dedicated engagement team on engagement@pensionbee.com.
Risk warning
As always with investments, your capital is at risk. The value of your investment can go down as well as up, and you may get back less than you invest. This information should not be regarded as financial advice.