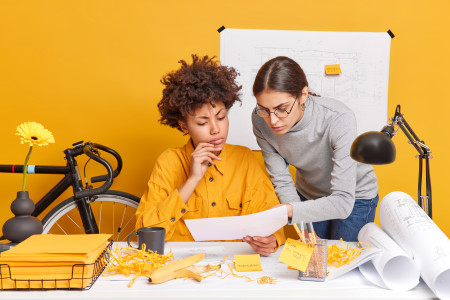 From a casual throwaway phrase to a trending hashtag - "the future is female" means just that. Women are becoming more visible and more heard. In fact, ONS data from 2021 shows that women took on more leadership roles as the gender pay gap continued to narrow, albeit slowly. While women are shaping the future in so many ways, very few consider themselves confident when it comes to investing in theirs.
There's lots of research out there that indicates that women tend to be 'cautious investors' and a recent study from Unbiased highlighted a gender disparity in investing. The research indicated that only 10% of women have a stocks and shares ISA compared to 17% of men in the UK.
Despite their hesitancy, when women choose to invest, they often make better investment decisions than their male counterparts, with men making 50% more mistakes than women when it comes to investing. It seems that confidence, not competency, is preventing women from investing in their future.
One of the key factors to understanding this crisis of confidence is the gender pay gap. Due to this (and other factors such as the 'pink tax'), women often have less disposable income than men. Stereotypes of men being better than women with money have likely stemmed from men simply having more of it, rather than being savvier.
Issues like the gender pay gap compound over time. And whilst awareness of the gender pay gap is strong, many aren't aware of how a lower income in working life usually translates to a lower income in retirement too. PensionBee's annual study of the UK Pension Landscape found that, on average, there's a 38% gap between the size of men and women's pension pots.
From gender pay gaps, to expectations of caring for young children and elderly parents, women face many barriers when it comes to saving for a comfortable retirement. Our CEO, Romi Savova, recently discussed what the gender pension gap is and how we can tackle it together in her International Women's Day blog and episode 3 of the Pension Confident Podcast.
This International Women's Day, PensionBee CEO, @romisavova, shares her thoughts on how to tackle the gender pension gap in the UK and how PensionBee is leading the change💪. #internationalwomensday #IWD2022https://t.co/7EMIKia0SO pic.twitter.com/EeJ0f2LTM5

— PensionBee (@pensionbee) March 8, 2022
But what other barriers do women face when it comes to investing?
3 obstacles women face when investing
1. Lack of financial literacy guides for women
Financial literacy is essential for navigating adulthood. However, survey results from BlackRock's Investor Pulse revealed that non-investors found information about investing complicated. With 65% of women, compared to just 53% of men, revealing that they find jargon hard to understand. Aside from pay gaps, there's a divide in financial literacy too.
When it comes to understanding why the financial literacy gap is greater for women, it seems that part of the issue lies in the financial services industry itself. According to BritainThinks, women perceive the financial services industry as 'unwelcoming, patronising, and male-dominated'.
Additionally, many financial products, especially investment products, are often marketed towards men. This in itself, creates a culture where women view investing as 'not for them'. These invisible barriers prevent some women from confidently making investment decisions.
Emilie Bellet, founder of Vestpod says: "Investing sounds complicated, it's not. The most important thing I learnt about investing is to get started. It pays to start investing early and it's never too late to join the game. Make mistakes, learn, make money over time."
2. Lower risk appetite compared to men
Investing is only the first step. The FCA's Financial Lives survey explored the gender divide in participants' attitude to risk: with 82% of women admitting to having low willingness to take risks, compared to 69% of men.
Women are more likely to save into cash accounts and less likely to invest in the stock market, limiting their returns. Today, with interest rates low and inflation rates high, women may find their money isn't growing fast enough to meet their savings needs.
On one hand, making considered decisions contributes to women making fewer investment errors than their male counterparts, as men tend to be more impulsive, especially when it comes to buying and selling new shares. On the other hand, women's lower risk appetite can lead to lower returns on the investments they do decide to make, which can have a significant impact over many years.
Holly Mackay, founder and CEO of Boring Money says: "Traditionally, women have engaged less with investing and as a group, data tells us they feel less confident and more risk averse than a group of male investors."
Women face a lifetime of barriers to financial confidence. Low risk appetite is one explanation, but it's important to note: childcare costs, parental leave, part-time employment, and supporting elderly relatives all take a toll on women's financial health.
3. Lack of confidence making investment choices
As mentioned earlier, women are playing a bigger part in our economy. Yet we're still seeing a gender disparity in investing. In the 21st century this shouldn't be an issue.
At the end of 2021, PensionBee surveyed a thousand savers from across the UK and found that there are barriers to investing at almost every stage of a woman's life. From taking time off to start a family, to reducing hours to care for elderly parents. These factors directly limit their ability to save for retirement.
Despite these barriers being acutely felt by women, PensionBee research revealed men tend to underrate the impact of these challenges. In fact, almost a fifth of male survey respondents disagreed that caring responsibilities would impact women's retirement, for example.
Jonathan Lister Parsons, Chief Technology Officer of PensionBee says: "Our survey shines a light on the multifaceted and systemic challenges faced by women, as well as the huge disconnect between how men and women perceive these barriers."
Building your pension knowledge
At PensionBee we want all savers to be financially literate, confident, and in control so that they can enjoy a happy retirement. Especially women, who've been repeatedly let down by the financial services industry.
We're creating resources to support our customers at every stage of their financial lives, from beginners to retirees. Like our Pension Confident Podcast hosted by Peter Komolafe. Subscribe to hear from some of the best brains in personal finance every month, and get expert insights from the PensionBee team.
If you're interested in going back to the pension basics, check out our Pension Academy video series hosted by lifestyle and finance influencer, Patricia Bright. The series has been designed to empower you with the knowledge you need to take control of your pension.
Risk warning
As always with investments, your capital is at risk. The value of your investment can go down as well as up, and you may get back less than you invest. This information should not be regarded as financial advice.