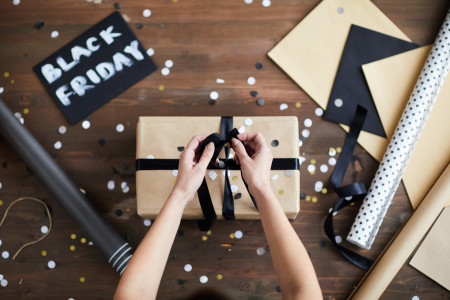 We're nearing the end of November and retailers are keen to remind us that Christmas is around the corner. Finding the perfect present is a full-time job: from tracking deliveries to hunting down deals. And our gifts aren't the only export.
Black Friday's an American export that's been adopted internationally. Held the day after Thanksgiving, on the final Friday of November, it hosts a huge range of retail sales. And it seems UK consumers can't resist a good deal.
The Black Friday discount day is back with a bang this year with shoppers expected to spend almost £9.2bn next weekend – 15% more than in 2020 when much of the UK's high street was in lockdown. https://t.co/5QGPLiNvJQ pic.twitter.com/seGHivHNkB

— FinancialAccountants (@InstituteFA) November 22, 2021
Whether you're window shopping or browsing online for inspiration, discounts have started appearing everywhere. Question is, are those Black Friday deals really saving us money?
Consumer champion Which? investigated whether we were better off skipping the Black Friday fad. It found that over 90% of Black Friday 'bargains' were equal or cheaper in price six months ago. While the savvy shopper may grab a good deal with plenty of research, many consumers will be left out of pocket if they fall for these fake discounts.
Over 90% of Black Friday deals were same price or cheaper six months before sales last year, Which? investigation finds https://t.co/tMjPW91yAq

— BBC News (UK) (@BBCNews) November 23, 2021
Just because we're not splashing the cash on Black Friday deals, doesn't mean we can't still make a super saving. Investing in your pension could be the answer. Younger savers can take part in the '30 by 30' challenge, and the adventurous saver may want to aim for the 'million pound pension' milestone.
There are many exclusive perks to paying into your pension. With all that in mind, here's four reasons you may want to forget Black Friday this November and invest in your pension instead:
1. Get a 25% tax boost, not a 25% markdown
Saving can be approached in two ways: purchasing at a reduced price, or putting money aside to grow. It's easy to fill up your basket when shops are showering you with buy one get one free or half price offers. But remember, it's only a real saving if you planned to buy it at full price.
Pensions are optimised for the long-term and offer unique perks. Basic rate taxpayers usually receive a 25% tax top up on personal contributions to their pension. For every £100 you save, £125 gets invested. It's up to you whether 25% more is better than 25% less.
Tip: Make the most of your money by boosting it with a 25% tax top up.
2. Save your Christmas market money for the stock market
Similar to how shops have sales seasons, the stock market can offer better value at different periods. A tried and tested approach to riding out the ups and downs is regularly investing a set amount each month.
Some commentators, for example, believe that December is historically the strongest month to invest your money, based on analysis of the average returns from different months. Whatever time of year you invest, it's important to remember that past performance isn't a reliable indication of future performance and investments should be made with the long-term in mind.
Tip: Reach your retirement goals by regularly investing in your pension.
3. Start battling inflation, not the shopping crowds
It seems that everything is becoming more expensive. That's because the rate of inflation is raising the costs of goods. Ordinarily we see around 2.5% annual inflation, however in 2021 we've peaked at 3.8%. Base prices are increasing and Black Friday sales won't stop that.
You can't prevent inflation, but you can prepare. Part of that is building up a pension pot that grows in line with (or above) inflation. Regular contributions are one way you can grow your savings. Another is consolidating your pensions so you'll avoid paying multiple annual management fees.
Tip: Prepare for inflation with one consolidated pension pot.
4. Make a positive impact with your money
Shopping for others (or ourselves) is rewarding, but supporting unsustainable industries through everyday purchases has an impact on our planet. PensionBee research revealed that "94% of adults are taking steps to live more sustainable lifestyles".
You don't have to go without to protect the planet, simply by investing your pension in companies that lead in sustainability could make a difference. Consumer interest in sustainability is why we launched our Fossil Fuel Free pension. Giving you the choice to invest your pension savings responsibly.
Tip: Use your pension savings to save the planet through responsible investing.
Benefits of skipping Black Friday and saving instead (recap)
Grab 25% tax top ups on personal contributions
Beat the rate of inflation with regular investing
Drive positive environmental change with a responsible pension
Risk warning
As always with investments, your capital is at risk. The value of your investment can go down as well as up, and you may get back less than you invest. This information should not be regarded as financial advice.