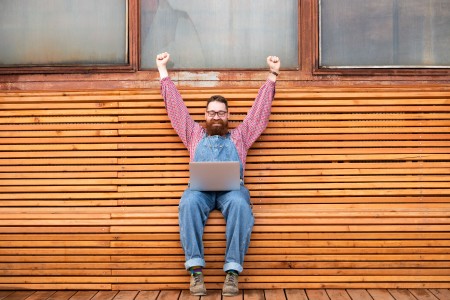 As we leave lockdown (again) the labour market is making quite the comeback. This year unemployment dropped from 5.0% in the first quarter to 4.7% in the second quarter - and hospitality and events haven't even fully re-opened yet.
This recovery is expected to accelerate throughout the rest of the year. And whilst furlough ending will sadly result in some job losses, there's hope that this will be offset by increased hiring.
If you're starting a new job - whether that's joining the job market for the first time, re-entering after a long absence, or picking up a new role for a change of pace - you might be scratching your head with what to do next.
From what to wear on your first day, to how to spend your first payslip - here are a few things to consider to ensure a successful transition into your new role.
Starting your new job
First of all, congratulations! Somewhere in between anxiety and excitement is that 'new job feeling'. Maybe this job is just that - a job. Or it could kickstart your career.
Either way, you'll be wanting to make the best impression possible. So after all the hard work landing your new job, here are some handy tips to make this move as smooth as can be.
1. Research your new company
You might've already started snooping for information during your interview - but now your contract is signed and you're committed to this company - what do you really know about them? Here are some pointers for where to look to learn more:
Check their website: make a beeline straight to their 'About Us' section and begin browsing. Get a feel for their brand and think about how you'll fit in.
Browse their social profiles: take a peek at their post history and press coverage for the latest news. Note that you can search for your company - and vice versa.
Ask your boss: break the barrier and be direct. Better to ask questions in advance, than scramble around when you start. There's no bad question.
Knowledge is power. Getting to grips with the basics before you walk through the door will set yourself up for success. Prepare to impress your new boss.
One key question: payday? You don't need to worry about seeming too keen, you're entitled to this information. Whilst talking about money ask if there is a cycle to work scheme or where your workplace pension contributions will be invested.
2. Know where you work
Where you work will soon become a second home given the hours you'll spend there. So getting to know the area - unless you're working from home, in which case you likely already know your way around - is a good idea.
Before your first day, try travelling to your new workplace.
On one hand, this is practical. Giving you time frames for how long it takes you to get from home to work - and back. On the other hand, this is exciting. You can see your new workplace, walk around and explore potential lunch spots.
3. First day fashion tips
Without an assigned uniform you may be wondering how casual or formal to dress up - play it safe. You want to make an impression for your work, not your wardrobe. Here are a few first day fashion tips:
Professional and prepared: dressing professionally does affect perceptions of your work. And you can't go wrong wearing blazers and smart shoes.
Bold, block colours: the best part of putting together an outfit with block colours is how effortlessly it coordinates into a bold look.
Less is more: assembling a simple look makes getting dressed easier, but also makes your appearance more memorable in its minimalist style.
You can always ask your new boss what the dress code is, or if you attended an interview use what your colleagues wore as a guide.
If you're missing some staple pieces from your workwear it might be a good excuse to go shopping. Whatever you wear, make sure you feel comfortable and confident.
4. Be an early bird
The trick to arriving early is being organised the night before. Lay out your outfit, pack your keys and essentials, bring along any notebooks you might need – then try your best to beat the butterflies and get a good night's sleep.
Save your energy for your first day by having a restful evening the night before.
Try starting your first day with a spring in your step. You've got the job. They wouldn't have hired you if you didn't have what it takes. First impressions matter, being early and eager is a great start.
5. Sort out your finances
You can be forgiven for forgetting to save those first few weeks while you're settling in and still celebrating the good news. But once you get your first payslip it's time to buckle down and begin building up your assets. Here are the key areas to keep track of:
Clearing any debt: use your new regular income to reduce any outstanding debts or overdraft - and start moving your credit score in the right direction.
Rainy day savings: get ahead of the game and start saving with a little and often approach. You can't see the future, but you can save for it.
Combining and keeping track of your old pensions: don't leave your old workplace pension behind and consider combining it into one simple online plan, then top up your pension pot and enjoy tax relief on personal contributions - as well as compound interest.
Starting a new job is the perfect moment to begin practicing healthy saving habits. Consider which subscriptions are actually value for money, and whether you're getting a good rate on your personal savings.
With your pensions, check that you're on top of where they are and how your investments are performing. Keeping your pensions invested in one online platform makes it simpler to see how your retirement funds are doing at any time.
Starting your new job (recap)
There's a lot to remember and think about ahead of your first day. But to make the best impression possible you'll need to prepare a few bits in advance.
Try following these tips to improve your chances of having a successful start to your new job:
Research into your new company's social media and values
Practice your new commute and explore the surrounding area
Assemble a simple, professional outfit for your first day
Have a restful night before and arrive into work early
Start a savings account and consider combining your old pensions into one
Risk warning
As always with investments, your capital is at risk. The value of your investment can go down as well as up, and you may get back less than you invest. This information should not be regarded as financial advice.