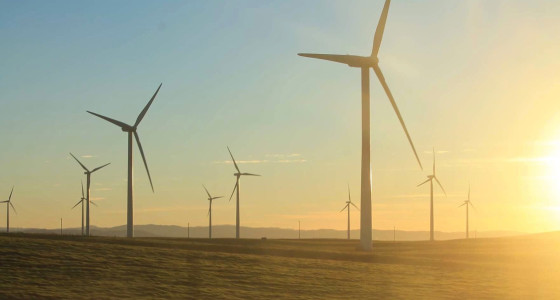 Sustainable investment funds invest your money into companies that reward both their investors (through positive financial returns) and the planet (through sustainable environmental and societal practices). There's little difference in the way a sustainable investment fund actually operates compared to other types of funds; the key difference is the type of companies that make up its investment portfolio.
Sustainable investment seems to be gaining public support - a 2020 report from BlackRock showed that 76% of people want their investments to make a positive impact. And it seems that people have been putting their money where their mouth is, as investment into sustainable funds have grown rapidly in recent years.
What is sustainable investing?
When you hear the term 'sustainability' you might picture green fields dotted with wind turbines and rows of solar panels soaking up the sun's rays. But while green energy is an important component of a sustainable world, sustainable investing is about much more than that. Many fund managers tend to think about it by another term - ESG.
What is ESG?
ESG stands for Environmental, Social, and Governance. When a sustainable investment fund considers investing in a company, they'll likely assess it based on several ESG factors. Depending on their exact approach, they might consider the following questions.
Environmental (the company's impact on the environment):
Is the company a net-positive contributor of carbon dioxide?
How efficient is their water usage?
How does the company handle waste management?
What are the ecological impacts of their operating practices?
Is the company transitioning to more sustainable production methods?
Social (the company's impact on society):
Do they treat their employees fairly?
Do they have a good health and safety record?
How diverse is their board of directors and senior management?
Have they made commitments to workplace equality?
What's their human rights record?
Governance (how the company's run):
How transparent are the company's reporting practices?
Do any of the board of directors have conflicting business interests?
How aligned are management incentives with the company's sustainability goals?
Have there been any serious allegations of corruption?
Finding out all this information can be a lot of work, so investment funds often employ teams of people dedicated to ESG research. They may also rely on external partners to gather and present this information for them. One of the largest is Sustainalytics (acquired by Morningstar in 2020) which tracks and ranks the ESG performance of over 40,000 companies. Suffice to say, ESG is now so important that an entire ecosystem of business services have been built around it.
What is ESG investing?
Some sustainable investment funds assess how a company's environmental, social, and governance practices might impact current and future financial performance. It's used as an additional metric to build on traditional financial metrics like valuation, revenue growth and the strength of a company's balance sheet. ESG investing is primarily about financial performance.
What is socially responsible investing (SRI)?
Investment funds that offer SRI products choose their portfolio of investments after applying a filter to accommodate investors with certain religious, political, or environmental preferences. For example, this might manifest itself in a fund that excludes non-Shariah compliant companies, firearms companies, or oil companies. This form of investing is still primarily focused on financial performance, just with certain companies excluded from the fund.
What is impact investing?
Impact investing is all about investing money in companies that aim to make the world a better place, either environmentally or socially. For example, a fund might only invest in companies that work to improve the quality of living in Sub-Saharan Africa, or only in renewable energy companies. Impact investing still aims to grow your money, but it puts the cause first and financial gains second.
How to choose a sustainable investment fund
Global sustainable investments (including ESG, SRI and impact investing) rose 34% to $30 trillion between 2016 and 2018, according to a report from the Global Sustainable Investment Alliance. That's a staggering amount, but only $95 billion of that was invested in ESG funds in 2017, according to Morningstar.
While sustainable investing gains popularity, you'll want to consider the following when deciding which fund is right for you.
Type of financial product
As with all investing, you'll have a few ways you can put your money to work.
Index funds: Invests your money in a stock market index (eg. FTSE 100 or S&P 500) but excludes companies that don't meet ESG or SRI requirements.
ETFs: Invests your money in a curated list of companies (eg. technology only) but excludes companies that don't meet ESG or SRI requirements.
Stocks & Shares ISAs: Invests up to £20,000 of your money in the stock market or other assets, but excludes companies that don't meet ESG or SRI requirements. Any gains, dividends, and interest is tax-free.
ESG pension funds: Invests your money in a range of assets, from indexes to ETFs to commodities and bonds, but excludes companies that don't meet ESG or SRI requirements.
Type of sustainable investment fund
Your personal preferences will impact the type of fund you'll want to consider:
ESG funds: Suitable for people who primarily want to see their money grow, while also supporting companies that take their environmental, social, and governance practices seriously.
SRI funds: Suitable for people who primarily want to see their money grow, but have certain religious, political, or environmental requirements.
Impact funds: Suitable for people who primarily want to use their money to further a cause (such as renewable energy), and hope this can be done while also delivering a financial return.
Performance
Regardless of the type of fund you choose, you'll probably want to compare the performance of the options available to you. This information is widely available online (Boring Money and Morningstar are two places to look) but data is unfortunately fragmented. If you can't find an easy comparison, you can try to compare fund performance yourself by looking at each fund's fact sheet.
Bear in mind that past performance doesn't provide any guarantees that the fund will continue to perform at the same level.
Fees
All sustainable investment funds charge fees to look after your investments. It's a competitive market, so you'll find the amount they charge will vary between them. You may also find funds charging a range of different types of fees, which can be more challenging to compare directly.
Fees might include:
Initial charge
Ongoing charge or management fee
Administration charge
Trading fees
Performance fee
Exit charge
Service
Lastly, you'll want to consider the quality of service the investment fund provides. Ask yourself the following questions:
Can I monitor my investments through an online platform?
How easy is it to contact the fund if I have a question?
How easy is it to put money in or take money out?
How have existing customers rated the fund on online review sites?
PensionBee's sustainable pension funds
PensionBee allows you to easily combine, contribute and withdraw from your pension online. There's just one transparent management fee, and you can choose from a range of funds including the following sustainable pension funds.
Fossil Fuel Free Plan
Managed by: Legal & General
Suitable for: Anyone who doesn't want to invest in fossil fuel or tobacco companies and prefers to be invested in businesses committed to a low-carbon future.
Annual fee: 0.75% (0.375% on portion over £100,000)
Future World Plan
Managed by: Legal & General
Suitable for: Anyone wanting to invest in companies that pledge to move to an environmentally-friendly economy.
Annual fee: 0.95% (0.475% on portion over £100,000)
We announced our intention to launch the Fossil Fuel Free Plan in November 2020, having heard our customers' requests for a pension plan that invests only in companies that take their environmental responsibilities seriously. To help us deliver the new plan at a fair price point, we're now seeking a collective £100 million commitment from customers. Find out more about our Fossil Fuel Free Pension.
Read more about PensionBee's sustainable pension plans.
Risk warning
As always with investments, your capital is at risk. The value of your investment can go down as well as up, and you may get back less than you invest. This information should not be regarded as financial advice.