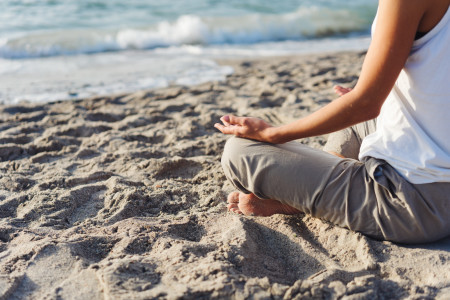 Everyone worries about money - some fear they won't have enough to last the month, while Bill and Melinda Gates became so concerned about using their enormous wealth for good, they have donated more than $36 billion to charitable causes.
This relationship with money is linked to our feelings about the world. In the UK, although average anxiety ratings reached a three-year low in 2018, according to the Office for National Statistics, still about 10.3 million people - a fifth of the population - reported high anxiety, virtually unchanged since 2014.
Interestingly, the advice from mental health charity Mind around alleviating general anxiety and for cooling worries specifically about money, is the same - open up and talk about it. Secrets and lies store up skeletons in our wallets, seriously affecting our well-being.
Silence on money is particularly acute among women
Promisingly, the financial sector is starting to recognise this. Silence on money is particularly acute among women, and in last year's Talk Money Week, the Chartered Insurance Institute's 'Insuring Women's Futures' initiative aimed to get as many women talking about money as possible.
One in ten married women told the government's Wealth & Assets survey they plan to rely on their spouse's pension. However, among those aged over 55, divorces more than doubled last year, and research by Scottish Widows found retirement nest eggs are only shared in a third of cases.
Sian Fisher, CEO of the Chartered Insurance Institute, says: "For women to take action to improve their financial futures, we need to get women to understand and talk about the financial perils and pitfalls they face because of their gender."
"We can learn so much from each other by sharing the problems we face and how we overcome them."
This is sound advice for both men and women to take important steps to deal positively with their finances. As well as talking openly about money, there are some simple steps to release budgeting pressures and build security into everyday living.
1. Take control
Creating a budget can help for when things are tight
Set aside a few minutes at the same time each week to review your cash and bills. File away any payslips, bank statements, bills and receipts in one safe place. Creating a budget can help for when things are tight - the Money Advice Service has tips and tools for this. Try to keep track of your spending in an app or notepad, and set up direct debits on payday to pay credit card bills and other debts straightaway.
2. An oldie but a goodie
Most people don't, but buck the trend and have a rainy day fund in addition to longer term pension savings so you can feel safe and cope when life throws you lemons. Experts suggest putting aside three months expenditure in case of a sudden job loss or other unforeseen circumstances, like the boiler breaking for example.
Tracing lost or forgotten pensions is a vital way of taking back control of your finances, as well as your future. Take a deep breath and dive into the short-term admin headache of finding the paperwork and calling around providers. PensionBee can help you combine them all in one place, so you can see exactly how much you have. Just knowing your current situation is empowering, and could mean you can retire earlier than you thought.
4. Plan and protect
Having one eye on the future, and discussing those plans, can alleviate money worries not only for yourself but also your family.
Gifting today can help younger generations, and give peace of mind that you won't leave loved ones with a big inheritance bill later.
Grandparents can each gift up to £3,000 a year to loved ones without incurring an inheritance tax bill, and the amount gifted is straight out of their estate for IHT purposes, with no need to wait for 7 years. Allowances unused from last year can be carried over for one year, so for grandparents who are new to gifting, they can gift up to £12,000 between them.
In summary…
Everyone gets anxious about their finances, for a variety of reasons, but your relationship with money is all linked to your ideas about the world. To keep a positive stance and de-stress your wallet, it's important to talk to people about these concerns, but to also make sure you have some budgeting practices in place to stay on top of it all.