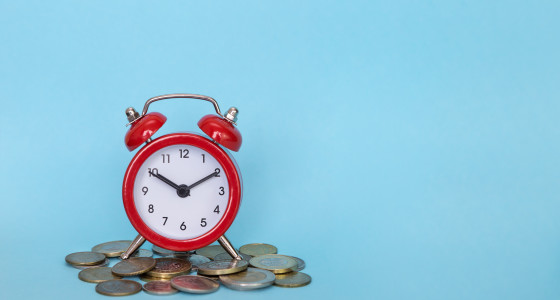 Pensions often aren't given much thought until later life, which is understandable given that you can't touch them until your 55th birthday, and your retirement may seem so far away. Despite this, it's crucial to consider your pension provisions earlier, and to put those extra pennies away as often as you can. After all, it is suggested that a pension pot of £200,000+ is needed for a comfortable retirement.
Many people envisage going away on exotic holidays, finally getting around to renovating the kitchen or perhaps purchasing that golf membership to keep themselves busy in retirement. However, when you start to think about those luxuries, that £200,000 could quickly disappear. That's why it's so important to get into good habits early, and to put a solid saving plan in place.
Here are 6 easy ways to start saving for retirement early...
Ask yourself, is that takeaway really worth it?
Pensions are a very tax efficient way of saving. If you were to contribute £50 a month into your pension over a 30-year period, this adds up to £18,000. Under current legislation the government would also give you an extra £4,500 on top of this, without you having to do anything. This is a total of £22,500, which with the performance of the pension, should hopefully be even more!
So, does that extra takeaway a month really seem worth it now, when you could put this cash towards your retirement dreams?
Contribute more from your salary
Contributing an extra few percent from your salary in a workplace pension can also be a useful way of boosting your pension. These contributions will be deducted straight from your pay, so this can mean it won't have a noticeable impact on your lifestyle (or bank account!). It is thought that people are most likely to save money on or as close to payday as possible.
Set short-term saving goals
saving for your retirement is a marathon, not a sprint
It's important to remember that saving for your retirement is a marathon, not a sprint. It can be quite daunting to work out how much money you want for retirement, and how much you currently have in your pension. So, it may be useful to set yourself some shorter-term saving goals rather than looking at the finish line so early on. For example, setting yourself a challenge to put an extra £10 into your pension than the previous month.
Carry on with old payments
With all the payment options available nowadays for our purchases, many of us are tied into contracts and finance plans to pay for these. So, when one of these regular payments finishes, why not continue to pay it, but put that money into your pension instead? This again will mean the contribution won't have any additional bearing on your lifestyle but will allow you to save more into your pension.
Combine your pensions
It is estimated that the average worker will now have more than 11 jobs during their career. This could mean a lot of pension pots dotted about all over the place, which can make it difficult to manage and stay on top of your retirement savings. Combining your pension pots together can help you to plan for your retirement, and better understand your financial situation.
Stay on top of them
It is always useful to stay on top of your pensions. You should check to see that the fund is performing ok (although there will always be fluctuations in the performance in the short-term), ensure you aren't facing any large fees, and finally, make sure you aren't tied in with any benefits or clauses you weren't necessarily aware of - as all of these factors can have a big impact on what you'll receive at retirement.
Thinking about retirement and your pension whilst you're younger can seem a strange decision, and even difficult to do at times. You may be facing more immediate issues and want to spend your extra cash on other things. But if you do want experience exotic trips, renovate your house and spend some time on the golf course in your retirement, then it's important that you start saving for this sooner, rather than later.
Despite the above, trying to save for your retirement shouldn't be the only thing you are doing throughout your career, and it's important to find a balance that works for you. You will still want to have your guilty pleasures and treat yourself, but take a step back and consider the future you once in a while, too!