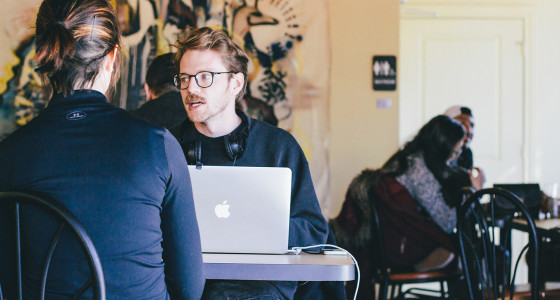 As a freelancer, your finances can be daunting but they're also a vital part of your life. Freelancers often face inconsistent income and then there's that annual tax assessment to complete! You need to be on top of your money at all times, so we've pulled together a few ideas to simplify your freelance money management.
Start with an app for freelancers
Your first step should be to make it easier to track and manage your finances. There are a bunch of helpful apps out there, designed specifically for freelancers and self-employed people.
Coconut is a banking app that helps you to track your income and expenses. You can set up an account in minutes just using your phone, plus Coconut will automatically calculate your annual tax bill so you know exactly how much you'll be spending when you complete your assessment. Not only that, but Coconut will help you send payment reminders to any forgetful clients!
1Tap Receipts is your digital book-keeper
Or try 1Tap Receipts to make your self assessment a doddle. 1Tap Receipts makes it easy to record receipts from any business expenses, which could save you money on your tax assessment. You can store photos of physical receipts (so you don't have to file those receipts for a year - or lose them!) and keep any electronic invoices on file too. 1Tap Receipts will then act as a book-keeper, automatically categorising according to HMRC requirements, converting foreign currencies, and calculating your tax.
In our digital age, it makes sense to modernise your finances, too - and apps like these could help you spend less time on your finances and more time working on what you love.
Prep for the future
As a freelancer, you'll know how important it is to plan ahead. You probably know which times of year are quieter for your business so you need to make sure you've always got enough saved in advance.
To avoid any freak outs when that contract unexpectedly ends or when business is slow, make sure to engage mindfully with your money. Check in with your money management apps on a regular basis so you know exactly what's in your account, what's due for tax assessment, and what you're owed.
It's also a smart move to make savings a priority. Alongside an emergency fund, you should be saving regularly into an account that works for you. This way, you know you're covered at any time.
Look after your retirement too
Saving for the immediate future is only part of a healthy savings plan. You should also be thinking about your retirement. When you're freelancing or self-employed, pensions can seem confusing but they're actually much simpler than you think.
You might also have had workplace pensions in the past. Freelancers often end up with many old pots so you might want to consider consolidating all your old pensions into one new personal pension plan.
If you don't receive a consistent monthly income, be sure to pick a plan that allows you to make one-off contributions. This means you can top up your retirement fund when it suits you (and your wallet!)
Put together a budget
Cutting costs is an important aspect of freelance finances. Working in cafes and coffee shops can rack up a bill, especially if you're doing it every day! By putting together a budget, you can see where you're spending and where you can save.
Put together a budget to see where you can save
Try saving money on your morning coffee by making it at home in a travel flask. If you like co-working spaces, do some shopping around to see what options are available, and which ones suit your budget best.
Or cut costs entirely by working from home! Homemade meals and your favourite beverages will save you a small fortune, plus you don't need to spend as much on travel costs or desk space. Create an inspiring work area at home to motivate you to do your best every day.
File your tax return in advance
We know - tax assessments are the dullest part of the freelance lifestyle. Most people put them off until the last minute but this can result in a nasty shock in your bank account.
By getting your tax assessment done early, you don't need to worry about any sudden bills. Even better, your assessment will give you an idea of your spending and income last year. You'll be able to pick up on any patterns in your incomings and outgoings, which could help you plan better for the financial year ahead.
Freelancing can be a dream come true for many people, and your finances don't have to be scary! By taking control of your money and implementing some solid plans, you can find both stability and freedom as a freelancer.
Have we missed any top tips for making better decisions with your money? Let us know in the comments below!