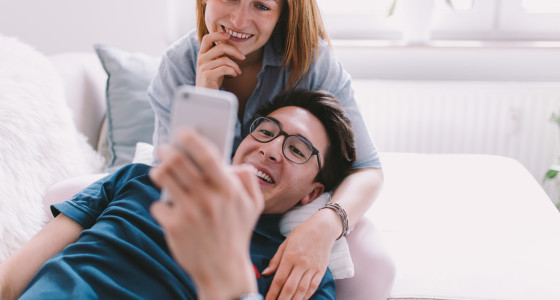 When you're in a relationship, over time your money can become interchangeable with your partner's. Where once you perhaps took it in turns to pay for things, eventually there can come a time where the lines blur.
Whether you're working towards a shared savings goal such as a romantic holiday or a deposit for a house, or are simply looking for the best tools to help you take care of your day-to-day expenses, here are five of the best free money apps for couples.
1. Splitwise
Announcing a Splitwise+Paytm Integration for Android https://t.co/CKhNgwNY6v pic.twitter.com/H6KcNvWnea

— Splitwise (@splitwise) 23 May 2017
Splitwise is a handy tool that lets couples (and larger groups) track their bills and other shared expenses so no one's left out of pocket. The app keeps a running tab of anything you and your partner pay for such as meals, bills and groceries, and lets you split it into one big payment rather than lots of small ones. You can even set up email alerts to avoid arguments about who owes who what, should one of you conveniently forget!
2. Spendee
If you are not sure whether to invest in Lifetime Premium or not, check out the first sneak peeks to future @spendeeapp and find out what are the features, we are working on right now. 👉 https://t.co/sSvZY7AOhJ #moneymatter #FinancialFreedom #personalfinance pic.twitter.com/4lpVdpcLVu

— Spendee (@spendeeapp) 28 August 2018
Spendee is a budgeting app that helps you track your spending, create a budget and save money. You can bring all of your cash expenses, bank accounts, E-Wallets and crypto wallets together and categorise your spending and set notifications. Basic functionality is free of charge, however couples will need Spendee Premium which will allow you to invite your partner to help you manage a shared family or household budget.
3. The PensionBee app
"It's the 21st century! We need to get pension balances on their smartphones, alongside current account and other balances; a complete picture of your financial health needs to include pensions." #pensions #fintech #money #app - Clare Reilly (photo: @ICASaccounting ) pic.twitter.com/gWPvhXhvnn

— PensionBee (@pensionbee) 26 June 2018
No list of money apps would be complete without an honourable mention for our very own PensionBee app which launched this summer! Customers can now access their real-time pension balance in just a few clicks from their favorite device, without needing to log into their BeeHive through a web browser.
While the app isn't designed for couples per say, having a clear overview of your pension balance can help you and your partner plan your finances now and in the future. And, what could be more romantic than a quiet night in, you and your partner curled up on the sofa, simultaneously checking your pension balances?! Download the PensionBee app in the iTunes and Google Play stores today.
4. Trussle
Comparing mortgage deals by true cost gives you an accurate idea of how much you'll pay for a deal in total.

A good mortgage broker will compare deals by true cost, but make sure you check how much that 'best buy' rate actually costs - you may be surprised!#RatesAreOverrated pic.twitter.com/yUVVvuzEod

— Trussle (@Trussle) 3 March 2018
If you and your other half are looking to get onto the property ladder Trussle can help. The app searches over 11,000 deals from more than 90 lenders to find you the best mortgage for your individual circumstances. Once you've got your mortgage sorted, Trussle will monitor how much you're spending over time and will let you know when it's time to switch to a better deal, so you're never paying more than you have to and can potentially pay off your mortgage early.
If you're not quite ready to combine your finances just yet, you'll find several money management apps for singles. Read our pick of the 5 best money saving apps for struggling savers and the 7 apps that could transform the way you think about money.
Remember that each of these apps offers a financial service, and so your capital may be at risk. Please make sure you understand each product - and how your situation could be affected by using it - before you make any purchases.