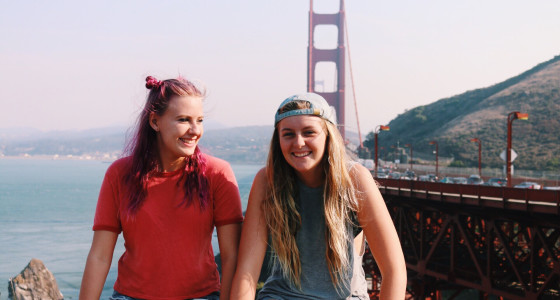 Deciding to start a family is one of the biggest decisions you'll ever make, and there's lots of support to help you prepare. You can take quizzes to see if you're ready and you can even find out how much it'll cost you and how to get your finances in order, years in advance.
Sadly there's barely any guidance to prepare you for the next major life change, which takes place when children grow up and leave the family home.
Research from UK charity Family Lives suggests that parents struggle to cope at the beginning of term, when their children leave home to start university. One of the main causes is the phenomenon of 'empty nest syndrome'.
What is empty nest syndrome?
Empty nest syndrome is the feeling of sadness and loneliness parents and carers experience when children leave home. It's been compared to feelings of grief and tends to happen when children reach young adulthood and move out to study at university, live with friends or go travelling.
While empty nest syndrome isn't something clinical that your GP can diagnose, the feelings of loss, anxiety, sadness or loneliness are certainly real. It's important to recognise the effects of empty nest syndrome as it can lead to more serious problems such as depression and alcoholism. It can also cause identity crises and relationship conflicts.
How to cope with empty nest syndrome
Adapting to your new life won't happen overnight but embracing the change and focussing on the positives should help any feelings associated with empty nest syndrome pass. From prioritising self-care to keeping your mind busy, here are four tips that will help you enjoy the freedom of living child-free.
Invest time in a hobby
Some parents experience empty nest syndrome and get a new hobby, my parents built my dogs a deck.. pic.twitter.com/qs48BGZ89e

— smokey christmas (@peterdancegirl) 3 May 2017
With a lot more you-time on the cards, why not consider learning a new skill? Whether you'd prefer learning a language, enrolling on a ceramics course or joining the local arts and crafts group, hobbies are a great way to meet people and make new friends. They can also take you out of your comfort zone and provide a welcome distraction.
Empty nest syndrome for single mothers can be especially tough, which is why it's even more important to expand your support network and keep yourself active with hobbies in the weeks directly after a child's departure.
Travel is a popular hobby among people of all ages, but just think about all the trips you could have without children in tow. Not only will you get to see all the sights you've always wanted to, chances are trips will be a hell of a lot cheaper without all those extra plane tickets to buy.
Redecorate your home
While it would be drastic to remodel your home as soon as your children leave, there's nothing wrong with a bit of light redecorating. Keeping yourself busy with a project may help to keep the feelings of sadness at bay and you can restyle your home to exactly how you've always wanted it.
That means investing in quality furniture and finally bringing out the good linens you've kept hidden for all these years. You can even repaint the walls in the children's bedrooms to whatever colour's the polar opposite of millennial pink!
Plan for retirement
Planning for retirement is essential to ensure you have enough money to live on in retirement. And, with the rise of the 'boomerang child' (who leaves for a bit before returning to the family home), you'll want to make doubly sure you've got enough cash saved to keep the Bank of Mum and Dad in business.
Our online pension calculator can help you figure out how much you'll need to save for your retirement based on how much you've already saved and how old you'd like to be when you retire. Wherever possible, it's important to start saving early and often so your pension pot has a chance to grow and generate compound interest over time.
I've been trying out the pension calculator from @pensionbee and thinking about our financial plans for the future… https://t.co/qSyM5eLQ0n pic.twitter.com/bcqRVEQ75X

— Katy | Money Blogger (@Katykicker) 11 August 2017
If you can afford to increase your pension contributions by even a small amount you'll discover that a little can go a long way when tax relief from the government is added, plus any contributions your employer makes through Auto-Enrolment.
Depending on how far off you are from retirement, you may want to increase your working hours and take on more responsibility once your children have left home. This is a great way to keep yourself busy, and can help you increase your pension savings.
Trust that eventually things will get better
Even if you doubt that things will ever go back to normal without your kids at home, research from the London School of Economics would suggest otherwise. It seems that parents whose children move away, and then boomerang back home again, experience a significant decline in their wellbeing.
'Empty nest syndrome' should be renamed 'having a great time without your kids syndrome' https://t.co/7aRuqhdjgL

— i newspaper (@theipaper) 27 April 2018
Couples who had gradually got used to their empty nests saw an improvement in their marital relationships and overall quality of life, only for stress levels to increase once their children returned. So you see, as hard as it may seem to adjust at first, soon enough you'll be enjoying the next chapter of your life and might not take too kindly to your children coming back and tipping the balance.
What tips would you give someone suffering from empty nest syndrome? Leave a comment below and tell us what you think.