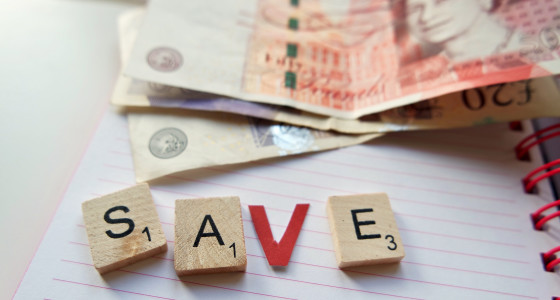 If you're anything like us you'll be struggling to keep to your resolutions already. However, there's one area where you shouldn't stray - saving money.
According to the Financial Conduct Authority, around 15 million people aren't saving enough, with a third of all workers facing an uncertain retirement. Shocking figures, they illustrate the scale of Britain's saving problem. So, how can you save more in 2018?
Confront those credit cards
Credit cards represent one of the most expensive loans you could ever get, so if you're putting too much on the plastic put a stop to it.
The average interest rate on credit cards has risen to 23%, so it really makes sense to pay off your balance as quickly as you can. Shop around for 0% balance transfer deals and hunt for a card without extortionate interest. Sites like Money Saving Expert are handy for this, as they'll source many of the best deals for you.
Consider putting any unexpected windfalls towards paying off your credit card debt, and wherever possible look to up your repayments by shrinking your spending. You might be shocked at where you can cut costs (more on this next).
"If you use credit cards, you don't want to be rich" - @mcuban #stopthecycle#debtfreejourney#debt

<p style=" color:#c9c8cd; font-family:Arial,sans-serif; font-size:14px; line-height:17px; margin-bottom:0; margin-top:8px; overflow:hidden; padding:8px 0 7px; text-align:center; text-overflow:ellipsis; white-space:nowrap; style=" color:#c9c8cd; font-family:Arial,sans-serif; font-size:14px; font-style:normal; font-weight:normal; line-height:17px;" target="_blank"> Broke with a Blog (@brokewithablog) on
Slash any unnecessary spending
We get it - life is expensive - but is it more expensive than it needs to be?
What look like trivial expenses can really add up over time. We're talking takeaway lunches, your daily coffee addiction, and your penchant for pricey groceries. Let's take a look out how these costs can add up.
Takeaway lunches
Research from Vouchercloud.com suggests that those takeaway lunches could set you back an eye-watering £1,840 per year, over three times the £552 that a packed lunch could set you back annually. A packed lunch needn't just be a depressing sandwich either - there's plenty you can create with tasty leftovers.
Your daily coffee
A shop-bought latte or cappuccino can easily set you back £2.50, so it's not surprising that research from Buddy Loans shows that Brits spend over £608 a year on fancy caffeine hits. In contrast, switching to homemade fresh coffee - using a stove-top Moka pot - will set you back around £41.40 a year, including the initial outlay. Just pop it into a Thermos flask and you're set, for a fraction of the cost!
Pricey groceries
Shoppers who started buying supermarket own-brand products rather than branded goods saved an average of over £1,200 a year according to a recent Voucher Codes Pro poll. It's an impressive amount, and in many cases you'll notice little difference in quality between the recognisable brand and the supermarket's own version.
See what we mean? By making small switches in areas like these you could save a total of £3,055 per year.
Make your money work
Once you start seeing significant savings it's time to think about investment. Leaving your cash sat in your current account is unlikely to make the most of your your money, so if you're willing to take a degree of risk then why not put your money to work?
There's a number of options available, ranging from things like pensions, ISAs and property, to a variety of investment funds that specialise in certain areas. What offers the best fit depends entirely upon your needs, so think carefully about the following factors:
Your age and personal circumstances

It's essential to think hard on these, as what is a good fit at one stage of life might not be appropriate for another.

How long you want to invest

With a pension, for instance, you can't access your savings till you're 55. In contrast, other investment options can offer greater flexibility.

What you plan to use the money for

Is it for retirement, a deposit, or for your children's education? Whatever the money is for can help dictate your investment decisions.

Whether you need it to provide an income

Do you want a guaranteed income like an annuity, or are you seeking more flexibility?

Your personal values

Do you care about eco-friendly investing, or other ethically tailored approaches?

The risk you're willing to take

Our plans and many other investment options offer different levels of risk.
By answering these questions you ought to make a decision that makes the most sense for you. Just remember that any investment can down as well as up, and you may get back less than you started with.
Are you planning to save more in 2018? Tell us your tips in the comments!