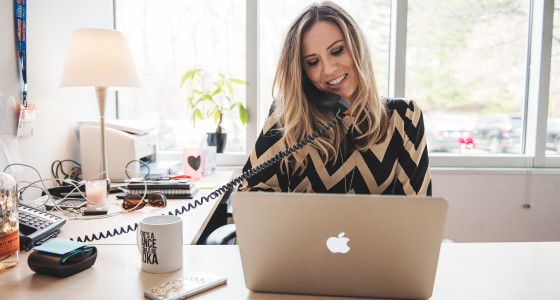 Starting a new job is the best. You feel on top of the world from acing your interview and blowing all of the other candidates out of the water. Plus, you're excited to put your skills to good use and even learn something new in the process.
Amidst all of the nervous excitement that comes with any new challenge, there are a few things you can do to get yourself off to a flying start. Here are five tips for starting a new job.
Take a deep breath
If you're like a kid chomping at the bit to get back to school after the summer holidays, maybe take it down a notch before you walk through the revolving door. No one likes someone who's too eager or comes across as a know it all.
In order to make a good first impression you'll need to keep your nerves in check. If you fidget or ramble on endlessly when you're nervous try your best to reign it in or think of something that makes you relax.
Know your role
Chances are that in order to get the job, you did your homework. Make sure you research the company again before your first day and understand the team you're going into. You should be able to find a lot of the information you need on the company's website and the job ad you responded to.
It's perfectly acceptable to research your new team on LinkedIn to get a feel for how everyone fits into the bigger picture, as long as you don't get creepy and make things weird before they've even met you.
Cut yourself some slack
One of the best things about a new job is getting to use your brain again. Yet, even with the best will in the world, there'll be days in the beginning where your brain's completely fried and things go wrong.
Learning lots of new things and processing new information can be exhausting so if by the end of your first, second or third week you feel shattered, give yourself a break.
Find you work wife/ husband
Being friendly at work doesn't mean telling your colleagues all about your debauched weekends, but it does mean being yourself as much as possible. Networking in the office on a personal level is just as important as on a professional level as everyone needs an ally.
Don't let yourself get so bogged down with work that you forget to have fun with your colleagues. You'll enjoy work so much more if you build a rapport with someone you genuinely like and who will tell it to you straight.
And finally, don't forget your old pension
As long as you're over 22 and your new job pays more than £10,000 – and fingers crossed it does – your new employer has to contribute to your pension. From April 2018 it will be a legal requirement for your employer to enroll you in its workplace pension scheme, however most employers are already doing this.
9 million people are now benefiting from saving into a workplace pension - make sure you are too. Get to know #YourPension https://t.co/jsi2lr5n6r pic.twitter.com/gRxmYsrSNV

— DWP (@DWP) 18 January 2018
It's unlikely that your new scheme will be with your old pension provider, because by sod's law, it never is. To avoid having several old pensions dotted around, each with a different provider, it can be a good idea to combine your old pensions into one plan.
PensionBee can help you combine all of your old pensions into one manageable pot. Once all of your pensions are together it'll be much easier to track their performance, plus you'll only have one pension to worry about and one fee to pay.
Elsewhere, if the specifics of your interview are a bit of a blur and you don't have any paperwork yet, it's worth asking a member of the HR team how much your current pension contributions are.
In 2018/19, your new employer will have to make a minimum contribution of 2% of your annual salary but, depending on the scheme, it might be possible to get more. If your employer matches your contributions to a set amount, it's well worth increasing how much you put in.
Do you have any more tips to share? Tell us in the comments!