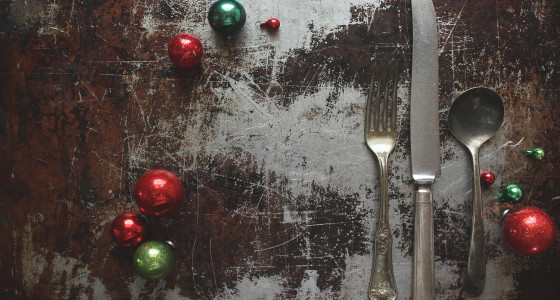 One of the best things about Christmas is spending time with our loved ones, but it doesn't always come cheap! According to MoneySavingExpert, the average family spends a whopping £750 on Christmas each year. Alongside presents, Christmas lunch is one of the most expensive components and if you're not careful costs can quickly spiral out of control.
Christmas doesn't need to be expensive to be special so here's some timely #WednesdayWisdom from @MoneySavingExp on how to make precious memories without spending a fortune ⛄️ 🌲 🌟 https://t.co/hXIgleRQ97

— 8th Gillingham Scout (@Scout8th) 28 November 2018
If you'd like to spread some festive cheer and host Christmas without breaking the bank, here are seven things you can do to prepare Christmas lunch on a budget.
1. Borrow the essentials
If you're planning on catering for a big group, you're going to need a lot of extra equipment. Rather than buying essentials you're unlikely to get much use from, see if you can borrow them instead.
For most people Christmas consists of travelling to visit relatives, which means they won't be needing their supplies on the day. If you're a little short on things like cutlery, glasses, plates, tables or chairs ask friends you know will be away if you can borrow theirs, or ask your guests to bring some things with them.
2. Make do and mend
When you're hosting a Christmas meal, you'll want to ensure your home feels festive. Instead of going overboard buying new decorations and special table settings, why not reuse what you have left over from previous years? You could also try your hand at making everything from paper hats and decorations to Christmas crackers and baubles.
3. Have a pot luck
Baking all done for the MN pot luck Christmas Lunch! #Tradition #Christmas #baking #excited pic.twitter.com/WN6HPSPEDO

— Gearóid Brennan (@gearoidbrennan) 4 December 2016
Pot luck meals are great for sharing the cooking responsibilities and also cutting costs for the host. To make this work for Christmas, you could ask all of your guests to bring their favourite side dish, dessert or even a cheese selection, which will reduce the amount of food you have to buy and prepare. Pot lucks can be fun and informal and should help to ease some of the pressure.
4. Say "yes" to help
When your guests ask you if they can help you out with the preparation, always say yes. Whether that's helping you do the shopping, preparing food the night before or bringing something along on the day, realistically you're going to need as much help as you can get. Most people will offer to bring a bottle, but if you're asked specifically what you need, use the opportunity to be honest and get the help you really need.
5. Hold back on the trimmings
When it comes to Christmas lunch it's all those little extras that can really add up. From pigs in blankets, goose fat potatoes and stuffing to cranberry sauce, gravy and bread sauce – there's usually a lot going on. Instead of scrimping on quality, consider removing just one or two elements. Being creative with your vegetables is a great way to enhance your meal and you could also consider swapping turkey for chicken or going with a different meat altogether to do something a little different.
6. Ask your guests to contribute financially
Should you charge family for Christmas lunch? https://t.co/HNuhgzA1jC

— BBC News (UK) (@BBCNews) 26 November 2018
A Mumsnet user recently hit the headlines after mentioning on the parenting forum that her mother-in-law intended to charge her family £17-a-head for this year's Christmas dinner. While this particular case got a mixed reception, the idea of asking guests to contribute some money towards the festivities is becoming increasingly common.
In some scenarios it can be the most logical approach. If you have the biggest house, for example, you may be asked to host Christmas every year, in which case the costs should be shared equally among the guests. Depending on who you invite, you may find that your guests are more than happy to contribute.
7. Let someone else do the cooking
If you're really struggling to make the numbers work, you could always suggest a local restaurant near your home instead. Friends and family can meet at your place for drinks and presents before heading off for a slap-up meal. The beauty of dining out at Christmas is the satisfaction of eating great food, without all of the stress that usually comes with hosting. Plus, there's no washing up to do and everyone will pay for their own meal.
You can invite everyone back to your place afterwards to continue the festivities and do whatever you'd usually do, whether that's watching the Queen's speech, playing charades or falling asleep after one too many brandies.