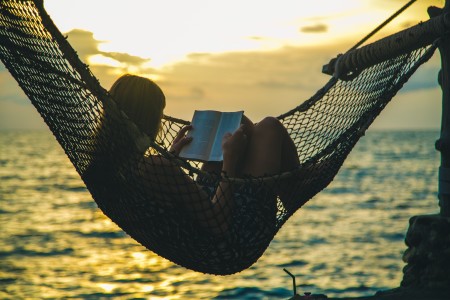 Whether you're lounging by the pool somewhere hot or chilling at the bottom of your garden, nothing's more relaxing than settling down with a good book. But rather than escaping to your favourite fictional world this summer, why not opt for something a little more practical?
If you've been longing to get a better grip on your finances and want to understand how to best manage your money now and in the future, there's a wide selection of personal finance books with your name on. Here are eight of the best to add to your summer reading list.
1. The 4-Hour Workweek: Escape 9-5, Live Anywhere, and Join the New Rich
Since the The 4-Hour Workweek was first published in 2007, it's consistently topped best-seller lists and is showing no signs of abating. It seems we can't get enough of Timothy Ferris' sage advice on how to restructure our lives so they're not all about work. If you've got dreams of working less and living more, The 4-Hour Workweek will tell you everything you need to know from how to outsource your least favourite tasks with virtual assistants, to taking mini-retirements throughout your career.
Holy cow! I was just sent "This Year in Books - 2017" by Amazon Charts (https://t.co/k14vVzjTzS) and, more than 10 years after publication, it appears that The 4-Hour Workweek is the most highlighted book across all of Amazon in 2017. My sincerest thanks to each and every reader! pic.twitter.com/LxJeCuWXLT

— Tim Ferriss (@tferriss) 27 December 2017
2. Worth It: Your Life, Your Money, Your Terms
In Worth It, author Amanda Steinberg explores the savings gap between men and women and shares the essential financial information women need to take financial control of their lives. It details some of the author's own experiences alongside tips for evaluating your financial priorities and creating financial stability.
. @linkedin features Worth It, chapter 1 of my book. https://t.co/X7b8y5nE48 by @AmandaSteinberg

— Amanda Steinberg (@AmandaSteinberg) 20 February 2017
3. Your Money or Your Life: 9 Steps to Transforming Your Relationship with Money and Achieving Financial Independence
Examining how our relationships with money encompass more than just our earnings, spending habits and savings, authors Vicki Robin and Joe Dominguez explore how living frugally can make us happier. First published in 1992 and re-written for the 21st century, Your Money or Your Life is full of real-life examples of how you can follow their nine tips to change the way you perceive and interact with money so it more closely mirrors your values and aspirations.
Another millennial says Your Money or your Life was a key to saving big and returning early. Thank you J.P…. https://t.co/Ft9spRO2Ir

— Vicki Robin (@vicki_robin) 2 February 2018
4. Rich Dad Poor Dad: What The Rich Teach Their Kids About Money That the Poor and Middle Class Do Not!
It's not hard to see why Rich Dad Poor Dad has been a bestseller for two decades. It documents co-author Robert Kiyosaki's experiences growing up with two dads (his real father and the rich father of his best friend), and their attitudes towards money. Rich Dad Poor Dad advocates the importance of financial education and independence and offers tips on how you can make your money work harder, whether that's by investing, buying property or running your own business.
Celebrating two decades with a 20th Anniversary Edition of Rich Dad Poor Dad, pre-order your copy now https://t.co/XSAV3WXhNf #richdad20 pic.twitter.com/IKePn9RhfG

— Robert T. Kiyosaki (@theRealKiyosaki) 1 February 2017
5. The 100-Year Life: Living and Working in an Age of Longevity
In The 100-Year Life authors Lynda Gratton and Andrew Scott use psychology and economics to examine rising life expectancies and the death of the final-salary pension, and the impact these will have on modern generations if they don't restructure their lives differently. If the idea of working until pension age fills you with dread, this is the the book to help you figure out how to maximise your pension savings and turn the way you think about your career and retirement on its head.
Companies need to wake up to the fact that longevity is going to transform the world of work https://t.co/JyYSCL4Rzt #100YearLife

— Lynda Gratton (@lyndagratton) 30 June 2016
6. The Richest Man In Babylon
If you're not ready to let fiction go completely this summer, The Richest Man In Babylon, is a series of stories about financial successes and failures dating back to ancient Babylon. Author George Clason will teach to teach you everything you need to know about caution, financial planning, saving, and making money.
Book #17 of 2018 was "The Richest Man in Babylon" by George Clason. This book was written in the 1920s on a civilization (Babylon) that existed thousands of years ago. What I found fascinating were the transfer of "wise money principles" that apply today: 2018. Have you read it? pic.twitter.com/Ce5kPcUAYD

— Johnny Quinn, OLY (@JohnnyQuinnUSA) 22 July 2018
7. You Are a Badass at Making Money: Master the Mindset of Wealth
Based on Jen Sincero's personal experience from living in a garage to becoming a No. 1 New York Times bestselling author, You Are a Badass at Making Money is a candid and funny book that'll help you identify where you're going wrong with your money management. It'll teach you how to shift your mindset and provide practical tips on how you can unlock your earning potential.
Here are three top tips from my new book, YOU ARE A BADASS AT MAKING MONEY. Visit my blog for the full scoop: https://t.co/6RdHxwpWqi 🤘🤑 pic.twitter.com/k03X2QRRaQ

— jen sincero (@JenSincero) 4 January 2017
8. Principles: Life and Work
Principles is written by one of the world's most successful investors and entrepreneurs, "the Steve Jobs of investing" Ray Dalio. In it he shares the tips he's amassed during his 40-year career, building one of the largest hedge funds in history. While this book won't teach you to become a savings champion overnight, you'll learn a range of skills that can be applied to all areas of life, from tackling challenges and making decisions to motivating others.
As we come into graduation season, I've distilled my 600-page book into a 30-minute ultra mini-adventure series called "Principles for Success" to make it easy for people to get the key ideas.

If you're interested you can watch them here: https://t.co/RaoEw2jvar pic.twitter.com/vZaAmr6n0p

— Ray Dalio (@RayDalio) 8 May 2018