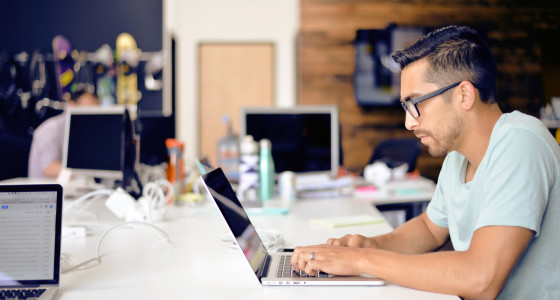 If you went to uni, it's likely that you took out a student loan to help pay for your tuition and living expenses. As tuition fees have increased, so too have the popularity of student loans among millennials. The government lends over £13 billion every year - and that figure is only set to increase.
With news of rising interest rates for current students, many graduates are considering paying off their student debt early. Before you decide to repay your student loan there are a few things to consider. Here are five steps to help you make the right decision for your finances.
1. Check if there's any benefit to paying off your loan early
Holy Moses. Apparently I've paid off my student loan. Only took 9 years!!! pic.twitter.com/fxddW3Woht

— nadine nakagawa (@NadineNakagawa) August 24, 2017
First of all, you need to make sure that it's worth paying off your debt early. Student loans can be some of the cheapest loans out there which means they don't always make the most pressing debts.
To decide whether it's worth paying off your debt early, you'll need to consider your personal circumstances. Think about the year you started uni and dig out your old loan statements. Student loans have different conditions and interest rates depending on whether they're from before 1998 or before 2012.
Another thing to consider is your current earnings and your projected income. For anyone who attended uni after 2012, you'll pay higher interest once you start earning over £41,000.
If you don't see yourself earning over £41,000 in the near future, it's often worth sticking to the minimum payments automatically taken out of your salary. This is because the interest will usually cancel out any extra payments you make.
2. Pay off other debt first
If you decide you do want to pay off your student loan early, it's important to take care of any other debt first. Student loans are designed to last a long time but tend to be quite cheap in comparison to other loans. This means that if you have other debt, it's probably having more of an impact on your finances than your student loan.
Payments for your student loan will automatically be deducted from your salary, so you don't need to spend much time thinking about them until you're ready to make additional repayments.
Paying off your other debt will require budgeting and planning, as only paying back the minimum amount tends to increase debt which can quickly become a problem. Tackle any existing debt by setting up automatic payments and paying more than just the minimum required.
3. Calculate your student loan repayments
Due to the interest on your student loan, you'll need to pay above a certain threshold in order to make it worth paying more than the minimum each month. To work out what this amount might need to be, try using a student loan calculator.
Calculators can give you an idea of how much you could be paying off each year, based on your salary, income increase over time, and the interest rate on your loan. This can be a good way to stay on top of your student debt now and in the future.
4. Budget for your student loan repayments
Paying off any debt affects your overall finances, so it's important to properly budget for any early payments of your student loan. You'll want to take a look at your budget and consider how any payments might influence other expenses and any savings.
Student loan calculators could come in handy throughout your career as they allow you to easily see what would happen if you adjust your contribution amount whenever you get a pay rise or a bonus.
5. Set up your student loan repayments
About to start repaying your #studentloans? Get the info you need to help you understand the steps involved https://t.co/YNfiArPWlf pic.twitter.com/WbQfftLd81

— STUDENT FINANCE ENG (@SF_England) August 31, 2017
When you're ready to start making payments, you can do this through Student Finance. In general, monthly payments work best as you can set up automatic payments, making it one less thing to think about.
Monthly payments also mean you'll regularly see a nice chunk taken off your loan which could make a big difference over time.One-off payments are also possible and could be more useful if you have an irregular income or if you've just received a bonus.
Paying off your student loan early can give you huge satisfaction and peace of mind, especially if you haven't got any other debt to worry about.
Have you paid off your student loan early? Share your tips and tricks in the comments below!