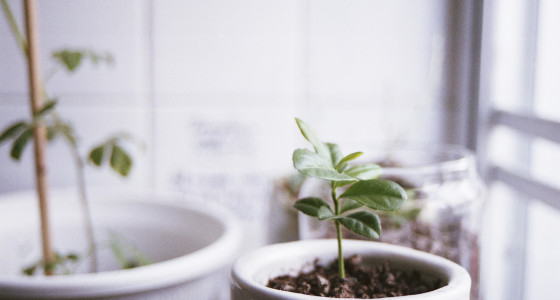 It always feels great to make a difference. Whether you're doing something nice for a stranger or doing your bit to take care of the environment, it's rewarding to take care of each other and our world. That's why more and more people are looking to be more ethical with their money, too. If you want to take care of your money whilst also taking care of the world, we've put together some handy tips to get you started.
Buy from ethical brands
Ethical and sustainable brands are on the rise, with more opportunity than ever before to find green and cruelty-free versions of all your favourite products. From makeup to home decor to what you eat, you can find alternative products that help to make the world a happier place.
For example, many UK households are swapping meat for a veggie-based diet, as you can get more bang for your buck with fruit and veg compared to meat. Not only is this more cost-effective, it's better for the planet. Similarly, cruelty-free makeup is not tested on animals and many brands only use sustainably-sourced ingredients and processes.
There are lots of online resources that can help you spend more conscientiously, whether you're looking for ethical fashion, vegan brands, or sustainable items for your home.
Invest in a better world
According to investment platform Equiniti, interest in sustainable investing has increased by 237% in 2017, with more investors looking to make a difference with their finances. Investment options reflect this, with an increase in ethical and sustainable investment funds where the focus is on investing in businesses with greener business practices.
At PensionBee, we listened to our customers interested in a pension that invests in a greener world. So we've introduced the Future World Plan, which specifically invests in businesses that engage in low-carbon practices, helping the transition to a greener economy.
There are a range of green investment funds that focus on investing in businesses with responsible practices socially and environmentally.
Bank on a greener economy
Where you bank - and where you choose to set up your current account - affects your money on a daily basis. For those looking to make the world a greener place, a sustainable bank will be as important as making sustainable spending and investing decisions.
There are a variety of sustainable current accounts and banking options out there. Triodos is a new bank that funds socially conscious and environmentally-friendly businesses. The card is even made of "natural plastic" to cut down on carbon emissions. Plus more and more banks are offering sustainable current accounts so be sure to take a look at the different options.
By being more conscious about your finances, you could make a real difference in creating a greener economy.
Have you transitioned any of your finances to a greener option? Let us know in the comments!