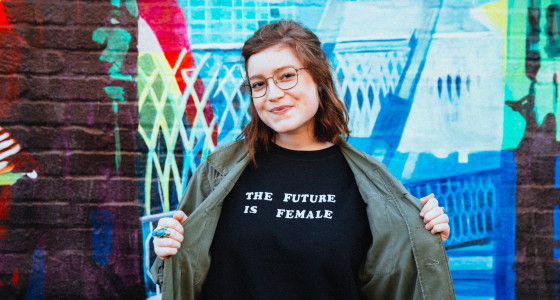 Our very own BeeKeeper Priyal recently attended the Women In Finance Awards and came away feeling inspired to write about the wonderful women of PensionBee! Find out what makes working at PensionBee so special, and why we're paving the way for gender equality in pensions and beyond.
The 'token men' in the room at the Women in Finance Awards
I was recently lucky enough to accompany our CEO, Romi, to the Women in Finance Awards where she was nominated for the Woman of the Year Award (go Romi!). The event was to celebrate the organisations and leaders working hard to transform the finance industry and create a diverse and balanced workforce – all the way to the top. I particularly enjoyed the moment when a speaker brought attention to the 'token men' in the room. What a pleasant change to be part of a majority!
Romi and Priyal had a blast at the #WomenInFinance Awards last night! Thanks to @womenfinanceuk for inviting us! #fintech pic.twitter.com/q7MR8cdsDE

— PensionBee (@pensionbee) June 30, 2017
For many, the world of finance is run by profit-hungry, hyper-masculine bankers. They are seen to make reckless decisions with people's money and get rich while leaving ordinary people in debt and austerity. Some believe that the crisis of 2008 was partly due to the lack of diversity amongst the key decision makers of finance; more women at the top may have prevented it.
As a BeeKeeper, I have a unique view of finance. The people I work with have a strong sense of purpose. We want to help people look forward to a happy retirement by making pensions simple and empowering customers to take control of their finances.
One of the most inspiring aspects of life here is working with the unique and energised women of PensionBee.
Who are the women of PensionBee?
Romi's chatting right now at #lifeconf17 about revolutionising #pensions 👍 pic.twitter.com/mXYvhIQJOr

— PensionBee (@pensionbee) June 13, 2017
At PensionBee there are no unconscious biases or assumptions about what women can achieve. I was the fifth person to join the company, and the third woman. Gender-wise, I was already part of a majority in this group. I had two amazing role models in Romi and in Tess, our operations manager. I drew confidence and ideas from them as I started to carve out my own professional path.
New female colleagues joined PensionBee, all inspired to help revolutionise pensions. They each brought a unique set of experiences and points of view from a real variety of backgrounds… as well as their own styles! Our discussions about how to solve problems for customers are now enriched with multiple voices and perspectives. We can come to more balanced and nuanced understandings and our diverse perspectives help us relate better to and serve our customers, who come from very different backgrounds themselves.
Before PensionBee, I worked at a boys school where most of my seniors were men. The culture there felt limiting to me as a young woman. Inappropriate comments and behaviours which reinforced deep-rooted gender biases were common. For example, a male teacher disciplined students by saying that they should not cry like girls, another senior colleague called me a princess, which he intended as a compliment. I didn't see people speaking out even when a colleague had obviously stepped over the line. Experiences like these led me to feeling like I did not have the right nurturing in that environment and I was worried that the culture might slowly erode my confidence.
Then I came to PensionBee. I felt so relieved to find myself here, in an environment where I can focus my energy on working with my teammates to make things happen, rather than struggling against stereotypes.
How are the Women of PensionBee empowered?
We make up half of the company so we don't have to deal with the psychological friction of being a minority in a culture that undermines women's potential. This is a widespread problem in the finance industry (and world), that PensionBee actively counters. We have many role models to inspire us, and not just at the top. I think that we all learn from each other and value each other's insights.
We're not held back by the idea that we'll have to leave work and sacrifice our careers if we decide to have children. Romi had a baby last year, and set an example for how a woman can run a company and be a mother at the same time. All employees have regular meetings in which we can talk about whether we feel happy at work and this presents a platform for discussions about flexibility, work-life balance, and pay. And flexibility is not limited to whether we decide to have families, we are also supported to pursue other personal interests, such as studying.
Socialising and networking does not happen in traditionally male arenas, either. We go to karaoke, crazy golf and dinner together. We have a book club and 'Show N Tell' Fridays where we all discuss our ideas and work, and stay in touch with what's happening throughout the company. It feels very transparent and we're welcome to get involved in projects outside our own work, which helps us grow.
We wear what we want, and this means that our vital energy is not wasted on trying to fit a mould. We are free to express ourselves how we want through our dress. This gives a strong message that we are valued for our work, rather than judged for superficial attributes (a change from the ordinary in the life of a woman!)
Men at PensionBee don't hold or circulate disempowering assumptions about women, either. There is real sense of camaraderie here. When we last went to karaoke, we sang a group rendition of Summer Lovin' from Grease. In our version, though, the men sang the female lyrics and the women sang the male lyrics! There was no resistance to this which might happen in a more limiting or 'macho' culture. Instead, we were just having fun and bonding as a team.
How does this compare to the wider industry?
The more I've read about the issues for women in finance, the clearer it's become that what we have at PensionBee is unique. This is sad. There is widespread agreement that the finance industry needs to become more diverse, and the government has recently released a Women in Finance Charter to encourage more companies to commit to good strategies to increase diversity. This is good for business and for society.
But a review of issues for women in finance by Oliver Wyman suggests that there's a long way to go. It seems that often, initiatives to support women can be counter-productive if the underlying culture is one which sees success in masculine terms. Talking about mentor programmes or female-only networking sessions, the report warns, 'Some of these programmes risk isolating women further, for example, by teaching women that their own style and approach will be ineffective in the world of financial services and that they must adopt more masculine behaviours to succeed. This sometimes leads women to opt out of such "Women's Initiatives", resulting in a lack of uptake, especially in male dominated areas where participation can harm a woman's professional image'.
I'm free to focus on my work not my gender
I have heard women talk about how they feel that to be successful within finance, they feel a pressure to develop traditionally male characteristics. I am so relieved not to have to navigate such a sad and confusing landscape. Instead, I'm free to focus on my work. PensionBee doesn't focus on gendered characteristics or notions of success. Here, what feels important is that people are supported to develop their natural talents and capabilities, whatever their own special mix.
Inclusiveness, authenticity and purpose
I think we work as a real team at PensionBee, and this is because there's a culture of inclusiveness and authenticity. This culture is held up by a keen sense of purpose. We're here to help make retirement a gift rather than a burden for ordinary people, and we feel passionately about this. We're ordinary people, free to be ourselves, and we're celebrated for all our uniqueness and diversity.
Find out more about what it's like to work at PensionBee in the BeeHive section of our blog.