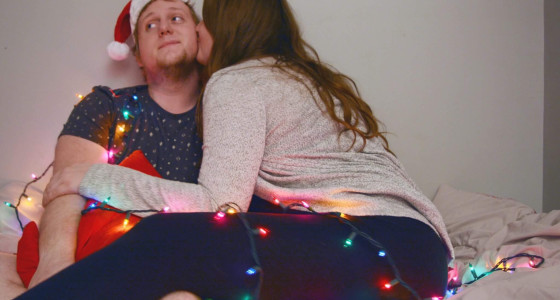 Managing your finances at Christmas can be a challenge. There's the parties, the food and all of the presents to budget for. And, if you're in a relationship, the pressure's on to buy your significant other a gift they won't forget.
With Christmas just a few weeks away, you've already missed the Black Friday and Cyber Monday sales and the chances of bagging a bargain are fading fast. Panic is beginning to set in and you've got a dilemma on your hands; how much should you spend on your partner's Christmas present?
Unlike other aspects of modern dating, there are no hard and fast rules to apply. When it comes to putting a price on our affections we're left to our own devices. Is it really the thought that counts, or should you be spoiling your bae rotten, regardless of whether they've been naughty or nice? Here are a few things to consider before messy finances threaten to sabotage your lovelife.
Striking a balance
While no one wants to be labelled a "humbug" for being stingy, you've got to know when to rein it in so you don't scare off a new partner. So, how do you know just how many gifts to place under the tree for your partner at Christmas?
How much disposable income you have can play a role as well as the number of people you're buying for. If you have children, for example, it's likely the bulk of your Christmas gift budget will be spent on them.
Setting a budget
2016 research from Nationwide found that Brits buy an average of 14 individual gifts for friends, colleagues, loved ones and even pets. Combined with the cost of food and drink and the socialising that comes part and parcel with the festive season, the average cost of Christmas is £645.
Interestingly the research showed that Christmas shoppers in the UK spend between £51-200 on their partner's gift, with an average spend of £117.
Recent research by Deloitte supports this, finding that Brits spend the second highest amount on Christmas in Europe, buying gifts such as chocolate, books, food and drink, and cosmetics and perfume.
When, where and how are UK consumers planning to shop this Christmas? Find out more https://t.co/GcaknLws0m

— Deloitte UK (@DeloitteUK) 24 November 2017
A few years ago dating website Match.com devised a "Gift Meter" to help Canadian daters figure out how much to spend. It advised that couples dating for less than a month should spend between $25 and $50 (£14-29); those dating between one and six months over $50 (£29+); and those dating between six months and a year $75-100 (£43-58).
Choosing a gift
Rather than the well-worn gifts of slippers, DVD boxsets or perfume/ aftershave, why not take inspiration from "The 12 days of Christmas" and give your true love two turtle doves or a partridge in a pear tree? Alternatively, you could follow in the footsteps of the Three Wise Men and give gifts of gold, frankincense and myrrh.
If you're truly stuck for ideas and are wary of blowing your budget, why not opt for an experience you can share rather than a traditional gift? With a wide array of options to choose from including holidays, spa weekends, cooking classes, theatre tickets and much more, you can tailor the experience to your other half's interests. Plus, you'll get to enjoy the gift too!
It's worth remembering that gift buying is highly subjective and the amount you're comfortable spending will vary from couple to couple. Avoiding the temptation to do something bigger and better each year will help take the stress out of Christmas shopping. To be on the safe side, why not set a budget with your partner to ensure there's no disappointment? And, if there's any doubt about what to buy, just ask your significant other to write a letter to Santa Claus.
Comment below and tell us how much you spend on your partner's gifts.