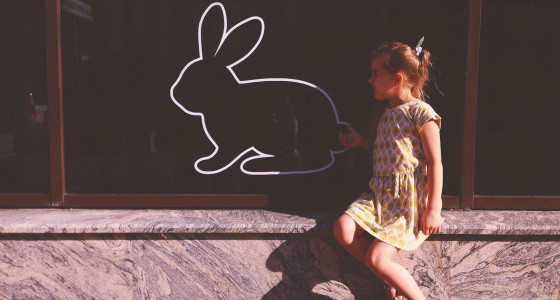 Easter is a great time to have fun with family, boasting a four-day weekend and time off school. But what will keep the kids laughing and help you de-stress at the same time? There are loads of original and creative activities happening all across the country this year, so we've picked some of the best events for your Easter break.
Go on an Easter egg hunt
Easter egg hunts are a staple of any Easter break, no matter your age. Easter egg hunts make you work for your chocolate treats so they can be a great way of spending the day outdoors.
The National Trust teams up with Cadbury every year to put on some of the UK's best Easter egg hunts. Use the Cadbury Egg Hunt Finder to track down a hunt near you, and spend your Easter solving clues, getting some fresh air, and eating chocolate!
Easter egg hunts are a great way to get outdoors
There's also plenty of Easter fun to be had at a number of English Heritage sites. Try Chatsworth House's Easter Extravaganza for egg hunts, face-painting, horse rides, and more. Or why not visit Traquair House for a unique hunt set in their hedge maze as well as bonnet-making and a hog roast. With so many options, you can make this year's egg hunt unforgettable.
Eat a spectacular Sunday lunch
We've teamed up with @HotBoxLDN for an Easter Lamb Smokehouse Souvalki 🇬🇷 Only @berwickstlondon Soho from Wed 12th until Sat 15th April! 😆 pic.twitter.com/ZsckZbcNjg

— The Real Greek (@RealGreekTweet) April 10, 2017
Easter Sunday is designed for family, friends, and good grub. You can grab an epic spit roast at Pint Shop in Cambridge, or opt for something a little different, like a devilled lamb kebab or a sumptuous steak. Or try Liverpool's "Sunday Roast of legends" if you think you can handle it. And if you're bored of chocolate eggs and the traditional Sunday roast, here are some alternatives to get your tastebuds going.
Visit The Real Greek in Soho for a Mediterranean twist on a classic roast lamb. If you're really peckish, order a Creme Egg pizza from Deliveroo (or make your own.)
And for all those cheese-lovers out there, you can now get an Easter egg made entirely out of cheese. (That's right!)
Adventure with the Moomins at Kew
For fresh family-friendly fun, go on an adventure with the Moomins at Kew Gardens. Amongst gorgeous surroundings, you can follow an interactive trail, participate in a variety of craft workshops, and eat pancakes.
Every entry gets you a chocolate treat upon arrival, and there's even a special puppet show to get the kids giggling. While you're at Kew, you can spend some time amongst the most diverse plant collection in the world. Join a walking tour to learn about some of these very special plants and flowers.
Visit Hackney Downs Vegan Market
For a delicious twist on traditional Easter food (which is, let's face it, mostly meat and milk chocolate) spend some time in Hackney Downs' Vegan Market. This new market features an eclectic and exciting range of indie stalls, proving that a vegan Easter can be delicious.
Try out the latest vegan trend: seitan, which is ideal for hamburgers and fried chicken. Or satisfy your sweet tooth with some decadent vegan doughnuts. There's also art on display and small business owners touting their wares, to keep your eyes occupied while you chill.
See some real-life Easter bunnies
Nothing quite sums up Easter like baby animals frolicking about the British countryside. Take the kids to a petting farm and spend some quality time with real-life bunnies (and lambs, chicks, calves, and more!)
Nothing sums up Easter like baby animals
For a full day of family activities, try Godstone Farm in Surrey for your fill of baby animals and face painting. At Hop Farm in Kent, there are opportunities to feed lambs and groom ponies, alongside rides for all ages.
And if you can't make it out of the city this Easter, visit a local farm instead. Most city farms sell the produce they make so your fun-filled Easter day out could include a Sunday lunch or some treats to take home with you.
Make your own chocolate
Easter is the perfect excuse to eat as much chocolate as you can handle, so go all out and attend a chocolate workshop! Go to the source and visit The Chocolate Museum to learn about the sweet stuff before attending an all-ages drop-in workshop.
For sophisticated chocolate-crafting sessions, try MyChocolate for a range of workshops. They'll even teach you how to make chocolate-themed cocktails!
And if all of this sounds too much like work for an Easter break, opt for the Easter Saturday Chocolate Market to grab truffles, macaroons, and drinkable chocolate - all without lifting a finger.
Have a Lego Easter
Legoland is always a little bit magical (even for adults!) This Easter, you can make your very own Lego Easter eggs before hunting for eggs amongst your favourite scenes in Miniland. Say hi to Ollie, Legoland's special Easter dinosaur, before searching the park for the Lego Easter bunny.
Legoland is full of rides to keep the whole family busy, plus you can attend the Model Making Studio to see how the magic is made. Finish your day out with a stop by the 4D Movie Studio for an immersive experience with your faves from The Lego Movie.
Explore Tintagel Castle (and the beach)
Tintagel Castle is putting on an Easter scavenger hunt this year, full of costumed characters to help you track down your reward. Tintagel is full of history and legend, with ties to King Arthur as well as famous poets.
Spend some time amongst the castle and surrounding ruins before exploring the coastline of this beautiful island. There's a quiet sandy beach below the castle, complete with waterfall. When the tide is out, kids can explore the enchanting Merlin's Cave. This English Heritage castle on the Cornish coast is an idyllic and adventurous option for your Easter break.
Easter is a great time to rest up, do something new, and spend some quality time with your friends and family. How are you planning on spending your Easter? Let us know by leaving a comment in the box below.