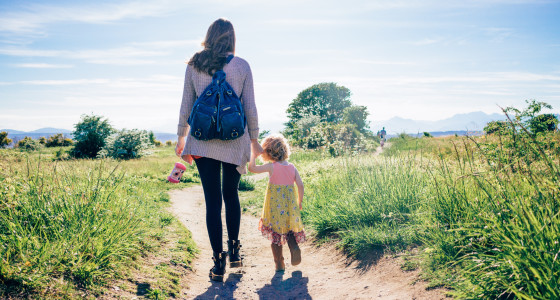 Recently, the Institute for Fiscal Studies released some troubling research on the gender pay gap. According to their findings women earn 18% less than men on average, with the gap widening significantly after women have children.
Women in UK still far adrift on salary and promotion as gender pay gap remains a gulf https://t.co/nHKqke8Wge

— The Guardian (@guardian) August 23, 2016
As you'd expect, the research ruffled quite a few feathers, with some suggesting the gap isn't quite what it seems…
Apparently there is virtually no gender pay gap in UK for full-time jobs between 22 and 39 https://t.co/Z4i0qoiPpG

— Sam Burne James (@samburnejames) August 31, 2016
And others dissecting the data completely differently.
Research by @TheIFS reveals #genderpaygap widens from 18% to 33% 12 years after having children. Fawcett responds: https://t.co/hRscplAJGi

— Fawcett Society (@fawcettsociety) August 23, 2016
At PensionBee we've been taking a keen interest in the issue - we're all about a fair financial deal for everyone - so we thought we'd weigh in on the debate, looking more specifically at pension pots.
We looked at 1,473 pensions and split them by gender and age group, aiming to discover whether the pay gap led to a 'pensions gap'. From their twenties to their late 40s and beyond, we examined how men and women's savings compared, and the results were quite staggering, as you'll see below…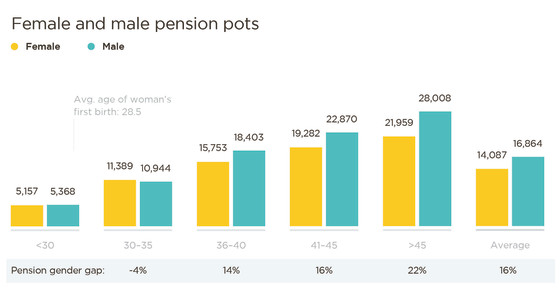 So, what exactly does the data tell us?
Women's savings take a drastic hit in their 40s
Women over 45 carry 22% less in their pension than men in the same age group.
It's only when women reach their mid-thirties that a growing gap begins to appear.
In contrast, pension pots are fairly equal amongst men and women in their early 30s. It's only when women reach their mid-thirties that a growing gap begins to appear, with men between 36 - 40 boasting a pension 14% larger than that of their female counterparts.
From the ages of 41 - 45 the gap grows even greater; the average man's pot is 16% bigger than a woman's. As the graph above indicates, the impact of this disparity can be great, with women over the age of 45 carrying around £6,000 less in their pots.
Why exactly is this happening?
Our findings support the recent IFS research that points to a gender pay gap, with the disparity between women's and men's earnings rising to over 30% ten years after a woman has her first child. According to ONS research the average woman has her first child at the age of 28.5 years, and it's after this age that our data reveals a growing pensions gap.
The findings give yet more weight to the claims of an economic gap between men and women, affecting not just take-home pay but retirement saving too, potentially leaving female pensioners with a far poorer quality of life than their male counterparts in the long term.
It seems that having a child is what hits women's pension pots hardest.
Given the pensions divergence begins in the 30s, it seems that having a child is what hits women's pension pots hardest. This adds to the impossible dilemma that many women face, as taking time off work to have a child impacts not only their present earning potential but also their future income and quality of life.
Time for change
Off the back of the research, Romi, our CEO, has called for greater awareness of the inequality facing female savers - not just from their own employers and the government, but also from the wider pension industry. Speaking on the data she commented:
"Our data paints a worrying picture for female savers. Closing the pay gap will take time, making it all the more important for us women to take control of our pension savings now. The pension industry has left many women isolated from finance and we're determined to change that at PensionBee. Better saving should be simple and accessible for everyone."
Upon seeing the data Jemima Olchawski, Head of Policy and Insight at the Fawcett Society, added:
"Right across their lives women earn less and so have less to save for their pensions. What's more, whilst auto-enrolment has been an important step forward, women are still more likely to be excluded from the benefits. All this leaves women at risk of poverty and economic dependence in their retirement. It's time to speed up the pace of change, close the gender pay gap and banish the dated stereotypes that mean women continue to be most likely to pay the price of care."
As a pension business we'll be doing everything we can to make saving simpler for women, as this gap is something that concerns us and we think it needs addressing. To kick things off Romi's shared some of her expert tips to help women close the gap…