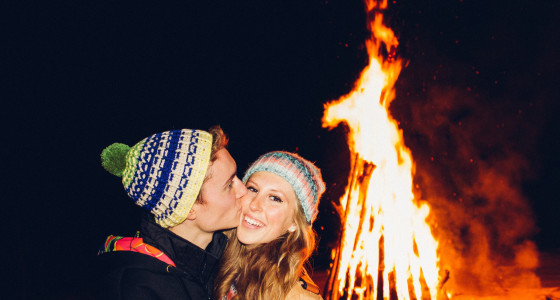 Bonfire night is a British tradition: a 400-year old celebration of how a dastardly plot was foiled. On November 5th we traditionally cheer the grisly deaths of Guy Fawkes and his Catholic co-conspirators after they were caught trying to blow up the House of Lords.
We've been digging into the details of the event to bring you five facts to dazzle your fellow plotters with this weekend, followed by a mini quiz to test your bonfire night knowledge.
1. A 'bonfire' was once a fire of bones
The word 'bonfire' comes from 'bone' and 'fire', as the Middle English word referred to an open-air fire for burning bones. Sometimes animal bones were burnt as part of a celebration, but it could also refer to a fire for burning heretics or banned books.
2. We've been burning effigies for a while
For centuries, failed plotter Guy Fawkes has been the effigy of choice, but we've been burning dummies on bonfires since way before his time. As far back as the 13th century, Brits burned them to drive away evil spirits. After the gunpowder plot, Fawkes became the focus.
3. Celebrating November 5th used to be compulsory
Soon after the 1605 plot to blow up parliament was uncovered, a law was passed to make November 5th a national day of thanksgiving. It became compulsory to attend church on the date, to give thanks to God for saving the country. The law remained in place for over 250 years before finally being repealed.
4. Sticky snacks are the order of the day
Spicy Ginger Parkin https://t.co/sTiDwX8j7y

— Paul Steele (@paul_steele) October 26, 2016
Potatoes baked in the embers of the bonfire are a November 5th staple, but parkin cake is the traditional bonfire night foodstuff. It's a sticky sponge cake from northern England made with golden syrup, treacle and oats. Go traditional and try the BBC's parkin recipe this weekend. A hard, treacly toffee called 'bonfire toffee' is another traditional delicacy.
5. Go ahead with your garden bonfire
There are no laws against having a bonfire in your back garden, as long as you don't burn anything that will cause pollution or harm people's health. However, keep in mind whether the smoke is likely to reach any nearby roads: you can be fined if your bonfire causes danger to traffic. Also, remember to check the bonfire pile for hedgehogs and other creatures before you light it.
Bonfire night mini-quiz
We remember Guy Fawkes best, but who actually masterminded the November 5th plot?
Which monarch was on the throne when the plot was put in motion?
Which Sussex town holds the largest bonfire night celebrations in the UK?
Which country invented fireworks?
In Harry Potter, what creature is named after Guy Fawkes?
Find the answers below.
Answers
Robert Catesby
James I of England (VI of Scotland)
Lewes
China
Dumbledore's phoenix