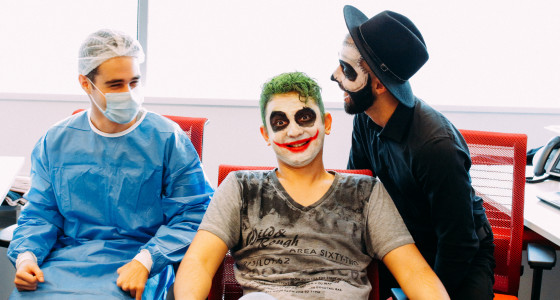 If you're hosting a Halloween party, it's time to spice things up. Rather than letting your mates turn up as witches, roll up as pumpkins, or grab a sheet at the last minute to be a poorly-planned ghost, pick one of our 10 themes to make your Halloween party the best in town.
1. Greatest childhood fear
Find out what scared your guests most when they were little by asking them to dress up as their biggest childhood fear. You're bound to get some spiders and maybe clowns, snakes and dogs, but you may discover some weirder ones too.
And if you have a friend who isn't a fan of fancy dress, they can always dress in black and claim they were scared of the dark.
Complete the childhood theme with some of your favourite party food - spooky jelly sweets, anyone?
2. Dead historical or literary figures
Pick a time period - Tudor, Victorian or the 1920s, for example - and throw a themed party. All of your guests should come in period costume but they should also be dead, of course. So you may have the ghost of a Victorian chimney sweep, or Marie Antoinette with an extra-pale face and a ring of red around her neck….
If you want to go all out you can theme the food, music and decoration around your chosen period too.
3. Ghostbusters
If there's nothing strange in your neighbourhood, it's time to change that. From glowing green slime to Ghostbuster cupcake toppers, there are tons of themed products out there to pull a Ghostbusters party off with a bang. This theme may not be particularly scary, but it's certainly fun.
Your guests can be ghostbusters or ghosts, possibly depending on whether they have a jumpsuit handy. And don't forget to include marshmallows in your array of party snacks!
4. Best villains of all time
If you ask your friends to turn up as their favourite villains, you're offering them a wide choice of fabulous big-screen baddies including Cruella De Vil, the Joker, Hannibal Lecter and Darth Vader.
And if your mates are actorly types (or just very drunk), encourage them to have conversations in character. Just imagine Lord Voldemort chatting to the Child Catcher…
5. Spooky fairy tales
Fairy tales are actually pretty creepy, so this theme has tons of spooky potential. Dress-up ideas include the wolf from Little Red Riding Hood (in grandmother's clothing, of course), the eponymous Snow Queen of Hans Christian Anderson's chilling tale, or the evil stepmother from Snow White.
Complete the theme with a haunted gingerbread house, bobbing with blood-red 'poisoned' apples, and some of the creepiest quotes from your favourite tales.
6. Scooby Doo
The Scooby Doo gang spent their time chasing 'supernatural' characters, who often turned out to be regular people doing something dastardly in a disguise.
Never mind that there wasn't always anything actually spooky going on, there's a cast of wonderful characters, including Scooby, Shaggy, Daphne and Velma, and a motley crew of baddies, from ghost clown to werecats.
Bake some Scooby Snacks for your mystery-solving guests and revel in the programme's seventies vibe.
7. Rocky Horror Show
As far as themes go, this one's a classic. A Rocky Horror Show theme means your playlist is sorted from the start, and if your friends like wearing fishnets and lipstick you're onto a winner.
If Frank-N-Furter's provocative chic isn't their thing, guests can opt for the buttoned-up versions of Janet and Brad instead, or go gothic as Riff Raff.
8. Dead wedding
A corpse wedding theme gives you the chance to choose some nuptial traditions and subvert them in spooky fashion.
Get started with a tiered cake covered in cobwebs and some bouquets of dead roses, and ask your mates to dress as the ghosts of bridesmaids, brides, grooms and wedding guests.
If you want to go full-on bridal, you can pick up a cheap wedding dress and veil from a charity shop and then use scissors, paint, and fake blood to give it a Halloweeny makeover.
9. Tim Burton
Tim Burton is the king of quirky gothic films with creepy characters. Guests to a Burton-themed party could dress as the tragic Edward Scissorhands, the mischievous suit-wearing ghost Beetlejuice, the Headless Horseman from Sleepy Hollow, or Emily the Corpse Bride.
You get extra points for including details from some of the films in your decoration, and if the party starts winding down you can always gather your guests around a screening of Sweeney Todd.
10. Day of the Dead
Day of the Dead (Día de Muertos) is a Mexican holiday that honours the memory of dead friends and family, and its rich visual tradition has increasingly been inspiring makeup and fancy dress efforts all over the world.
Most makeup designs are based on 'calaveras', sugar skulls that are decorated with colourful patterns, beads and feathers as part of Day of the Dead celebrations. You could also serve Mexican food, mix up some Margaritas and even try your hand at baking traditional 'pan de muerto.'