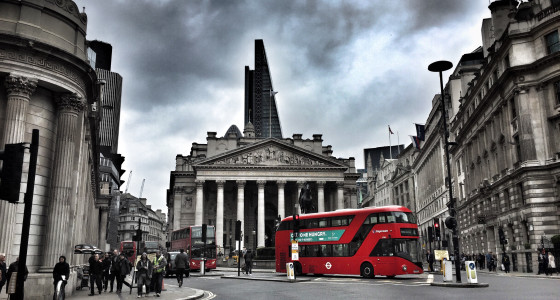 There's no denying that Brexit has had an impact on the economy. From fluctuating currencies to a falling pension balance - it'll leave some people poorer and make others wealthier. Find out how Brexit's affecting the property market and what Brexit means for your pension in the long run.
Brexit hits the UK property market
The vote for Brexit sent shockwaves through the financial markets, with the pound plummeting and trillions of dollars wiped off global equity markets.
Although things are now beginning to settle, there are ongoing concerns about the property market.
Property-related shares have fallen sharply since the referendum vote, with the UK's biggest housebuilders now down by more than 30%.
And in the last few days, M&G, Aviva and Standard Life have suspended trading in their commercial property funds, preventing investors from withdrawing their money.
M&G joins Standard Life Investments and Aviva in suspending trading on its property fund https://t.co/G3KLE3XIgI pic.twitter.com/fn1a08Nhy0

— Bloomberg (@business) July 5, 2016
Laith Khalaf, a Hargreaves Lansdown analyst, said "The dominoes are starting to fall in the UK commercial property market", and there are concerns about the residential market too. London buying agent Henry Pryor told the Financial Times that he expects the average home in the UK to be worth £20,000 less by the end of the year, compared to its January 2016 value.
Diversified portfolios can weather storms
In an unstable financial climate, diversified portfolios have a better chance of doing OK overall.
If your money is invested in a range of assets and there's also a geographical spread in your portfolio, then the risk of losing money overall is reduced.
This is because if confidence in certain assets or currencies wanes, other currencies and assets tend to pick up. For example, following the Brexit vote the American dollar and the Japanese yen have appreciated as sterling has dropped, and the price of government bonds has increased.
Sterling has lost more than 14% of its value since last month's Brexit referendumhttps://t.co/xzZMWOgS5C

— Wall Street Journal (@WSJ) July 6, 2016
Property vs. pension
This brings us to pensions, and the lessons we can take from the post-Brexit economic turbulence.
Most good pension plans will be diversified, so the money you put into your plan will be spread across a range of assets (like equity, cash and bonds) and also across regions.
Compare this to property, which many people hope will be their nest egg in retirement. If most of your money is in UK property, a drop in property values – like the one that's widely expected to happen over the next few months – could hit your savings hard.
There are also other reasons that it may not be wise to rely on property as your pension. If you haven't lived in a property for some or all of the time you've owned it (a buy-to-let property, for example) then you may be liable to pay Capital Gains Tax of up to 28% when it's sold.
Meanwhile, pensions are not subject to Capital Gains Tax, and you can withdraw the money in a tax-efficient way. You can opt to take up to 25% of your pension pot as a tax-free lump sum. Any income from your pension over your annual personal allowance (currently £11,850) is then subject to normal income tax rules.
Also remember that while you're paying into your pension, you're getting tax relief from the government. Your contributions attract a tax top up of 25%, which means that for every £100 you put into your pension, the government adds £25.
Plus, property is a very illiquid asset, which means it's difficult to exchange for cash. Selling your property relies on the vagaries of the property market and finding a willing buyer, and if your money is tied up in the property that you live in, then releasing the cash is likely to mean you'll need to find somewhere else to live.
What happens next
It's still very unclear what the long-term financial implications of the referendum vote will be, let alone the impact of the UK's eventual exit from the EU. But in a climate of uncertainty, spreading your risk by diversifying your assets is sensible.
Darius McDermott, an adviser at Chelsea Financial, has warned that too much money in any single asset class would be a bad idea at the moment. With the property market looking particularly shaky, now may be a good time to consider a professionally-managed pension plan that's properly diversified, rather than assuming property can provide your pension.
Investing in a range of assets should give you a better chance of protecting your money and enjoying a good income in retirement.
Risk warning
As always with investments, your capital is at risk. The value of your investment can go down as well as up, and you may get back less than you invest. This information should not be regarded as financial advice.