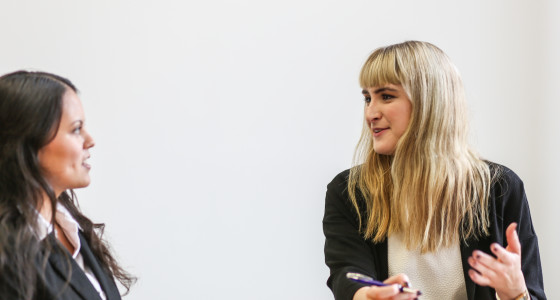 The pay rise conversation is important, but it's also a difficult one to get right. Even though you're a brilliant employee and perhaps you're underpaid for what you do, convincing an organisation to part with cash is always going to be difficult. If the time has come to ask for a pay rise, here's the best way to go about it.
Check market rate
Preparation is key for pay rise discussions. Find the salaries that other companies are offering for similar roles to candidates with a similar level of experience, and use a salary benchmarking tool like the one provided by reed.co.uk or Emolument to see where you stand compared to others in your industry.
You should be asking for a realistic amount that's in line with market rate, and having some data to show your boss what current 'market rate' actually looks like should help your case. Remember that pay varies hugely according to factors like location as well as job type: London salaries tend to be significantly higher than those in the rest of the country, for example.
Do it face-to-face
This isn't the kind of chat you can have over email or Google Hangout. Arrange a meeting with your manager, telling him or her that you're keen to talk about your recent work and your role.
An out-of-office setting could also be a good option: if you have an away-day or another event that gives you some time alone with your manager then you may be able to raise the issue there. Be professional, polite and enthusiastic when you're having this conversation, and emphasise your commitment to the company.
Pick your moment
Consider how the company is doing as well as the broader socio-economic outlook when you're choosing the right moment to ask for your pay rise. Think about whether your manager and the management team are likely to be feeling positive and confident that they have money to spend on their staff.
Be sensitive to pressures your boss is under, too: don't bring pay up when he or she is enduring a particularly stressful period, and avoid Monday mornings and Friday afternoons. Also take into account when budgets are reviewed - you're going to have a better chance of success if you ask before next year's numbers are nailed down.
Talk yourself up
Make sure you're clear in your own mind about your recent achievements and the reasons you deserve a salary boost. Before you speak to your manager, think through the work you've done during the last few months, with concrete examples and data to back up your great performance.
Consider how you've gone 'above and beyond' in your role, and how things have changed since your pay was last reviewed. Show how your performance has really made a difference to the company: have you helped to grow client or customer numbers, made processes more efficient, or managed to cut costs?
And remember to talk about your plans for the future as well as your successes in the past: what are the cool things you're planning to achieve at work over the next few months?
Steer clear of certain reasons
Some topics should always be avoided during a pay rise discussion. In particular, don't talk about how much your colleagues are paid, and don't ask your boss to give you a pay rise because you really need the cash. The fact that your coworker gets paid more than you, or that you're struggling to afford a nice new car, is unlikely to convince your company you should get more money.
Be gracious if it doesn't go your way
If your boss turns down your request for a pay rise, keep your cool and ask when your request may be considered again, and what you'd need to do for it to be successful. Perhaps it's a matter of budgets or timing, but if it's because you haven't yet convinced your manager that you deserve a rise, ask for a list of objectives and set a date for a later review.