British TV has produced some of the most iconic characters in broadcasting, and, more recently, streaming history. But no matter how long our favourite characters stay on our screens, we rarely see them transition into retirement.
We've selected characters from some of the most popular British TV and Netflix shows in recent years, to discover at what age these characters could retire, and how much their pension might be worth.
The average single pensioner receives an annual income of £17,200 from their pension and just under £10,000 a year from a full State Pension [1]. So we wanted to know how much each character's pension pot could be worth, and how long it might last if they were to live off the average pension income each year. All projections are based on Defined Contribution Pensions (by using the PensionBee Pension Calculator). Find out below how your favourite TV character compares.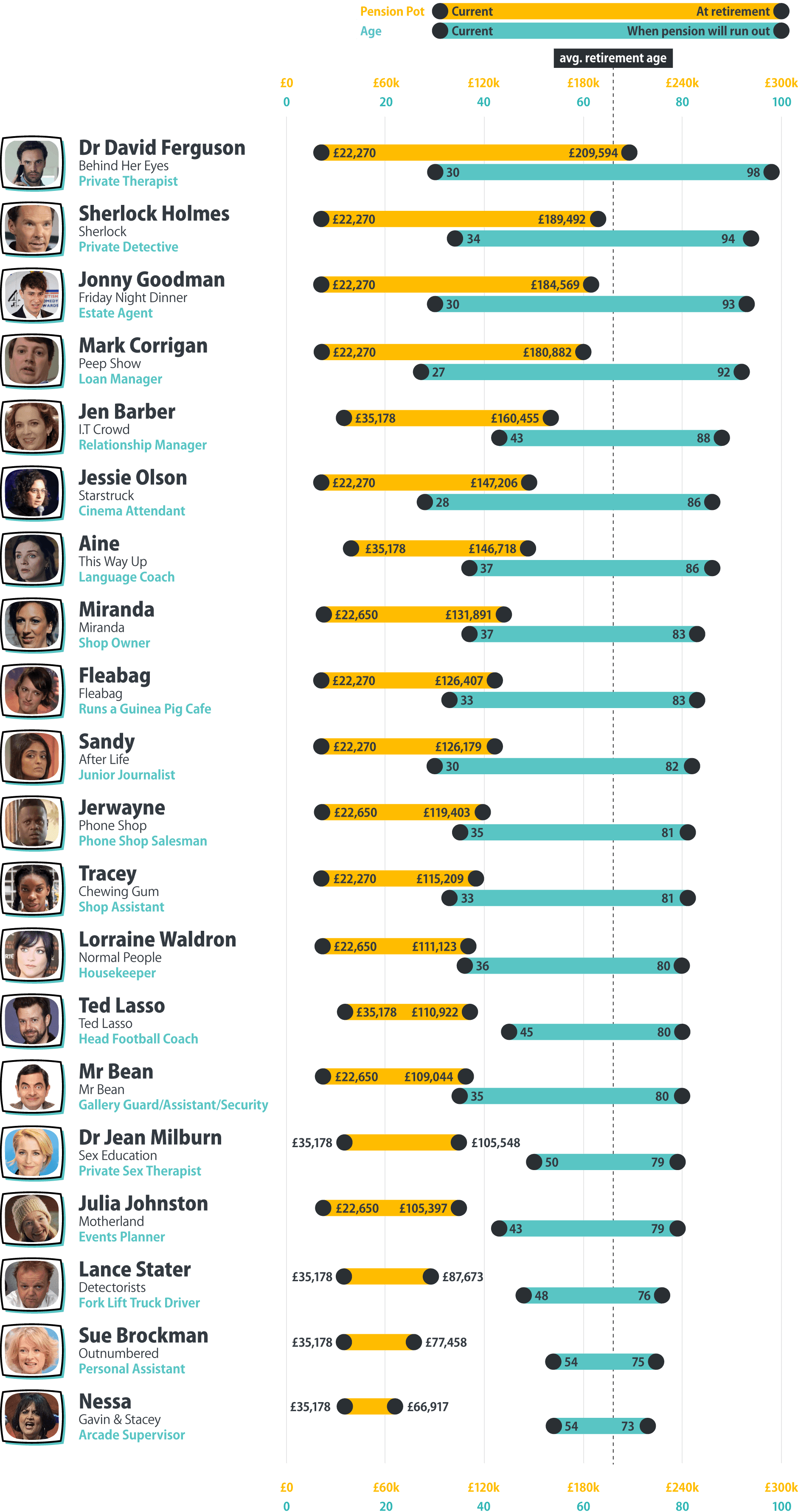 Private Therapist, Dr David Ferguson, from the popular Netflix series, Behind Her Eyes, would likely retire with the largest pension pot, at over £209,594 (including State Pension). If Dr Ferguson was to retire at the UK national average age of 66 [2], this pension pot could see him through to well past his 98th birthday.
Private Detective, Sherlock Holmes, from the BBC's crime drama series, Sherlock, could have the second highest pension at retirement with £189,492 . Played by Benedict Cumberbatch, we've estimated that his average annual salary would be £41,294. The fictional detective would likely be contributing around £275.30 a month from his salary under a workplace pension scheme. [3].
The character with potentially the third highest pension pot size at retirement is Estate Agent, Jonny Goodman, from hit Channel 4 drama, Friday Night Dinner. Jonny could likely see his pension pot reach £184,569. If his desired annual pension income reflects average figures of £17,200, plus State Pension, his savings could also last past his 93rd year [3].
Loan Manager, Mark Corrigan, from the BBC's drama series Peep Show and Jen Barber, Relationship Manager, in the Channel 4 comedy series The IT Crowd, would likely claim fourth and fifth position. Our calculations estimate that both characters' pension pots would potentially last them well into their 90s. Mark Corrigan could have a pension pot of around £180,882, and Jen Barber £160,445.
Which characters will need to work past the
average retirement age?
However, not all of our TV favourites could be on track for a secure retirement. According to PensionBee's research, ten TV characters could see their pensions run dry by the age of 82 (the average life expectancy in the UK [4]), if they were to retire at 66.
The average single pensioner receives an annual income of £17,200 from their pension and just under £10,000 a year from a full State Pension. Using our pension calculator, we calculated that Nessa Jenkins, from the popular comedy series, Gavin and Stacey, would potentially need to work an additional five years beyond the average retirement age to reach this threshold.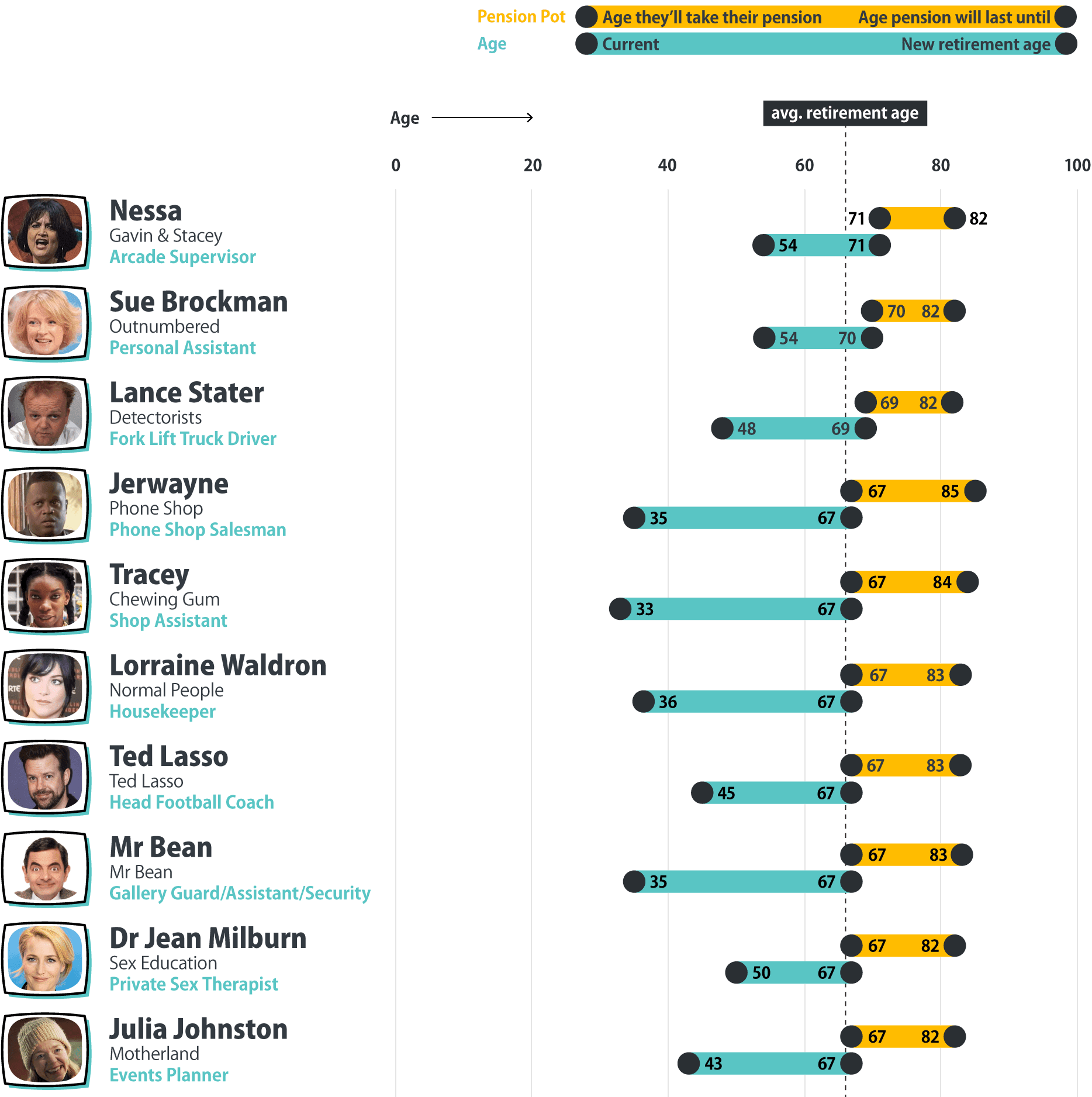 The extra years in her current role as an Arcade Supervisor would likely generate a pension pot that could last until age 82. Of the 20 characters included, Nessa would potentially need to work the most years beyond the average retirement age.
In comparison, Personal Assistant, Sue Brockman, from the drama series Outnumbered and Forklift Driver, Lance Slater, from Detectorists would potentially need to work an additional four and three years beyond retirement, respectively. With these additional working years, Sue and Lance could both have a pension that would last until they were 82.
Jerwayne from Phone Shop and Tracey from Chewing Gum are also projected to work an additional year past the average retirement age. If these two characters were to retire at 67, Jerwayne's pension would likely last until he's 85 and Tracey's retirement fund could last until she's 84. This is calculated from a monthly combined (employer and employee) pension contribution of £103.29 and £172.15, respectively.
Housekeeper, Lorraine Waldron, from Normal People and Head Football Coach, Ted Lasso, from a show of the same name would both likely need to work an additional year beyond retirement age to ensure that their pension pots lasted until age 83.
Mr Bean, Dr Jean Milburn from Sex Education and Julia Johnston from Motherland, would potentially need to work an additional year beyond the average retirement age to see their pension pots take them up and slightly beyond age 82.
If you plan to take your pension at the average national retirement age, here's how to start preparing for retirement now
Even if retirement seems like it's a long way off, it's important to start planning early. As we've seen from the fictional pots of these TV characters, some will need to work past the State Pension age to build up robust savings for their retirement. Here are some simple steps to give your pension pot a good chance of reflecting your retirement ambitions. To start with, calculate how much you've saved and how much you think you'll need. It's estimated most people will need about 70% of their salary to live comfortably in retirement [5], but the amount you'll require largely depends on your circumstances and lifestyle. It's important to think about how much you can afford to save, how long you've got until you retire and your desired retirement income. Use the PensionBee pension contribution calculator to find out how much you could receive annually in retirement.
Start saving sooner rather than later. The earlier you start saving and making pension contributions, the more time your pot will have to grow. Thanks to compounding returns, a small savings pot can turn into a significant amount over a long period of time.
Check your State Pension entitlement. Currently, all workers need to have paid National Insurance contributions for at least 10 years to qualify for the State Pension. To receive the full amount of £179.60 per week (2021/2022) you'll need to have paid National Insurance for at least 35 years.
Find your old pensions. If you've had multiple jobs in your career, you may have been enrolled in various workplace pension schemes. If you're unsure, try the government's free Pension Tracing Service. Alternatively you can contact your old employers for help or ask your new pension provider for assistance.
Consolidate your pensions into one pension plan. This could make your savings easier to manage and help prevent you from losing track of your hard-earned money from previous jobs. With PensionBee, you'll also only pay one fee, rather than several. See the PensionBee website for information on how to combine your pensions.
Do remember that pensions are investments. The value of your investment can go down as well as up, and you may get back less than you invest. Your capital is at risk.
Footnotes
Methodology
PensionBee selected characters from seed lists of the most popular British TV and Netflix shows from the last 20 years. PensionBee then researched the average UK salaries for each character's job and how much they'd be contributing to their pension via their workplace pension scheme. Using this data along with the average overall pension size of those in their age group[1][3], PensionBee utilised their pension calculator to find out if the TV characters would be able to retire at the age of 66. PensionBee then looked at how much each character's pension pot might be worth at retirement and how long it might last [3].
To find out how much longer some TV characters might have to work, PensionBee looked at the average life span of UK citizens [4]. Using their pension calculator, PensionBee measured the difference between characters' current pot sizes and the amount needed to last the average lifetime of a UK adult, following retiring at age 66.
Where available, PensionBee used the characters' current age. If this wasn't available, we have used the actor's age from the year the programme first aired.
In March 2021, PensionBee surveyed 2,000 UK residents aged between 18-65 to find out how much they had in their pension pots, on average. The data was then segmented via three generations - Generation Z (18 - 23 years old),
Millennials (24 - 40 years old) and Generation X (41 - 54 years old). This allowed PensionBee to attribute the pension pot size figure for each character at their current age now and estimate what size pot they'll likely have by retirement.
According to figures for the Department for Work and Pensions, the average single pensioner receives £17,200 a year from their pension pots plus £9,339.20 per year from a full State Pension.
Research shows that current UK life expectancy for 2021 is 81.5 (rounded to 82).
Data
To view the raw data of the TV characters' pension pots, click here.