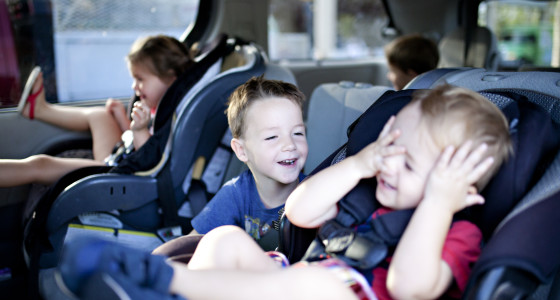 For young families in particular, life every now and again will present you with a number of financial challenges that can really put a hole in your wallet. Second only to buying a house, choosing the right car for all of you is a vital and long-lasting investment, but it can be a real burden if you select the wrong one.
Here are 5 top tips to ensure that you get the best value for money, and a car that meets your unique needs.
1) Check a car's history
This one may seem a little obvious to start with, but if a deal looks too good to be true, then there may very well be a reason for that. If you're buying a second hand car, then always make sure to check the vehicle's history using a variety of easy-to-use online tools.
Make sure to check the vehicle's history using a variety of easy-to-use online tools
In just a few moments, you can not only view a car's technical background and make sure it's fully road worthy, but you can also ensure that it hasn't been obtained illegally or is wanted by the police for whatever reason.
Unfortunately, many smaller dealers are known for their willingness to tamper with such details, such as the mileage a car has done in the past. By taking just a couple of minutes to validate their claims, you'll ensure that what you're buying is reliable enough to do what you need it to do.
2) What will you need it for?
Buying a car for more than just 1 or 2 people is a lot different than making a purchase just for you, as safety and practicality become the name of the game instead of aspects such as top speed.
If you've got a young child or multiple children, then it's likely that you're going to need a lot of storage space for all their accessories, which would naturally make a sporty two-seater totally unfit for purpose.
Yet picking just one type of car out of so many models on the market can be difficult, especially when so many claim to be the safest or the best in some other respect. In order to make up your mind, it's worth doing some background reading and virtually every motoring related publication has some form of guide or insight to offer.
They know exactly what to look for. For example, the article included above is based around the 'Euro NCAP' test which may be well-known to those within the industry, but not to the wider public. Whilst it's a good idea to have an idea of what you want in mind, appreciate what you don't know, and look out for expert advice.
3) Running costs
As well as the initial purchase fee and other immediate costs that may arise, a car requires constant spending for it to perform at its best. MOTs, possible congestion charges and the occasional bump are just a few needs that will require addressing, amongst others.
A car requires constant spending for it to perform at its best
There's also the matter of fuel efficiency, which might make you think twice about going after a sturdy 4x4, despite such models being built with safety and storage space in mind. There are a number of things you can do to improve your fuel efficiency, but the sheer power required to move such large vehicles will always consume a sizable amount of petrol.
Also, with the changes to how your rate of vehicle tax is calculated, less eco-friendly cars are now taxed more by the government. Therefore whilst an electric or some other non-petrol based car may cost more to start with, it could save you a fair amount in the long run.
4) Additional features
More and more, customers are no longer just buying a set of wheels to get from A to B, they are paying to do so in comfort and with a range of add-ons to make life that much easier. From drinks holders to hands-free phones, if it's something that could be useful then somebody somewhere has implemented it into a make of car so as to charge that little bit more.
But are these accessories really worth paying more for if you're already making a sizable outlay to begin with? A few years ago, built in sat-navs were seen as a luxury item whereas today Google Maps and other similar apps have made paying for such a service virtually redundant. Say you were intending to spend more on parking sensors because you have children rushing around – what's to say you couldn't just be spending needlessly on a product that'll be standard in every car in a few years time?
5) Can you keep your car secure?
According to statistics, criminals often see larger people carriers as the target of choice, with Land Rovers amongst the most likely to be stripped down and sold as spare parts.
Whatever variety of car you may be looking at though; it's vital that you think long and hard about where it will be stored when not in use. Ideally a well-secured garage will provide the best defence, but that's of course not always an option.
Not having any precautions in place can really push up the cost of your premium
If a garage isn't an option, the majority of security experts would advise on having some form of highly visible security system watching your car to deter thieves. Having some form of eyes on your purchase is vital to ensure its security, even if all you can do is park it on a busy street instead of in a side road. This may not seem all that important, but a number of car insurance firms will often ask what methods you have to secure your vehicle and not having any precautions in place can really push up the cost of your premium.
Ultimately, before making a purchase on the scale of your first family car, doing your research and background reading is absolutely vital. Every dealer and manufacturer - whilst knowledgeable - is of course going to promote their own range, so it's crucial you look for as many unbiased sources as possible.
The PensionBee blog can help you navigate all aspects of finance, but ultimately decision-making power lies with you. Keep what you've learned here and elsewhere in mind, and you should come away with a great purchase for yourself and those closest to you!
This article was contributed by Justin Fox, who currently writes for Truck Locator.